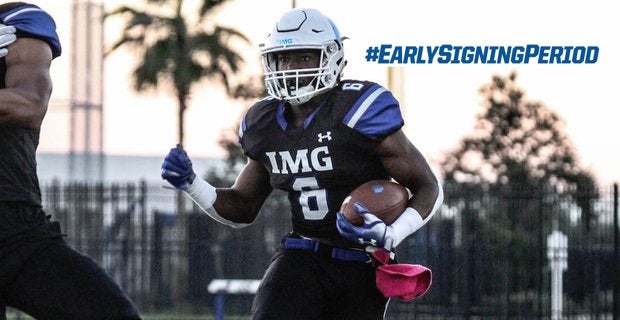 College football's second-ever Early Signing Period (Dec. 19-21) is within sight. While the first Wednesday in February will always have a special place in our hearts, this period is essentially the new signing day — last year, 80 percent of committed prospects signed, and 65 percent of the entire class came off the board, iincluding 279 of 369 four and five-stars in the 247Sports Composite Player Ranking.
We now have an idea what to expect, but it still seems like we're in for several surprises.
Here are 10 storylines to follow. 
Alabama's run at history
The Crimson Tide took two more big steps on Saturday night towards the greatest recruiting class in 247Sports Composite history, flipping the nation's No. 1 safety in five-star Daxton Hill from Michigan shortly before turning Top247 cornerback Jeffery Carter away from Texas A&M.
With Hill and Carter in the fold, they add to the nation's No. 1 recruiting class, upping Alabama's point total to 304.52. As Nick Saban and his staff run away with the recruiting championship this year, the only question is if they can catch the bar set by the Florida class in 2010 that finished with a mark of 324.62.
I expect this Crimson Tide class to surpass that group Urban Meyer signed, and do so with a cushion. Five-stars still considering a future in Tuscaloosa include defensive end Kayvon Thibodeaux, running back Trey Sanders, defensive tackle Ishmael Sopsher, offensive tackle Darnell Wright, linebacker Nakobe Dean, offensive tackle Evan Neal and center Clay Webb — and that's just a portion of the ballyhooed prospects pondering playing for the defending national champs.
A full look at the 247Sports Composite Team Recruiting Rankings can be found here.
The flips could be fun
Hill flipping to Alabama was unexpected while Carter was trending that way. Meanwhile, it seems Auburn has held off Tennessee and all other challengers to keep five-star Owen Pappoe in their class. The battle wages on for others, like Stanford pushing for Ohio State offensive line commit Harry Miller, the bevy of programs after Auburn receiver commit George Pickens, and several still pushing for Ole Miss running back commit Jerrion Ealy. There's going to be more spatula action down the stretch, and it's always the most exciting part of recruiting this time of year.
Florida State cornerback commit Akeem Dent is an interesting recruitment I'm keeping an eye on with Miami really pushing the long-time Seminoles pledge. Then there is North Carolina chipping away on another FSU commitment in Top247 quarterback Sam Howell. With Hill flipping to Alabama, does that keep Jordan Battle at Ohio State?
Big pledges set for Dec. 19 …
Over the next few days, expect us to iron out a complete schedule of Dec. 19-21 announcements — including some clarity on a timetable for five-star defensive end Zach Harrison, who has been trending to Michigan for the last couple months, but could end up staying local and picking Ohio State. Nonetheless, we've got Nakobe Dean going off that day; the five-star linebacker is locked into an Alabama-Georgia battle. IMG's two uncommitted five-stars, Trey Sanders and Evan Neal, announce on Dec. 19 as well, as does running back Noah Cain. Oklahoma is likely to pull four-star defensive end Marcus Stripling.
A full list of scheduled commitments can be found here.
… but you don't have to wait until then
Momentum for five-star defensive end Kayvon Thibodeaux (Dec. 15) has been in favor of Florida State, Oregon and Alabama at different times. Will the No. 1 recruit in Alabama in Clay Webb (Dec. 10) choose the Tide or Georgia, where he has family in nearby Athens? The biggest battle out West is for Top247 quarterback Jayden Daniels (Dec. 13) and Arizona State is trending.
The battle for second place
OK, so we've established that nobody's toppling Bama this year. But the battle for No. 2 is going to be good. Texas A&M, Georgia, LSU and Clemson round out the top five of the 247Sports Composite Team Rankings, with less than 10 points separating the second-ranked Aggies from the fifth-ranked Tigers of the ACC. Each program has a blue-chipper or two left in play, but none moreso than the Bulldogs who are in position to make the biggest move. Priority No. 1 is keeping the No. 1 recruit defensive end Nolan Smith in the fold; Alabama is working to flip Smith. We already talked Dean and Webb, and there is still five-stars in receiver Jadon Haselwood, offensive tackle Darnell Wright, along with touted defensive backs Tyrique Stevenson and Kaiir Elam with an eye on Athens as well. Kirby Smart and his staff ended Alabama's seven-year run at the top of the 247Sports Composite Recruiting Rankings in the 2018 cycle and a runner-up finish is more than in reach in 2019.
Shhh — some things will be kept quiet
For instance, Top247 cornerback Chris Steele will sign with his chosen school during the Dec. 19-21 period but will not announce his final college decision during NBC's broadcast at the All-American Bowl on Jan. 5. Florida is trending on the 247Sports Crystal Ball, South Carolina is pushing and you have Oregon and USC battling from the Pac 12. Last year 80 percent of committed prospects put pen to paper during the Early Signing Period and 65 percent of all prospects came off the board. Those that have given a verbal that don't sign on the dotted line could be doing so for various reasons including interest in other programs, hoping for more offers or protecting against assistant coach changes.
Don't look now, but Miami wants to make a run
The Hurricanes didn't have the season they aimed for on the field, but many of their top recruiting targets are keeping an keen eye on Mark Richt's program. Miami sits at No. 29 in the 247Sports Composite Team Rankings. A push all the way to the Top10 isn't not out of the question.
The Hurricanes are the heavy 247Sports Crystal Ball favorite for the nation's No. 1 receiver Jadon Haselwood. There in a battle with Georgia for Stevenson. The Crystal Ball still favors The U for Top247 defensive end Khris Bogle. It's an in-state slugfest with Florida for the Lakeland duo of tight end Keon Zipperer and defensive end Lloyd Summerall and they're trying to flip five-star cornerback Akeem Dent from the Seminoles. The fight continues for five-star offensive tackle Evan Neal.
What are the new coaches up to?
Mack Brown and North Carolina are in the midst of a big weekend on the trail including commitments from a pair of speedy in-state receivers in Emery Simmons and Khafre Brown. Several sources believe they ultimately flip quarterback Sam Howell from the Seminoles.
Ryan Day and the Buckeyes woke up atop the Big Ten Recruiting Rankings after Hill flipped on Michigan for the Crimson Tide. Beat the Maize and Blue for Harrison and the reign atop those conference standings likely continues for OSU.
It's only a matter of time before Mike Locksley brings excitement to Maryland with local recruits. There's not much buzz yet surrounding the other Power Five hires, we'll see if they have any fireworks in store with less than two weeks to go.
The battle for Recruiter of the Year is tight
Oklahoma's Cale Gundy sits atop the 247Sports Recruiter Rankings with Georgia's Glenn Schumann and Alabama's Tosh Lupoi rounding out the top three of a tight battle. Lupoi is in terrific position to make a run to No. 1 with five-star Kayvon Thibodeaux and blue-chip linebacker Henry To'oto'o among his top remaining targets.
JUCO Signing Day

Before last year, this was the Junior College prospects' time to shine. It was solely their Signing Period.
Georgia and Oregon are leading the charge this year with the Bulldogs holding pledges from the No. 2 rated prospect in defensive end Jermaine Johnson and the No. 6 prospect in cornerback DJ Daniel. Oregon's top-ranked Pac-12 class that sits No. 7 nationally is highlighted by the nation's No. 3 JUCO prospect in offensive lineman Malaesala Aumavae-Laulu and the No. 5 prospect in cornerback Elijah Blades.
At the top of the rankings is Iowa Western's Chester Graves, who should be considered a Missouri lean but won't be able to sign until May at the earliest as he gets everything in order off the field.
Keep an eye on Cal linebacker commit Kuony Deng, a freak athlete that will be instant impact for a Bears defense that returns a lot of pieces in 2019.