No. 1 Alabama will face No. 4 Oklahoma in the Orange Bowl on Saturday, Dec. 29, for a 7 p.m. CT kickoff at Hard Rock Stadium in Miami Gardens, Fla. The Crimson Tide's semifinal against Sooners will air on ESPN with Chris Fowler, Kirk Herbstreit, Laura Rutledge and Maria Taylor on the call. Check out this 2-4-7 Primer to get you ready for the 14th game on Alabama's schedule.
TWO STORYLINES TO MONITOR
1. Tua Tagovailoa's health
Tagovailoa injured his left ankle in the SEC Championship Game and required a scope. He only wore a walking boot and using a scooter the week after surgery around the awards circuit before progressively participating in more and more drills during Alabama's prep for Oklahoma.
The Tide will continue its bowl practices in Florida this week after it arrives this afternoon, and Tagovailoa should keep up his trend of doing more on the field. As he has said since the scope, the sophomore quarterback expects to be at full health against the Sooners on Dec. 29.
"I'll probably be at 100 percent by the time the game comes, that's my prediction. Definitely," Tagovailoa told local reporters last week. "Full expectation is I'm going to play."
2. Keeping Murray in check
Oklahoma quarterback Kyler Murray won the Heisman Trophy after totaling more yards of total offense this season (4,945) than 68 of the other 129 Football Bowl Subdivision teams, including six current AP Top 25 squads. He'll now face an Alabama defense that has allowed nearly 35 points less per game (14.8 ppg) than his offense has averaged this season (49.5 ppg).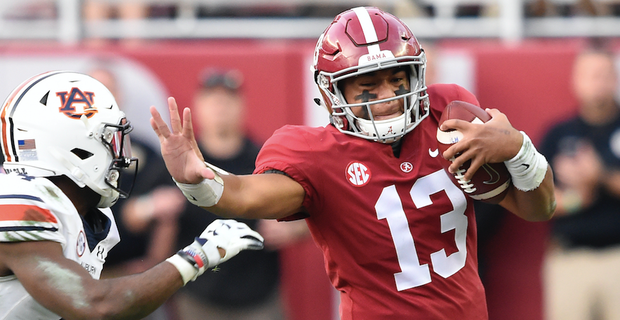 While some of the Tide's defensive players voiced their displeasure with the Heisman voting, wanting to see Tagovailoa win the award, they haven't been shy in praising Murray's abilities as a quarterback, as well, in what will provide Alabama with its toughest challenge to date.
"He can throw the ball, he can run the ball, he can do all of it," safety Xavier McKinney said. "He doesn't have a whole bunch of negative sides to him, as far as I can see. He does a lot of good things, a lot of things that helps his team win. We're trying to focus on that to see if we can find something where we can attack it and kind of make him feel pressure so that way he doesn't have all the time to make all the plays that he makes."
FOUR PLAYERS TO WATCH
1. Jerry Jeudy
Jeudy is one of several players making his return to the Sunshine State, more specifically South Florida, for the Orange Bowl. The Deerfield Beach, Fla., native currently leads Alabama in yards (1,103), receptions (59) and receiving touchdowns (12) after 13 games and will be facing the nation's worst passing defense (291.4 yards per game). Jeudy and the rest of the Tide receivers and tight end Irv Smith Jr. could be in for big days should Alabama look to air the ball out.
The redshirt senior outside linebacker leads the Crimson Tide with 12 quarterback hurries and ranks third on the roster with 7.5 sacks. He and the other members of Alabama's defensive front will be tasked with pressuring Murray, keeping him in the pocket and dropping the quarterback for sacks Saturday. One interesting thing we saw during on-campus prep was Miller working at inside linebacker with the twos in nickel drills, so spying Murray could be one of his tasks.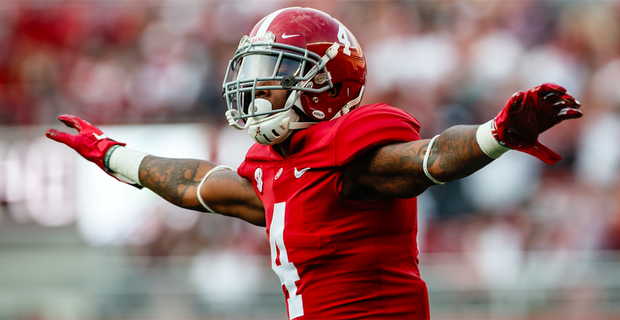 3. Josh Jacobs
Jacobs is the only Oklahoma native on Alabama's 2018 roster. The Tulsa, Okla., native said he was excited to be playing against his home-state team but is approaching the CFP semifinal like any other game. Rule out his ties to the state, though, and Jacobs remains a player to watch. He has been a versatile weapon in the Tide's offense this season, and against a poor overall defense, he could see success on the ground or out of the backfield as a receiving threat.
Oklahoma's offense is one of the best in the country, and the way Murray throws the football is a big reason for that. The Sooners average 324 yards per game through the air and will be facing some top-tier receivers, especially if Marquise Brown is healthy in time for the game. Alabama's entire secondary should be on high alert versus Murray and company, but given the way Patrick Surtain II has held down the right side of the formation, Smith could see plenty of targets.
SEVEN NOTES TO KEEP IN MIND
1. Alabama and Oklahoma will meet for the sixth time in the history of the two programs in the 2018 College Football Playoff semifinal at the Capital One Orange Bowl. The Tide is 1-3-1 all-time against the Sooners, including a 1-1-1 mark in postseason play. OU posted a 45-31 victory over the Tide in their most recent meeting in the 2014 Sugar Bowl. Alabama head coach Nick Saban is 1-1 all-time against Oklahoma. His LSU squad defeated the Sooners, 21-14, in the 2004 BCS National Championship Game. Oklahoma head coach Lincoln Riley is in his second season in Norman and is coaching his first game against the Crimson Tide.
2. Alabama is making its ninth Capital One Orange Bowl appearance this season and is 4-4 all-time in Orange Bowl contests. Two of the Tide's national championship teams played in the Orange Bowl with UA's 1964 championship team falling to Texas, 21-17, on Jan. 1, 1965 while the 1965 national champions defeated Nebraska, 39-28, in the Jan. 1, 1966 contest. Alabama also appeared in one BCS National Championship Game in Miami, capturing its 15th national title with a 42-14 win over Notre Dame following the 2012 season.
Alabama is 5-2 all-time in College Football Playoff games since the playoff's inception in 2014. UA is the only school to appear in each edition of the CFP.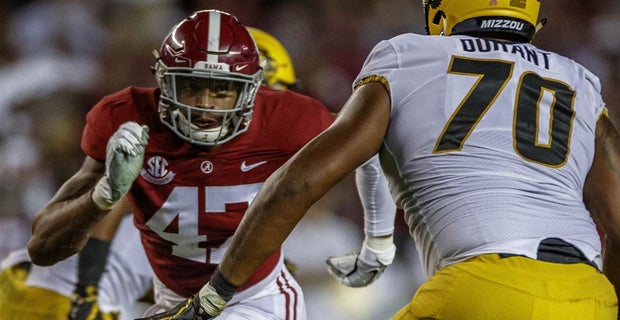 3. Redshirt seniors Ross Pierschbacher and Christian Miller along with seniors Damien Harris and Hale Hentges will appear in their seventh College Football Playoff game when they take the field for Alabama's semifinal matchup with Oklahoma in the Orange Bowl. The quartet will tie former Tide linebacker Rashaan Evans and punter JK Scott for the most games played in CFP history. Harris, Hentges, Miller and Pierschbacher have been members of two CFP championship teams and have appeared in three CFP national championship games in their first three seasons at the Capstone.
4. Alabama is 88-49-4 (.638) all-time in 141 neutral site contests. The list includes all Alabama-Auburn games not played on campus, including Legion Field from 1948-88. The Tide is 2-0 in neutral site games this season. Alabama opened the 2018 campaign with a 51-14 win over Louisville at Camping World Stadium in Orlando, Fla., on Sept. 1 and defeated Georgia in the SEC Championship Game at Mercedes-Benz Stadium in Atlanta, Ga., on Dec. 1. The Crimson Tide was 3-0 in neutral site games in 2017. The Crimson Tide is 20-5 (.800) in neutral site games during head coach Nick Saban's tenure at Alabama.
5. Alabama is outscoring its opponents by 430 points (623-193) through 13 games this season (33.1 points per game). That is the most in SEC history for an entire season. In conference play, the Tide outscored its eight regular-season opponents, 374-113 (46.8-14.1). Through 13 games this season, Alabama is also outscoring its opponents, 388-103 (29.4-7.9), in the first half. That total includes a 199-45 (15.3-3.5) first-quarter advantage and a 189-58 (14.5-4.5) difference in the second quarter.
6. Alabama's scoring differential stands at 33.1 points per game (47.9-14.8) in 2018. A big reason for the margin is the Crimson Tide's performance following a turnover. UA has scored 118 points off 21 opponent giveaways this season, scoring on 18 of the turnovers. The Tide defense has directly accounted for 35 points on four interception returns and a fumble return, while the offense has posted 83 points on its 15 post-turnover possessions. Oklahoma has turned the ball over 13 times (7 interceptions, 6 fumbles) compared to 11 turnovers gained.
7. Through 13 games in 2018, Alabama leads the SEC in sacks per game (3.23) with 42 for a loss of 251 yards. The Tide ranks seventh nationally in sacks per game and total sacks. Senior Isaiah Buggs leads the Tide – and is tied for 13th nationally and fourth in the SEC – in both sacks (9.5) and sacks per game (0.73). Redshirt senior Christian Miller is tied for sixth in the league with 7.5 and sacks per game (0.58). Redshirt sophomore Quinnen Williams is 12th in the SEC with 7.0 sacks and 0.53 sacks per game. Oklahoma has only allowed 16.0 sacks in 13 games.
Contact Charlie Potter by 247Sports' personal messaging or on Twitter (@Charlie_Potter).
*** Don't miss a VIP update with our FREE trial of BamaOnLine. Sign up HERE ***