As the 2018 college football season wears on, we can't shake an air of inevitability.
Vegas can't find a team that would come within single digits of presumed title winner Alabama. The Heisman Trophy has never seemed like more of a lock. Shoot, even the coaching carousel is boring: Jeff Brohm has probably already given Purdue his two-week's notice.
But, well, you never know. And when it comes to the Alabama Crimson Tide's march toward perfection and a place in the pantheon of all-time great teams and dynasties, all it takes it one. One bad half. One bad matchup. One missed extra point *ducks.*
Who is best positioned to perhaps topple the Tide? We've asked writers who cover 2018's best teams — Clemson, Notre Dame, Michigan, Georgia and Oklahoma — to make their pitch: How are you going to beat Bama?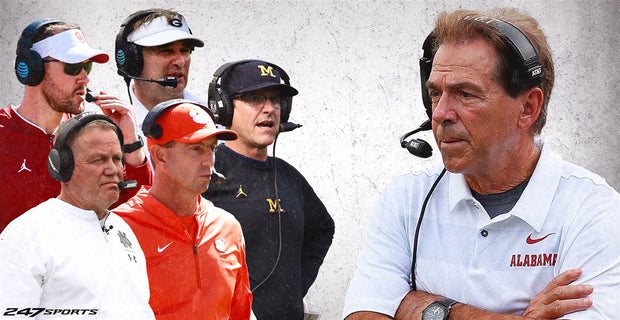 THE CASE FOR NO. 2 CLEMSON
"No team outside of the SEC is more familiar with Alabama than Clemson, which has faced the Tide in the postseason each of the past three years. Defensively, I think Clemson touts the front and a defensive coordinator that can give Alabama's offense some issues, especially after watching the Tide's offense provide some evidence of being human last week vs. Mississippi State. Offensively, Trevor Lawrence is getting increasingly comfortable in setting his protections and developing chemistry and cohesiveness with Clemson's offensive line and arsenal of skill players. There's just not many weaknesses on this team right now. To me, a couple of the main storylines surrounding a potential Tide-Tigers matchup would be if Lawrence can navigate the pressures and fronts 'Bama will bring to try and confuse a young quarterback. You saw some of that vs. Boston College and Lawrence handled it pretty well, but Alabama is on a different level. To have a shot at winning, because Alabama is capable of shutting down the Tigers' run game, Clemson's receivers would have to win some one-on-one matchups down the field and match Alabama's physicality on the perimeter. And I think Clemson's in better position to do that this year than last year." — Anna Hickey, Clemson247
THE CASE FOR NO. 3 NOTRE DAME
"The Irish obviously would need a healthy Ian Book at quarterback to make this work. With his deep use of his pass-catching corps, Book and the Irish offense would try to spread the Alabama defense and use the entire width of the field. That's the only way Dexter Williams would be able to find some inroads in the rushing attack. Offensive coordinator Chip Long would use tempo to speed up the process. Notre Dame's defense would try to force the Crimson Tide into extended touchdown drives. The Irish have done a tremendous job of limiting big plays. The off-the-edge pass rush by Notre Dame's defensive ends would put some pressure on Tua Tagovailoa, which is the only way to slow him down and limit his accuracy." — Tim Prister, IrishIllustrated.com
THE CASE FOR NO. 4 MICHIGAN
"I think Michigan would head into the game thinking its defensive line could go toe to toe with Alabama's offensive line, and I think they'd be right. The Wolverines are one of the few fronts in the country that can do so. They're athletic and deep up front, so they wouldn't get worn down as easily as other teams. Stopping the run will be their first order of business and should be pretty stout in that phase of the game. The tougher task will be corralling Tua Tagovaiola. The sophomore signal caller reads coverages well, can extend plays, and can complete passes in tight windows. Michigan is generally effective at getting pressure with its front four, but Don Brown could opt to sprinkle in more zone blitz against the Crimson Tide. The Wolverines will still be in man to man to majority of the game, but varying coverages and bringing rushers from multiple places against the nation's top quarterback probably isn't a bad thing. The name of the game will be slowing the Bama offense down, not stopping it. Stopping that juggernaut of an attack doesn't seem realistic, even for a defense as good as Michigan's.
"Which takes us over to the offense. This is where the game will be won or lost for Wolverines because the defense will do its part. Jim Harbaugh will stay committed to the run game. That will be a key part of the strategy to slow Bama's offense down … keep it off the field. That of course is easier said than done. The offensive line has grown leaps and bounds, and offensive line coach Ed Warinner is no stranger to getting a seemingly overmatched crew up to the task of blocking the Tide. He did it back in 2014 at Ohio State with a unit some described as being terrible to start that year. I think expecting a similarly dominant showing from Michigan's front would be unreasonable, but expecting them keep the Tide defense honest wouldn't be.
"The offensive fortunes will rest largely on Shea Patterson's legs. His judgement in the zone read game will be key. He will have to pull it a decent amount in this one. Look for more quarterback draws and scrambles against man to man a la Johnny Manziel 2012. When it comes to the passing game Patterson will have to take advantage of the aggressiveness of Bama's linebackers with all manners of play-action… waggles, RPO, and straight dropbacks. The tight ends will play an essential role in that because long developing pass plays (seven step drops) to the wideouts probably won't be available. You can't hold the ball against Bama. Fade balls, quick outs, slants, and screens will be likely be big parts of the WR menu. When it comes to the downfield passing game for receivers, I think they'll try to get some of that by attacking safeties in coverage. Tarik Black will be fully reincorporated into the attack by then. That will allow Michigan to play with Donovan Peoples-Jones in the slot much more. I expect that to be a match-up the Wolverines try to exploit.
"That all sounds good, but every coach in the country knows the even the best laid plans can go awry against the Tide. That means the Wolverines are going to need Shea Patterson to make some playground plays on the move with pressure bearing down. The unscripted improvisational plays that you can't coach. Michigan can't win a game against Bama without that element. He has shown the ability to do that this year, but it'll have to be on another level to beat the Crimson Tide." — Sam Webb, TheMichiganInsider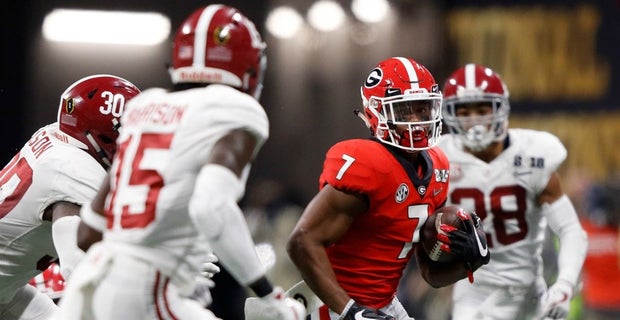 THE CASE FOR NO. 5 GEORGIA
"There are a couple of reasons Georgia can challenge Alabama when they play Dec. 1 in Atlanta. It starts with overall talent, where Georgia is as close as any team in the coverage. While the Bulldogs are quite young, they are one of the most talented and deepest teams in the country — one of the few who can go toe to toe with the Crimson Tide when it comes to gifted football players. When it comes to speed, length, and overall size, Georgia's getting close to being in that league if it isn't already. Then you move to the offensive line, where Georgia has one of the biggest, most powerful units in America. It has been dominant at times this season and despite the issues inside the 10-yard line, it'll likely be the best front five Alabama has played all season. It's almost impossible to beat Alabama without running the ball with least some efficacy. Georgia has a shot to accomplish that. It all comes down to being able to get a hat on a hat and allow the Bulldog running backs a chance to make players miss and break tackles in space. D'Andre Swift and Elijah Holyfield are adept at that. I'd expect Georgia to try and put those guys in position to press the line of scrimmage and find any small seams in Bama's run defense. That will set up manageable situations on third and second down and allow UGA to work off play action pass. Defensively, it's all about speed where UGA should be able to run well enough to prevent big plays from Tua Tagovailoa and an unbelievably talented Alabama offense. It's impossible to top the Crimson Tide without limiting the explosive plays." — Jake Rowe, Dawgs247
THE CASE FOR NO. 6 OKLAHOMA
"The Sooners once again have a Heisman Trophy contender at quarterback, and the Sooners once again would lean on that Heisman Trophy contender at quarterback to knock off the Crimson Tide. Kyler Murray has been everything Lincoln Riley was hoping for and then some. He's accounted for nearly 3,700 yards of total offense, throwing for 32 touchdowns to only five interceptions, while rushing for another seven scores. Murray has the luxury of throwing to a Biletnikoff Award Semifinalist in Marquise Brown, plus CeeDee Lamb and a host of other solid receivers, and his talented one-two punch of Trey Sermon and Kennedy Brooks in the backfield are ripping up yards on the ground. The Sooners can put up points, as evidenced by their No. 2 ranking nationally in scoring (49.0). They'd certainly have to hope that, unlike last year, their elite offense could provide them enough to compensate for an abysmal defense. OU fired maligned defensive coordinator Mike Stoops midway through the season, and after a couple solid games against teams that couldn't stress it through the air, the defense has returned to its woeful ways under interim coordinator Ruffin McNeill's direction. So it's all about the offense and what No. 1 can orchestrate with his host of playmakers behind an elite O-line." — Joey Helmer, OUInsider