The Alabama men's basketball team looked like a completely different team Friday afternoon as it coasted to a 79-61 win over Ball State in its second game in the Charleston Classic at TD Arena.
One day after the Crimson Tide (3-1) struggled to get anything going offensively in a 68-52 loss against Northeastern, Alabama saw more success on that end of the floor, shooting 51 percent (33-of-65) from the field and 37 percent (7-of-19) percent from behind the three-point line. 
The Crimson Tide started the game on a 13-0 run after Ball State (1-3) scored the first basket of the contest. Alabama continued to increase its double-digit lead and led by as many as 21 points. 
"I am really proud of our team and I thought we played with maximum energy on both ends of the floor," Alabama head coach Avery Johnson said in a release. "Ball State is a veteran team and they know what they are doing. Much better effort of defending the three-point line, especially in the second half.
"We rebounded the ball and had a balanced scoring attack. We are not going to be very good when one guy gets double figures. I think it really energized our team and I think (Tevin) Mack and Dazon (Ingram) both gave us a huge lift today."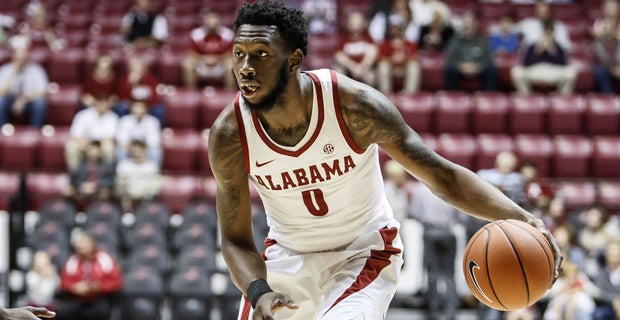 In the first 20 minutes, Texas transfer Tevin Mack hit back-to-back threes to give the Crimson Tide as many threes (3) as it scored Thursday. That was at the 11:33 mark in the first half. In the consolation side of the Charleston Classic bracket, Alabama bounced back from a lackluster performance the day before, and it happened early as UA took a 34-21 into the locker room.
The Crimson Tide added 45 points in the second half, including 14 second-half points from Mack. The South Carolina native led Alabama with a game-high 20 points off the bench on 5-of-9 shooting from beyond the arc. Mack had 19 combined points in UA's first three games.
Also scoring in double figures was senior Donta Hall, who posted a double-double with 12 points and 12 rebounds. This came one day after the center did not score in the game against Northeastern. Herbert Jones added 13 points, while Dazon Ingram scored 11 off the bench.
Ball State also had four players tally double-digit points and attempted 13 more free throws than Alabama, but it wasn't enough for a Crimson Tide team that looked much better than Thursday. 
Alabama-Ball State final stats: pic.twitter.com/U6sgjdEgFN


— Charlie Potter (@Charlie_Potter) November 16, 2018
The Crimson Tide will play its final game of the Charleston Classic tournament on Sunday afternoon when it faces either Appalachian State or Wichita State at 12:30 p.m. CT on ESPNU.
GAME 4 NOTES:
— For the fourth game in a row, Alabama went with the starting five of one senior (Donta Hall), three sophomores (John Petty, Herbert Jones, Galin Smith) and one freshman (Kira Lewis).
— Alabama associate head coach John Pelphrey was back on the bench Friday after missing Thursday's contest against Northeastern because of the death of his mother-in-law.
— Senior center Daniel Giddens did not see the floor for Alabama. Neither did injured players Riley Norris (heart), Javian Davis-Fleming (knee) nor Diante Wood (ankle).
Contact Charlie Potter by 247Sports' personal messaging or on Twitter (@Charlie_Potter).
*** Don't miss a VIP update with our FREE trial of BamaOnLine. Sign up HERE ***