TUSCALOOSA, Ala. — Long time, no see for the Alabama men's basketball team.
The Crimson Tide will play in its first game in eight days when it welcomes the Murray State Racers to Coleman Coliseum for a Monday night contest. Alabama is off to a 4-1 start to the season, while the Racers (3-0) will play their first road game of the 2018-19 season.
The Tide is coming off a fifth-place finish at the Charleston Classic, closing out the event with a 2-1 record. After an opening-round loss to Northeastern (68-52), Alabama responded with a 79-61 win over Ball State, followed by a hard-fought 90-86 victory over Wichita State.
"Excited to obviously get back home and get some really good quality practice time, which we need coming out of our tournament in Charleston where we obviously went 2-1," Alabama head coach Avery Johnson said. "We just have so many different things to work on. Fortunately, we settled on a rotation on a rotation in the last two games in Charleston, which really helped us.
"But just excited about playing in front of our home crowd. … We're playing against a really, really good team. This team is equivalent to Rhode Island last year. An experienced team, a team with a very, very high-level point guard, they can shoot it. So, we're going to have to be ready to play."
A year ago, Murray State was 26-6 overall and 16-2 in Ohio Valley Conference play as it captured its 25th OVC regular season and 16th OVC Tournament championships. The Racers earned a 12 seed in the NCAA Tournament where they came up short against West Virginia. Murray State was picked to finish second in the Ohio Valley Conference behind only Belmont.
Monday's contest between Alabama and Murray State will see 34 scouts representing 22 NBA teams at Coleman Coliseum. That number approached last year's battle between Alabama's Collin Sexton and Oklahoma's Trae Young, which hosted a school-record 56 scouts.
The Racers return three starters, including sophomore point guard Ja Morant, who was named All-OVC First Team and All-OVC Newcomer Team as a freshman last year. Morant started every one of Murray State's 32 games in 2018-19 and was ranked 15th nationally with 6.2 assists per game. Among NCAA D-I freshmen, only Young of Oklahoma was better with 8.7 a season ago.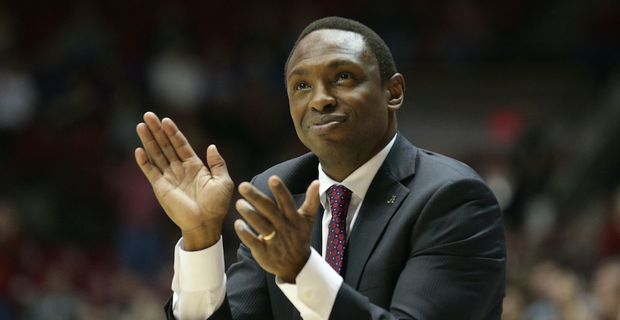 This year, Morant is averaging 24.3 points and 10.3 assists per game for the Racers. Johnson said the Crimson Tide will pressure Morant with a "steady diet of different defenders" on Monday.
"He's a problem," the fourth-year head coach said. "He can really push the ball. Very high-level ball-handler, passer, shooter, great court vision. He constantly puts pressure on your defense. So, whether it's your transition defense, your pick-and-roll defense, man-to-man defense in the halfcourt, we're going to have to account for him on every possession."
Alabama-Murray State will tip off at 7 p.m. CT on Monday, Nov. 26, on the SEC Network+.
INJURY UPDATES
Ahead of its sixth game of the season, Johnson also updated the statuses of several of UA's injured players. He started with John Petty, who took a shot toward the end of the Wichita State game.
"He'll be able to go," Johnson said of Petty. "When we returned from Charleston, he missed the first two days of practice, but he's been in practice the last couple of days and he'll practice today. He should be ready to go."
The statuses of two players that haven't seen the floor this season — Riley Norris (heart) and Javian Davis-Fleming (knee) — remains the same, although Norris could return to the lineup this week.
"Javian is about the same. He's been participating and a little bit more contact in practice," Johnson said. "Riley's practiced the last couple of days. But we'll see how he feels in terms of tomorrow night's game. He'll be more of a game-time decision." 
Contact Charlie Potter by 247Sports' personal messaging or on Twitter (@Charlie_Potter).
*** Don't miss a VIP update with our FREE trial of BamaOnLine. Sign up HERE ***