Alabama point guard Kira Lewis has been tabbed the Southeastern Conference's Freshman of the Week, the league office announced on Monday afternoon.
In games against Georgia State and Arizona this past week, the 6-foot-3, 167-pound freshman from Meridianville, Ala., averaged 19.5 points and 4.5 threes made per game while shooting 60 percent from the beyond the arc (9-of-15) to secure the team's first weekly honor of the year.
Lewis began the week by going 6-of-12 from the field and draining five three-pointers (5-of-10) on his way to team-high 19 points against Georgia State. He followed that performance by recording his fourth 20-point game of the year to lead the Tide in a three-point win over Arizona. Lewis connected on 7-of-13 shots from the floor, including hitting 4-of-5 treys on the night, and capped the performance by sinking a three-pointer with 13 seconds left to seal the victory over the Wildcats.
"His teammates did a great job of setting screens for him, and he got in open space and made some really good plays," Alabama head coach Avery Johnson said after a 76-73 win over Arizona. "But he's just growing and developing, and right now, he's just concerned about his final exams."
Crimson Tide forward Tevin Mack added, "He's a killer."
For the season, Lewis has started all nine contests and leads Alabama in scoring at 15.4 points per game and three-point shooting (18-of-43, 41.9 percent), while also tying for the team lead in assists (21) and steals (7).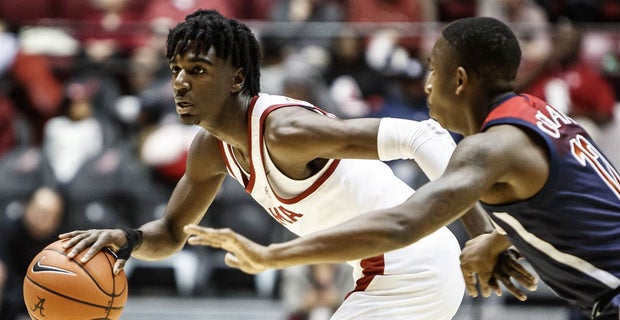 Lewis was the state of Alabama's No. 1 player, the No. 9-ranked point guard and No. 39 overall recruit in the 2018 recruiting cycle, according to the industry-generated 247Sports Composite.
Mississippi State guard Lamar Peters and Tennessee guard Admiral Schofield were named SEC Co-Players of the Week. 
Peters racked up 27.5 points and 5.0 assists per game as Mississippi State stretched its winning streak to five consecutive games with wins over Clemson and McNeese State. Peters canned 62.1 percent of his shots fueled by 16 three-pointers. He set a program single-game record with eight treys against McNeese State only to equal it four days later versus Clemson.
Schofield posted the best game of his career as he rallied the seventh-ranked Vols to a 76-73 win over No. 1 Gonzaga in Phoenix, finishing with a career-high 30 points to go along with six rebounds. Ending the game on an 11-5 run, the senior guard was responsible for Tennessee's final 11 points during the final 3:17 of play while knocking down three of his career-high six treys. After scoring just five points in the first half, Schofield erupted after halftime to drop 25 points on 10-of-17 shooting with five threes.
The Crimson Tide will be off from games this week for final exams and returns to action on Tuesday, Dec. 18, for the Rocket City Classic in Huntsville, Ala. Alabama will welcome Liberty for the third annual event, which will tip off at 7 p.m. CT and be available on SEC Network+.
Contact Charlie Potter by 247Sports' personal messaging or on Twitter (@Charlie_Potter).
*** Don't miss a VIP update with our FREE trial of BamaOnLine. Sign up HERE ***