There's the natural tendency to believe that when a football team loses a game to its rival that it will have additional motivation to gain revenge in that rivalry game the following year, even though those are different teams and different situations.
Alabama will be trying to avenge last season's 26-14 loss to Auburn from last season, but in the Crimson Tide camp the revenge factor seems to be not the motivation that might be expected.
As it turned out, the salve on that 2017 wound at Auburn was the comfort of Alabama going on to win the national championship.
Prior to last season, Nick Saban's Alabama teams lost three times to Auburn, and did avenge those losses in subsequent seasons.
• In his first year, 2007, Saban's Bama (a 7-6 team) fell to the Tigers by 17-10. The next year Alabama was a 35-0 winner.
• In 2010, when Alabama lost three games, one of those was by 28-27 to Auburn. The next season the Tide was a 42-14 winner.
• In 2013 Bama went to Auburn with an 11-0 record (as last year), and lost 34-28. In 2014 Alabama won by 55-44.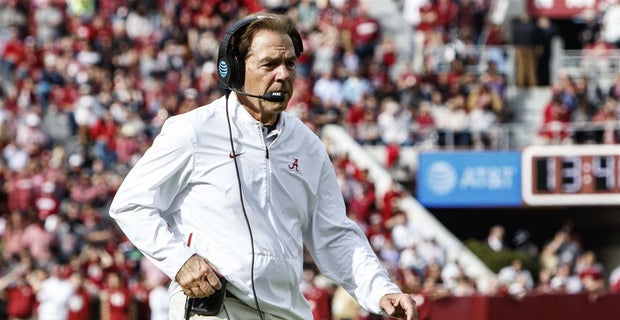 Saban doesn't dispute the notion that Tide players as competitors who were on that team that lost to Auburn last year would want to play better at the next opportunity.
That next chance comes Saturday at Bryant-Denny Stadium when No. 1 Alabama again puts an 11-0 record (7-0 in Southeastern Conference) on the line against Auburn (7-4, 3-4). Kickoff is at 2:30 p.m. CST with CBS televising the rivalry week game.
"I think the players all know what happened last year," Saban said. "I think they don't feel great about it. They didn't feel good about it last year. They've had to live with it for 365 days."
There was a "but" at the end of that preamble.
"I don't necessarily think that the revenge factor is the best form of motivation out there," Saban said.
He said, "I feel there are a lot of other things that are factors that this team can accomplish relative to how they finish the season, regardless of who they have to play.
"I think everybody understands the importance of this game and I think everyone understands what happened last year and I think all these things will contribute, I hope, to having the right mindset so we can play well in this game.
"I think it's not just about the emotion when the game comes.
"I think it's more about what you want to accomplish, how important it is to you, how you prepare, how you work all week long so when you get in the game you've created the right habits to play well. So hopefully we're going to have the right energy and intensity to go out and do that throughout this week because it's a big game."
Senior Alabama center Ross Pierschbacher said this week is just like any other for the players.
Pierschbacher said, "With every game we take sort of one step at a time and you know around here we don't like to look forward. Obviously, this game has meant a lot and had a lot of implications, and meant a lot to everyone in this state.
"But we try not to have anxiety around here, just try to go about our normal week. Nothing changes during the practice week. We go about it very business-like.
"We've played in a lot of big games around here. A lot of guys are used to it, and that's why you come to a place like Alabama is to play in big games like this — and just not let it consume you and get too many emotions going. You have to go out and execute regardless of who you're playing against. That's kind of how we battle that."
Alabama is the overwhelming favorite to win not just the Auburn game but to go on and win a second consecutive national championship (and sixth in the Saban Era). The Tide is also in position for an undefeated season — something that Saban's teams have accomplished only during his first Bama national championship season in 2009.
Alabama safety Deionte Thompson said an undefeated season is not part of the conversation within the team.
He said, "We just look into coming out and dominating our opponent and playing to our capability, playing to the standard and everything will take care of itself."
Linebacker Christian Miller said, "I think we try not to talk about last year. We're just focused on this game. It's a completely different team, a completely different season. I know y'all probably hear that all the time, but it's true. We're really just focused on this season and this team especially this week. We're focused on the game we have."
But is the score of last year's game posted in the football complex to remind the players?
"Not that I've seen," he said.