Although not the most important aspect of Alabama's upcoming College Football Playoff semifinal game against Oklahoma on Dec. 29 in the Orange Bowl, certainly an interesting sidenote to the contest is the meeting of Sooners quarterback Tyler Murray, winner of the Heisman Trophy, against Crimson Tide quarterback Tua Tagavailoa, the Heisman runner-up.
It is, of course, more than just the one-on-one comparison that is inevitable in the run-up to the game. It also invites the historical implication of past Alabama performances against Heisman Trophy winners.
For many years, the Heisman Trophy was not the honor it is today. In 1957 Texas A&M halfback John David Crow was in contention for the award and his coach, Paul Bryant, declared, "If they don't give it to John David Crow they should quit giving it." Crow won the award, which he later said he had never heard of. In the early years of his marriage he said their home had a door that wouldn't stay open and they used the trophy for a door stop.
Alabama has played games against 10 teams previously with players who won the Heisman Trophy that season and the Tide is 3-7 in those games.
Heisman winners are 2-4 all time when facing the runner up in a bowl game.


— Cole Cubelic (@colecubelic) December 10, 2018


• Almost no one took note of (and only a very few would remember) Alabama's first game against a Heisman Trophy winner, Frankie Sinkwich of Georgia in 1942. Alabama, a decent team that would finish 8-3 without many of its stars from 1941 who had gone into military service, and Georgia met in Atlanta in 1942 and Sinkwich led the Bulldogs to a 21-10 victory, including passing for 230 yards.
• By 1971 the Heisman had become a big deal and was awarded to Auburn quarterback Pat Sullivan the week before undefeated (10-0) Alabama and Auburn (9-0) met in the final regular season game of the year in Birmingham. Alabama was led by tailback Johnny Musso, who finished fifth in balloting that year.
Paul Bryant had added a new secondary coach that season, Bill Oliver, who had previously been at Auburn.
The game was no contest. Sullivan was shut down on 14-27 passing for 121 yards and two interceptions with no touchdowns and Bama rolled to a 31-7 victory. Many believed that Sullivan was not even the best player on his Auburn team that year, that the honor should have gone to his teammate, wide receiver Terry Beasley.
Alabama's win over Auburn set up a battle of undefeated teams in the Orange Bowl for the national championship, and in that game the Tide went up against the man who was probably the best football player in the nation, the Cornhuskers' Johnny Rogers. And he was the star of the nation's best team as Nebraska was a 38-6 winner.
• Alabama seemed to be in control when the Tide hosted Boston College and Doug Flutie in Birmingham in 1984, Flutie's Heisman Trophy winning season. But when Bama's Kerry Goode went out with a knee injury, fortunes turned and Flutie rallied the Eagles to a 38-31 win, completing 19 of 38 passes for 254 yards and two TDs.
• The next season saw Alabama going up against another Heisman Trophy winner from Auburn, halfback Bo Jackson. Alabama was 8-2-1 and unranked while the Tigers were 10th in the nation. No one gave much thought to Jackson or any other player in the game save Tide placekicker Van Tiffin, whose 52-yard field goal expired gave Alabama a 25-23 victory. Jackson had rushed 31 times for 142 yards and two touchdowns.
• Alabama's 1987 team under new Coach Bill Curry managed only a 7-5 record with several close losses, but the game against Notre Dame and Heisman Trophy winner all-purpose star Tim Brown in South Bend was not close. The Irish took a 37-6 win with Brown accounting for 14 plays and 225 yards.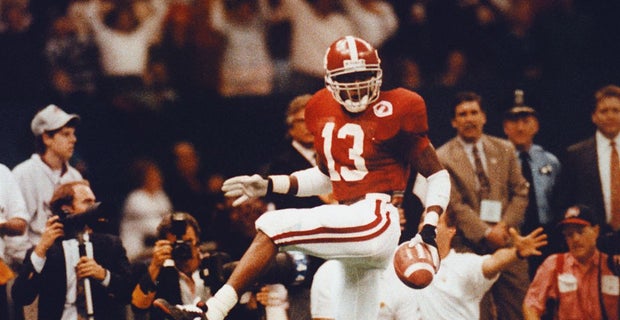 • Bill Oliver was back on the Alabama defensive staff under Coach Gene Stallings in 1992 when Alabama made its way undefeated to a battle against seemingly unbeatable Miami and Heisman Trophy winning quarterback Gino Torretta in a Sugar Bowl matchup for the national championship. Alabama's defense was magnificent with the likes of George Teague and Antonio Langham in the secondary and John Copeland and Eric Curry on the front and with Jay Barker directing an error-free offense. Bama was a shocking 34-13 winner. Torretta completed 24-56 passes for 278 yards, but suffered three interceptions.
The last four Alabama teams vs. players who won the Heisman Trophy that year have not been successful.
• In the Southeastern Conference Championship Game in Atlanta in 1996, Florida's Danny Weurffel led ther Gators to a 45-30 win over Stallings' last Bama team. Weurffel completed 20-35 passes for 401 yards with six touchdowns more than offsetting his three interceptions.
• In 2003 in Tuscaloosa, Oklahoma quarterback Jason White completed 21 of 35 passes for 259 yards and a touchdown as the Sooners edged Alabama 20-13.
• One of the most disappointing losses of the Nick Saban Era at Alabama came in 2010 when Auburn's Heisman Trophy winning quarterback Cam Newton engineered a 28-27 comeback win over the Tide in Bryant-Denny Stadium. Newton rushed 22 times for 39 yards and a touchdown and completed 13 of 20 passes for 216 yards and three touchdowns.
• Johnny Manziel won the Heisman Trophy in 2012 in no small part because of the Texas A&M quarterback's exceptional game in a 29-24 win over Alabama in Tuscaloosa. He rushed 18 times for 92 yards and completed 24 of 31 passes for two touchdowns with no interceptions.
Alabama has played against other Heisman Trophy winners, though not in the year they won the award. Among the most notable was in the 2009 SEC Championship Game. Tim Tebow had won the award in 2007 as a sophomore, but in the 2009 he suffered a tearful defeat as Bama took a 32-13 win in Atlanta and advanced to the national championship game, where the Tide was a 37-21 winner over Texas.
In that 2009 season, Alabama tailback Mark Ingram was the Heisman Trophy winner.
Alabama's other Heisman winner, Derrick Henry in 2015, also led Alabama to a national championship.