There's a college football adage that the most popular player on the team is the backup quarterback (particularly if the fans have never seen him play). That saw may be true at Alabama today, but for an unusual set of reasons.
Jalen Hurts has heard the cheers. He heard them throughout the 2016 season as he led Alabama to an undefeated regular season, to the championship of the Southeastern Conference, and into the College Football Playoff Championship Game. He was the SEC Offensive Player of the Year.
He heard the cheers as he ran into the end zone in Glendale, Ariz., in the final two minutes of that title game to give Bama the lead.
And he heard them through 11 ½ games of the 2017 season, before he was lifted in favor of Tua Tagovailoa in the second half of the 2018 national championship game.
And then the cheers were silenced. Hurts was ineffective in last spring's A-Day Game, a lost chance to rekindle the appreciation while an injured Tagovailoa sat out the scrimmage with injury.
And, to be candid, Hurts seemed to have more detractors than supporters as the 2018 season approached.
In this new age of college football players – particularly quarterbacks – looking for greener pastures if they don't win the starting job, Hurts is a standout in a way that is different than in his glory days as Bama's No. 1 quarterback.
He didn't win this year's starting QB job from Tagovailoa in August and the rumors started. Hurts would transfer at the end of the year after earning his degree from Alabama. Hurts would play no more than four games, thus preserving an extra year of eligibility at his new school under the new four-game redshirt rule.
Instead. Hurts has stayed to hear the cheers. He heard them in his first game as a backup. They were thunderous when he entered the game against Louisiana, Alabama's fifth game of the season, putting to rest the notion that he would redshirt for the benefit of some future team.
He heard cheers as he entered the game against Auburn and threw one pass, a strike to freshman Jaylen Waddle who went 53 yards for a touchdown in Bama's 52-21 victory.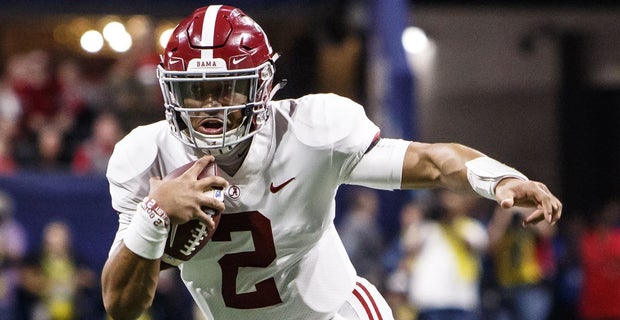 The most thunderous ovations and greatest emotions, though, were saved for the SEC Championship Game. Tagovailoa struggled on a bad ankle, and eventually had to leave the game with Alabama trailing Georgia by 28-21 in the fourth quarter.
Hurts came on and rallied the Tide to victory.
Hurts finished with 7-9 passing for 82 yards and a 12-yard touchdown pass to Jerry Jeudy that tied the game and 5 rushes for 28 yards including a 15-yard run for the winning touchdown with 1:04 to play.
As Alabama Coach Nick Saban discussed Hurts following the game, Saban appeared to be choking back tears. Hurts had delivered a game-tying drive of 16 plays and 80 yards to tie the game and 5 plays and 52 yards to win it.
Today many believe that Hurts will transfer when this season ends, and no one can say whether he will or won't. If so, though, regardless what, if any, role he plays in the upcoming College Football Playoff, Hurts will have left Tuscaloosa to a standing ovation. The cheers continued last Saturday as he earned his degree from The University midway through his third year at The Capstone and received a standing ovation as he strode across the stage in Coleman Coliseum.
Hurts's teammate and roommate and fellow graduate, Damien Harris, said, "It was great. Seeing how people appreciate him still and how people think so highly of him and support him – you can't ask for anything more for a guy like that.
"Jalen is a special guy. Everybody knows that.  The character he embodies, the way that he has handled this entire situation has been remarkable. He shows up every single day and he just tries to be the best version of himself no matter what the circumstances are. I think that has been shown. When we needed him to step up in the Georgia game, he came up and did it and he didn't even flinch. So, just the character he has shown and the resiliency and everything he has done continuing to improve and the circumstances he's been in is truly impressive."
Following Alabama's practice Monday for the Orange Bowl meeting against Oklahoma On Dec. 29, the semifinal game for the College Football Playoff, Saban was asked about this love affair Crimson Tide fans have with their backup quarterback.
"I think it speaks a lot of him and his character," Saban said. "I think a lot of people recognize the fact that he put the team first. He stayed here and focused on improving, trying to get better, trying to help the team, getting ready for any opportunity that might present itself for him.
"I think we played to get him ready for that. When it did in the last game, the SEC championship game, he certainly came through in fine fashion.
"But I think it's not just a good win or something that's good for Jalen. I think it's a great message for all young people in all sports, that sometimes things don't go exactly like you want them to go. But perseverance, sticking with something, trying to overcome adversity, there's a lot of value in that.
"I think Jalen created a lot of value for himself by doing what he did, and I think our fans really appreciate that and show that appreciation every time they get the opportunity, which I'm really happy about and happy for him.
"I'm really, really proud of what he's been able to do this year. Getting the Most Inspirational Player [award voted by his teammates] kind of shows he affected his teammates even when he wasn't playing."
Alabama linebacker Mack Wilson said, "Jalen is a humble guy, and I feel like he's been a leader ever since he stepped foot on campus. Even as a freshman, when I first met him, I feel like he's always been a leader. He's always had good spirit about him.
"And I feel like, with him being a backup, some guys wouldn't be as 'up' as Jalen. Some guys would feel bad about themselves. Tua and Jalen are very close and I feel like that's what makes Jalen more comfortable being the backup quarterback. When his number is called he comes out and does what he's supposed to do. You very rarely see that around the country."