Many of the 34 NBA scouts who were on hand in Coleman Coliseum Monday night to see Murray State's star guard, Ja Morant, slipped out a few minutes before the end. They didn't miss Morant rallying the Racers to victory over Alabama, but it wasn't a lack or spectacular trying. 
Alabama made clutch free throws down the stretch while Morant was making acrobatic baskets, but the Crimson Tide's effort was just good enough for a 78-72 win.
Morant scored 38 points, over half his team's total and more than Bama's top two scorers combined, Kira Lewis, Jr., with 20 points and John Petty with 16.
The Tide improved to 5-1, while Murray State fell to 3-1. 
Alabama's 10-point halftime lead evaporated quickly in the second half and it turned into a mostly back-and-forth affair. With 4:30 to play, one of Bama's 21 turnovers led to a Racers slam that cut Alabama's lead to just four points at 63-59. Lewis and Petty made back-to-back baskets to stretch it out, but after tdwo Morant free throws with 1:49 to play the lead was back down to 3 at 67-64.
The score was tied three times and there were seven lead changes.
On a nifty inbounds play from the side in backcourt, Petty got a reverse layup on an assist from Lewis and moments later Dazon Ingram made a free throw, one of nine foul shots the Tide would make in the last minute and a half, Petty making 5-6 and Lewis all four of his opportunities.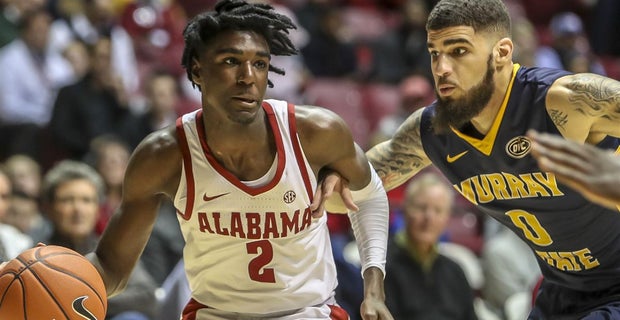 Lewis led Alabama in scoring with 20 points on 6-13 from the field and 7-10 free throws and Petty had 16 on 5-10 from the field (but 0-4 on treys) and 6-7 free throws. No other Tiders reached double figures in scoring.
Morant, who got a nice ovation from Alabama fans after a spectacular slam putback in the final minutes, was the only Murray State player in double figures. He hit 16 of 29 from the field, although he was 0-4 on three-pointers and made 6-8 free throws. Although he had 5 assists, he also had 10 turnovers.
Free throws made the difference as Alabama made 23-30 (76.7 percent) to Murray State's 9-12 (75 percent).
Alabama will be at Central Florida Thursday and return to Coleman Coliseum at 7 p.m. Tuesday, Dec. 4, against Georgia State.
Alabama was 25-56 from the field (44.6 percent) and 5-18 on three-pointers (27.8 percent). The Racers hit 29-64 from the field (45.3 percent) and 5-18 treys (27.8 percent). 
Alabama had a 40-32 advantage in rebounding with Herbert Jones getting 8 and Petty 7.
The Racers had a 40-36 advantage on points in the paint and a 12-11 edge in second chance points. The Tide game produced 10 blocked shots, led by Donta Hall with 3. 
Alabama's 21 turnovers led to 31 Murray State points. The Racers turned it over 18 times, Bama turning them into 20 points. Alabama Coach Avery Johnson was disappointed in the Tide's ball security. 
Johnson called Morant a player "who can win a game by himself."
The Racers lived up to their name with 11 fast break points to only 6 for Alabama.
Alabama's bench scored 29 points, Alex Reese and Dazon Ingram getting 9 each and Tevin Mack 7. Avery Johnson, Jr., had four points, both spectacular drives and scoops. The Racers bench had 11 points with Murray State having three subs failing to score.
Alabama had 12 assists, Jones passing out 4, Lewis 3.
Alabama free throw shooting made the difference in the first half as the Tide was good on 12-16 and Murray State just 1-2, the 11-point edge enabling Bama to overtake an early Racers lead and take a 39-29 advantage to intermission.
Turnovers were a problem for Bama with 11 in the first half leading to 8 Murray State points, but Bama dominated on the backboards, 24-15, and had 7 blocked shots (3 by Donta Hall).
The Racers upped their lead to six points at 13-7 early in the first half (all 8 following Bama turnovers), but the Tide ran off 6 straight points to tie it up. A short Tevin Mack jumper gave Alabama its first lead at 15-13. 
The game was tied at 15 and 17 before Bama took the first half lead for good on a Mack trey. 
The Racers cut an 8-point Tide lead down to 4 at 26-22, but Alabama went on a 9-point run to get it out to 13 at 35-22 with just under 2 ½ minutes until intermission.
Morant had only 13 first half points, but it was on 6-16 shooting. And he got it going in the second half with 23 more.
TIDE NOTES: Alabama's starting lineup was the same as it has been – freshman Kira Lewis, Jr., at point, John Petty and Herbert Jones on the wings, and Donta Hall and Galin Smith inside. 
Former Alabama players on hand for the game were Trevor Reliford and Alonzo Gee. 
Alabama football voice Eli Gold did the Internet play-by-play with former Tide Coach Wimp Sanderson handling color.