When Alabama hosts Penn State in Coleman Coliseum Friday night, it may be a down-to-the-end type game, but it's not likely to top the last outing by the Nittany Lions. Playing at Duquesne, Penn State had the ball in a tie game with 5 seconds to play. A foul was called and to say that the Duquesne coach didn't agree is an understatement. When it was all sorted out, there were two technical fouls called on the coach and Penn State made 6 free throws to take a 73-67 win.
Alabama has had its share of nail-biters this year – a four-point win over Wichita State, three-point loss to Georgia State, three-point win over Arizona. Penn State has had even more such games – 2-point loss to DePaul, 3-point loss to Bradley, 1-point win over Virginia Tech, 2-point loss to Indiana.
Crimson Tide sophomore forward Herbert Jones said that tight games at the end don't work on the nerves. "We practice for that," he said. "You just go all out and let the chips fall where they may."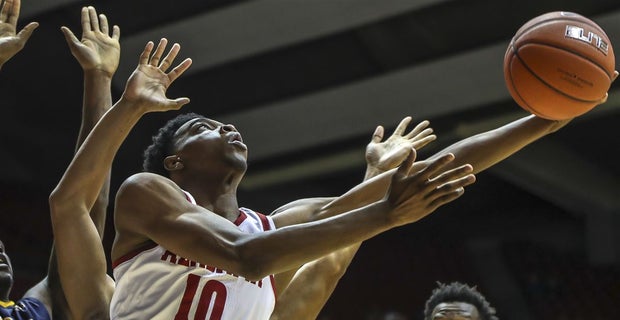 Bama and Penn State will tip off at 8 p.m. CST Friday with television coverage by SEC Network.
Alabama is 7-3 and coming off an 84-75 win over Liberty in Huntsville Tuesday. The Lions are 6-5. There is an interesting common opponent. In a preseason closed exhibition, Alabama suffered a loss at the hands of Jacksonville State. Penn State hosted Jax State in early November, taking a 78-61 win.
Alabama and Penn State have competed in some historic football games over the years, but this will be only the fifth meeting between the Tide and Lions, and the first in 35 years. Bama has a 3-1 advantage in that ancient history. The last one – speaking of down-to-the-wire – went to triple overtime before the Tide won.
Alabama Coach Avery Johnson said, "This is hands down the best team we will have played. Penn State is much better than their record. They have played a demanding schedule. They have already played two conference games against tough teams, Maryland and Indiana, and North Carolina State, lost a tough game to Bradley, and beat a ranked Virginia Tech team."
Alabama is led by true freshman 6-3 point guard Kira Lewis Jr., averaging a team-high 15.6 points and 2.5 assists per game. Senior 6-9 post player Donta Hall leads Bama in rebounding and is contributing 10.4 points per game.
Although the Tide's lineup has changed a bit from time-to-time, 6-7 sophomore Herbert Jones has been on one wing for most games and is averaging 7.5 points and 4.8 rebounds per game, and 6-5 soph John Petty Jr. on the other side, averaging 11.4 points, 4.9 rebounds, and 2.2 assists per outing. That fifth spot recently has gone to 6-6 junior Tevin Mack. The transfer from Texas is averaging 8.4 points and 3.2 rebounds per game.
Bama seems to have settled into about a 9-man rotation with 6-9 soph Alex Reese (8.6 ppg, 2.5 rpg), 6-5 junior Dazon Ingram (8.4 ppg, 4.6 rpg), 6-9 soph Galin Smi,th (4.4 ppg, 2.8 rpg), and senior point guard Avery Johnson, Jr. (1.5 ppg). Additionally, 6-7 senior Riley Norris (2.5 ppg, 2.5 rpg) has recovered from a preseason heart condition and is now working back into the rotation.
The Lions are led by 6-8, 230-pound junior post Lamar Stevens, averaging 19.7 points and 8.7 rebounds per game, both high for Penn State. Rasir Bolton, a 6-2 freshman guard, averages 14.8 points; Josh Reaves, 6-5 senior guard, averages 10.2
Coach Johnson said, "Lamar Stevens is a handful and we are going to have to be aware of where he is."
He said the inside game will be physical and rebounding important. And, he said, "We will have to play better defense than we did in our last game."
Penn State has a pattern of being deliberate on offense. "We may be on defense for 27 seconds on a 30-second shot clock, and it will be important what we do in the final seconds,"
At halftime, Alabama will honor the memory of former Alabama Coach C.M. Newton, who died June 4 at age 88. Coach Newton is in the Naismith Basketball Hall of Fame and at Bama was three-time SEC Coach of the Year. Among his achievements in 50 years as a player, coach, and administrator, he was chairman of the NCAA rules committee that instituted the three-point shot and the shot clock to college basketball.