Alabama Coach Nick Saban has had nothing but good to say about Missouri's offense and defense as the Crimson Tide prepares to host the Tigers Saturday. Alabama, 6-0 overall and 3-0 in the Southeastern Conference and ranked No. 1 in the nation, takes on Missouri (3-2, 0-2) at 6 p.m. CDT for the Bama's homecoming game Saturday in Bryant-Denny Stadium. ESPN will televise the game.
Alabama has been steam-rolling opponents with its Tua Tagovailoa-led, 56-points-per game offense, but the Tide's defense in some ways hasn't been up to traditional Saban standards. Missouri's offense is led by Drew Lock, expected by some to be the first quarterback taken in the NFL draft next spring.
As always, the statistical comparison begins with what ultimately matters, the score. Alabama leads not only the SEC, but also the nation, in scoring at 56 points per game, while Missouri is fourth in the league at 39 ppg.
Defensively, The Tide is fifth in the conference in scoring defense, allowing 16 ppg, and the Tigers are 12th, giving up 28.8.
Bama hasn't been as dominant in rushing as we have become accustomed, ranking fourth in the league at 222.2 yards per game. Mizzou, on the other hand, seems to be more effective running the ball considering the record of Lock over the past year and a half, the Tigers ranking sixth in the conference at 211.6 ypg.
Defensively, Missouri is second in the SEC allowing only 107.4 ypg rushing, with Alabama down at eighth, giving up 134.3.
In passing offense, the Tide is second in the conference at 345.3 ypg, the Tigers thrd at 318.4. In pass defense, Bama is eighth, allowing 197.8, and Mizzou 13th, giving up 284.8.
Alabama is first and Missouri seventh in passing efficiency, the Tide fourth and the Tigers 13th in pass defense efficiency.
In total offense, Alabama leads the SEC at 567.5 ypg, Missouri third at 530. In total defense, the Tide is seventh, giving up 332.2, the Tigers 11th, allowing 392.2.
In the Big Three That Matter – third down success, turnover margin, and Red Zone (inside the 20) efficiency – Alabama has the advantage.
The Tide leads the conference in third down conversions, succeeding on 40 of 68 opportunities for 58.8 percent. The Tigers are fourth at 35-81 for 43.2 percent. On defense on third down plays, Bama is fifth, permitting 25-85 for 29.4 percent, Mizzou 10th, allowing 25-72 for 34.7 percent.
Alabama is second in turnover margin with 13 takeaways (3 fumble recoveries, 10 pass interceptions) against 4 turnovers (3 lost fumbles, 1 pass intercepted) for plus 9. Missouri is 10th with 5 takeaways (3 fumble recoveries, 2 interceptions) vs. 7 turnovers (3 fumbles, 4 interceptions) for minus 2.
In Red Zone offense, Missouri has the advantage. The Tigers rank sixth in the league with 25 scores (16 touchdowns, 9-10 field goals) in 28 opportunities for 89.3 percent. Alabama is 10th, 27 scores (24 TDs, 3-7 FGs) in 33 chances for 81.8 percent.
In Red Zone defense, the Tide is second in the SEC, allowing 13 scores 10 TDs, 3-4 FGs) in 18 opportunities for 72.2 percent. The Tigers rank 13th, giving up 16-17 (9 TDs, 7-8 FGs) for 94.1 percent success by opponents.
Insofar as special teams play, Alabama has the advantage in kickoff coverage, kickoff returns, and punt returns, Missouri in punting and field goals.
The Tide is penalized slightly more than the Tigers, Bama 6th in the league with 55.7 yards per game, Mizzou fifth at 52.8 ypg.
Both teams have been very good at avoiding sacks, both teams giving up only four, while Alabama is second in the league in getting sacks with 19 for 90 yards, and Missouri is 13th, 7 sacks for 41 yards.
Missouri has the advantage in time of possession, 31:37 per game, to Alabama's 30:17 per game.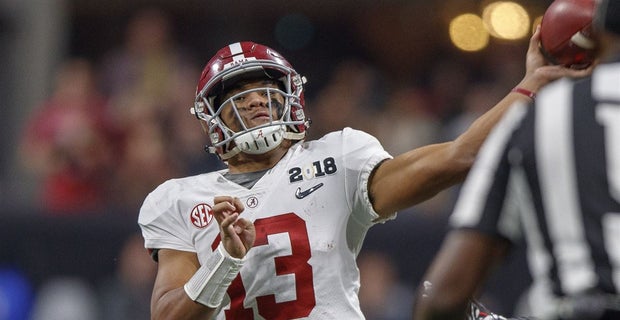 Individually, the Tide's Tua Tagovailoa leads the nation in passing efficiency as he has completed 76 of 101 pass attempts for 1,495 yards and 18 touchdowns with zero interceptions. (Incidentally, second in the SEC in passing efficiency: Bama's Jalen Hurts on his 30-42 for 453 yards and 2 TDs and 1 interception.)
Tigers wide receiver Emanuel Hall leads the league in receptions with 18 for 430 yards and 3 TDs (his SEC-leading average is 107.6 ypg).
Missouri placekicker is tops in the conference in scoring and in kick scoring, 19-19 on extra points, 13-18 on field goals and an average of 11.6 points per game.