Most of the attention on the college football polls – what little interest there is for Alabama fans, who have grown accustomed to being at the top — and knowing that (as we are constantly reminded) that the only poll in the season that matters is the College Football Playoff Selection Committee's, and that at the end of the season all polls will fall into line insofar as the national champion, means less interest than once was the case in the granddaddy of them all, the Associated Press rankings.
Even then, the interest is in ranked teams playing against one another, games against the unranked held almost in disdain. An exception, of course, is when rivals meet, as will be the case next Saturday when Alabama hosts Auburn at 2:30 p.m. CST on CBS. (Auburn was once ranked in the top 10 of the AP and Coaches polls, but with a 7-4 record has fallen out.) 
Saturday's 50-17 win over The Citadel on the Southeastern Conference's annual Cupcake Weekend and the upcoming game against unranked Auburn is a reminder of one of the many amazing statistics regarding Alabama and the AP poll. 
The Crimson Tide has won 81 consecutive games against unranked opponents. It is the longest such streak in major college football history. And it is also a reminder that the last Bama loss to an unranked team was in Coach Nick Saban's first season, a 17-10 setback at the hands on Auburn on Nov. 24, 2007, when neither team was ranked.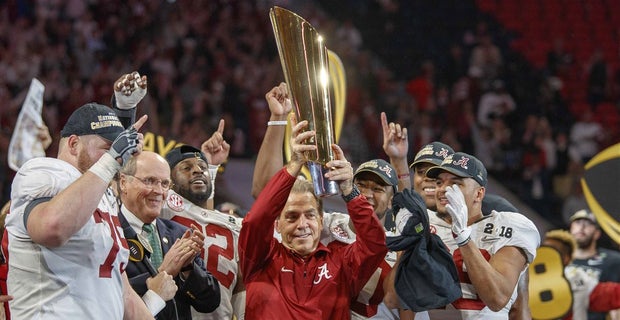 Alabama, to the surprise of no one, continued atop the AP poll this week, getting all 61 votes cast for the No. 1 position.
It is part of an amazing record that includes the Crimson Tide being ranked first in the AP poll in 42 of the past 45 polls. The best mark by any other team in a 50-poll stretch was Southern Cal with 33 in 2003-05. 
Saban has coached 73 games of the No. 1 team at Alabama, the record of a coach at one school by 33 over Woody Hayes at Ohio State and Bobby Bowden at Florida State.
Since Saban's second year at Alabama in 2008, the Tide has been ranked No. 1 at some point in every season for 11 years, also a record.
Since the AP poll debuted in 1936, Alabama has been ranked No. 1 in 115 polls, 10 more than the 105 of the previous record held by Ohio State.
As in the Coaches Poll announced earlier today, the top six teams remain the same in this week's AP poll – Alabama followed by No. 2 Clemson, No. 3 Notre Dame, No. 4 Michigan, No. 5 Georgia, and No. 6 Oklahoma. Rounding out the top 10 are Washington State up to No. 7, LSU and Central Florida tied at eighth, and Ohio State 10th.
In addition to Alabama, Georgia, and LSU, the Southeastern Conference is represented by Florida at No. 13, Kentucky at No. 17, and Mississippi State at No. 22. Missouri, Texas A&M, and Auburn are not in the top 25, but are receiving votes in the poll.
Cincinnati and Boston College fell out of the 25, replaced by Army at No. 23 and Pittsburgh at No. 24. 
Here is this week's Associated Press poll with record, points (based on 25 for first place, 24 for second, etc.) with Alabama's 61 first place votes in parenthesis:
Alabama 11-0 1,525 (61)

Clemson 11-0 1,455

Notre Dame 11-0 1,412

Michigan 10-1 1,327

Georgia 10-1 1,288

Oklahoma 10-1 1,182

Washington State 10-1 1,149

T. 8 LSU 9-2 1,064

T. 8 Central Florida 10-0 1,064

Oho State 10-1 1,019

Texas 8-3 856

West Virginia 8-2 822

Florida 8-3 707

Utah State 10-1 667

Penn State 8-3 659

Washington 8-3 631

Kentucky 8-3 508

Utah 8-3 491

Syracuse 8-3 427

Northwestern 7-4 307

Boise State 9-2 287

Mississippi State 7-4 260

Army 9-2 176

Pittsburgh 7-4 129

Iowa State 6-4 123
Others receiving votes: Fresno State 100, NC State 45, Cincinnati 43, Missouri 34, Texas A&M 29, Auburn 11, Stanford 8, Iowa 8, UAB 5, Houston 3, Wisconsin 2, Troy 1, Buffalo 1.