Alabama quarterbacks have smashed the previous Crimson Tide record for passing yardage this year, and the Bama passers have done it with distribution to its receiving corps. Alabama's 2018 receiver group is the most accomplished in sharing the wealth in Tide history.
Tua Tagovailoa has passed for 3,353 yards, Jalen Hurts for 755, and Mac Jones for 123, a total of 4,231 yards. That's 341 more yards than put up by the 2014 Alabama team in which Blake Sims set the individual record with 3,487 yards (134 more than Tagovailoa has to date) and Jake Coker added 403 for 3,890. Tagovailoa has at least one more game to reach the Sims record individually.
Far and away the primary receiving target in 2014 was Amari Cooper, who set the Alabama record for most receptions (124) and receiving yards (1,727) and touchdowns (16). The second-leading receiver on that team, DeAndrew White, had 40 catches for 504 yards and 4 TDs. No other receiver had as many as 20 receptions.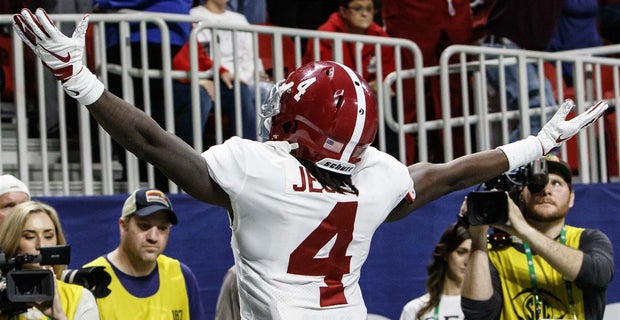 This year, Alabama's top five receivers all have had 30 or more catches — Jerry Jeudy (59), Henry Ruggs III (42), Jaylen Waddle (41), Irv Smith, Jr. (38), and DeVonta Smith (30). Smith is a tight end.
Previous best by the top five receivers was in 2015 when Calvin Ridley had 89 catches, followed by Ar'Darius Stewart with 63, OJ Howard with 38, Richard Mullaney with 38, and Kenyon Drake with 29.
(The 2015 group of five had more total receptions — 257-210 — with 67 of the receptions by the 2015 group by tight end O.J. Howard with 38 and tailback Kenyan Drake with 29 and 38 of Bama's by tight end Smith.)
 
If you're looking for the most prolific wide receivers in number of catches (not including tight ends and running backs), Alabama's 2018 group set that mark several weeks ago. The closest competitors to Jeudy, Ruggs, Waddle and Smith were in Nick Saban's first season when the 2007 group of four had these numbers at the conclusion of the season: D.J. Hall (67), Matt Caddell (40), Mike McCoy (28) and Keith Brown (22).
No other team in school history had a quartet of wide receivers that all reached the 20-catch mark, although a few teams threw to their running backs or tight ends quite a bit.
(Alabama's four wide receivers have 172 receptions, the 2007 wide receivers 157. But the three wide receivers on that 2015 team had 190.)
These numbers have been attained with Alabama throwing for fewer passes than Crimson Tide record holders. Bama has completed 254 of 374 passes this year (67.9 percent). The 2015 team had the most completions with 301 of 446 (67.5 percent) and the 2007 squad the most attempts (263-472 for 56 percent).
Tagovailoa alone has smashed the Alabama record for passing touchdown with 37 and as a team Bama has 46, compared to the 2014 record of 32.
Jeudy has moved into third place in Alabama history for receiving yards with 1,103. Cooper is the all-time leader with his 1,727 yards in 2014, followed by Julio Jones with 1,133 in 2010, D.J. Hall 1,056 in 2006, Calvin Ridley 1,045 in 2015, and Hall 1,005 in 2007.
Jeudy has no chance to catch Cooper for receptions in a season — he had 124 in 2014 and is followed by Ridley with 89 in 2015, Jones with 78 in 2010, Ridley with 72 in 2016, and Hall with 67 in 2007.
Jeudy's 12 touchdown receptions is four behind Cooper's 16 in 2014, but Jeudy is now second all-time at Bama.
Jeudy has a good shot at Alabama's record for yards-per-catch with those over 50 receptions. His 59 for 1,103 yards is 18.7 yards per reception. The record-holder is Hall with 62-1,056, a per-catch average of 17.0, in 2006.