Each week during football season Alabama announces its football coaches' selections of players of the week for performances in the previous game. But there are those in addition to Bama's weekly list of offensive, defensive, and special teams honorees for gameplay.
The coaches also select those on the scout teams for their performances in preparing the Crimson Tide for those games. They are not announced on a weekly basis, but at the annual team banquet — which was held Sunday night at the Sheraton in Birmingham — a list of those honorees is made available.
That banquet includes numerous awards for players, including offensive and defensive players of the year.
There is no Alabama Scout Team player of the year, but two men were particularly notable for the number of weeks they were cited by Bama coaches.
This year both defensive lineman Christian Barmore and linebacker William Cooper were named scout team players of the week on nine occasions.
Typically, a number of those on the scout team are walk-ons — Cooper, for instance, is a 6-2, 236-pound sophomore from Huntsville who has been listed on Bama rosters both as a defensive lineman and linebacker.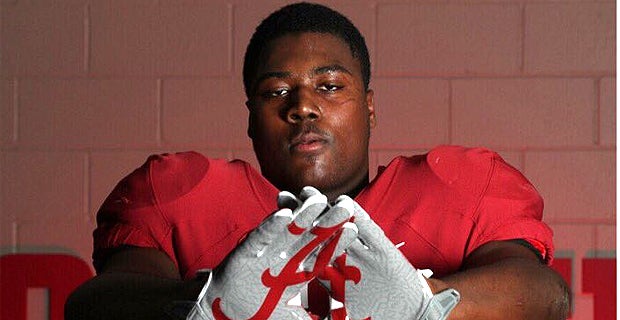 There are also scholarship players, primarily young players. Barmore, 6-2, 295, freshman, was one of the nation's top defensive line prospects but suffered a preseason injury that kept him out of some work.
Here are others who were selected (a few not listed on Alabama rosters and no information available on positions or class):
Four players were named to the scout honor rolls on six occasions — senior defensive back Donovan Mosley, junior wide receiver John Parker, junior tight end Gile Amos, and freshman offensive lineman Tommy Brown.
Freshman running back Jerome Ford and sophomore linebacker Trae Drake were five-time honorees.
Selected four times were junior linebacker Joe Donald and junior wide receiver Chris Herring.
Three-time honorees were senior running back De'Marquis Lockridge, sophomore wide receiver Bryce Musso, senior wide receiver Jalen Jackson, senior running back Ronnie Clark, freshman defensive back Brandon Bishop, freshman wide receiver Xavier Williams, freshman linebacker Jaylen Moody, and wide receiver Slade Bolden (who was working at quarterback when Alabama prepared for triple option Citadel).
Named twice were senior defensive back D.J. Lewis, freshman offensive lineman Jackson Roby, freshman linebacker Ale Kaho, freshman linebacker Wes Baumhower, junior wide receiver Mac Hereford, junior defensive lineman Taylor Wilson, redshirt freshman wide receiver Chadarius Townsend, and junior wide receiver Connor Adams.
Earning one selection were sophomore linebacker Cole Weaver, junior tight end Daniel Powell, sophomore wide receiver Chris Golden, redshirt freshman quarterback Mac Jones, redshirt sophomore defensive back Nigel Knott, freshman offensive lineman Alex Pearman, freshman defensive back Eddie Smith, Josh Robinson, redshirt junior offensive lineman Elliot Baker, freshman offensive lineman Emil Ekiyor, Alex Medary, redshirt freshman offensive lineman Kendall Randolph, Micah Worley, redshirt freshman offensive lineman Hunter Brannon, junior defensive back Sean Kelly, junior quarterback Kyle Edwards, freshman tight end Michael Parker, Jordan Johnson, sophomore linebacker Preston Malone, junior defensive lineman Tevita Musika, and Christian Swann.