To be sure, the Associated Press college football poll looks different this week than it did a week ago. That's what happens when four of the top eight teams lose. Not changed, of course, is the name in the No. 1 position. As has been the case since the final game of the 2017 season after the Crimson Tide won the national championship with its overtime win over Georgia, and continuing through the 2018 preseason poll and all weekly polls, Bama is No. 1.
The Tide defeated Missouri, 39-10, to run its record to 7-0 Saturday.
This week Alabama goes to Knoxville to take on Tennessee, which knocked Auburn out of the rankings with a 30-24 win over the Tigers in Auburn Saturday.
Last week's No. 2, Georgia, lost to No. 13 LSU on Saturday, and the Tigers have moved up eight spots to No. 5, while the Bulldogs dropped down six places to No. 8.
Directly behind Alabama is Ohio State at No. 2. The Buckeyes received one first place vote this week, while Alabama received the other 60 from the panel of sports reporters and broadcast personalities.
In addition to Ohio State moving up a spot in the polls, so did Clemson up from fourth to third and Notre Dame moving from fifth to fourth.
Those top four are most prominent in polls perception as we draw closer to the Oct. 30 release of the College Football Playoff Selection Committee's first poll. The first four when conference championship games are complete on the first weekend in December will make the playoff.
Thus, the AP poll becomes at least of less relevance when the CFP rankings begin.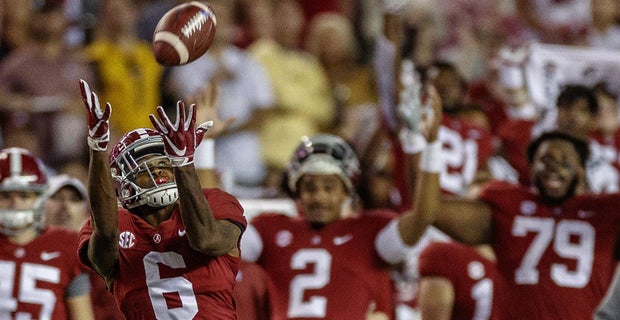 In addition to Alabama, LSU, and Georgia in the top ten, Southeastern Conference teams in the top 25 are Florida at No. 11, Kentucky at 14, Texas A&M at 17, and Mississippi State at 22. Kentucky moved up four spots without playing Saturday. Texas A&M moved up five places by beating South Carolina on the road.
Three previously undefeated teams – Georgia, West Virginia, and Colorado – were among the victims in the defeats of ranked teams last weekend.
Miami (formerly 16th), Colorado (19th), and Auburn (21st) were dropped from the rankings. New to the top 25 are No. 19 Iowa, No. 24 Michigan State, and No. 25 Washington State.
Here is this week's Associated Press poll with record, points based on 25 for first, 24 for second, etc., with first place votes in parenthesis:
Alabama Crimson Tide 7-0 1,524 (60)

Ohio State Buckeyes 7-0 1,457 (1)

Clemson Tigers 6-0 1,392

Notre Dame Fighting Irish 7-0 1.355

LSU Tigers 6-1 1,244

Michigan Wolverines 6-1 1,146

Texas Longhorns 6-1 1,144

Georgia Bulldogs 6-1 1,085

Oklahoma Sooners 5-1 999

Central Florida Knights 6-0 979

Florida Gators 6-1 931

Oregon Ducks 5-1 917

West Virginia Mountaineers 5-1 700

Kentucky Wildcats 5-1 678

Washington Huskies 5-2 540

North Carolina State Wolfpack 5-0 592

Texas A&M Aggies 5-2 551

Penn State Nittany Lions 4-2 523

Iowa Hawkeyes 5-1 266

Cincinnati Bearcats 6-0 243

South Florida Bulls 6-0 242

Mississippi State Bulldogs 4-2 231

Wisconsin Badgers 4-2 226

Michigan State Spartans 4-2 199

Washington State Cougars 5-1 13
Also receiving votes: Stanford 71, San Diego St. 53, Southern Cal 53, Appalachian St. 51, Colorado 49, Utah St. 38, Miami 38, Utah 33, Duke 17, Texas Tech 8, Fresno St. 7, Houston 3, Maryland 2, Virginia 2.