MIAMI GARDENS, Fla. — Everyone has heard that one goal in developing a football team is to have "the five best offensive linemen." Probably more accurate is something along the lines of "the five linemen who work together best."
In any event, following last year's national championship season, Alabama's offensive line seemed to be pretty much set for 2018. The only loss among the starters was center Bradley Bozeman. Returning were left tackle Jonah Williams, left guard Ross Pierschbacher, right guard Lester Cotton, and right tackle Matt Womack.
As it turned out, the starting line for Alabama's No. 1 ranked Crimson Tide hasn't looked like that all season, and won't when Bama takes on No. 4 Oklahoma Saturday in the College Football Playoff in the Orange Bowl. (Kickoff is at 8 p.m. EST, 7 central, with television coverage by ESPN.)
Williams, a three-year starting junior, is at left tackle, where he was unanimous All-America this year. Pierschbacher, a senior, moved from left guard to center.
But Womack suffered a foot injury and saw only brief playing time in six games this season. Cotton, a senior, was beaten out twice during the year – once in preseason, making the move to left guard, and then in midseason by sophomore Deonte Brown. (Continuing the saga, Brown is now suspended for "at least" the remainder of the season, and Cotton will return to his starting spot at left guard.)
But the big story in the offensive line was the insertion of sophomores Jedrick Wills and Alex Leatherwood on the right side.
There was a bit of a scramble. Last year Leatherwood saw playing time in seven games as the backup to Williams at left tackle, most memorably when Williams went out early in the third quarter of the CFP national championship game against Georgia. Leatherwood performed well in Alabama's comeback win over the Bulldogs as part of a freshman class that also contributed at wide receiver  (DeVonta Smith, Jerry Jeudy, Henry Ruggs III), tailback (Najee Harris), and quarterback (Tua Tagovailoa) during the rally.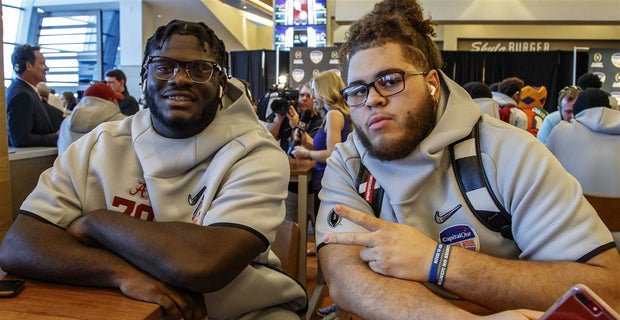 In 2018 spring practice, Leatherwood was expected to be at right tackle, and that's the way it started. But among other things, spring is a time for experimentation.
Jedrick Wills explained. "After going through the lineup for about two weeks last spring, the coaches decided to try something new," he said. "They put me at right guard and Alex at right tackle. And we thought that might be the way it played out. But in fall camp, they moved him to right guard and me back to right tackle. He did well and it stuck that way ands here we are now."
Wills, who had played in 11 games at right tackle in 2017, including starting against Ole Miss, has started every game at right tackle this year, alongside Leatherwood at right guard.
So to recap, Alabama's offensive line Saturday night is expected to be Williams at left tackle, Cotton at left guard, Pierschbacher at center, Leatherwood at right guard, and Wills at right tackle.
"They have done a nice job, a really good job," Alabama Offensive Line Coach Brent Key said of Leatherwood and Wills.
"We kind of moved them around early, Jedrick at guard, Alex at tackle, then Alex at guard and Jed at tackle. We settled on this alignment with them and they have gotten better every week, every game.
"There are so many things you see in them as they get practice reps and experience so much as they play together. Just getting better and better every week.
It's so important in offensive line play to have good communication, communicating with the guy you are playing next to. You become more confident in what you are doing as you get more playing time and more reps. You play faster and more physical and all those things that come with it."
The communications aspect has impressed three-year starting tight end Hale Hentges, who frequently lines up alongside Willis.
"This guy next to me is a really good competitior," Hentges said. "He's really good for how young he is at communicating. Most young tackles are just worried about 'What do I have to do?' but he's very good about communicating with the tight ends about what we have to do on each play. Obviously he's a physical presence in the running game. You see him just washing people out of the gaps; pancake people. And he's really getting the pass protection, too.
"I think the sky is the limit for him. Really physical, really athletic, really good reach. I think he can be as good as good as he wants to as long as he keeps working hard. He's been a really good addition to our team."
Wills, 6-5, 309, from Lexington, Ky., led the Tide in knockdown blocks with 47 through the Southeastern Conference Championship game win over Georgia and had allowed just one sack for one of the nation's best offensive teams.
Leatherwood, 6-6, 304, from Pensacola, Fla., was selected second team All-SEC by the league coaches.
Key said that different qualities can make the difference between a guard and a tackle. "it's a lot of practice reps, figuring out which ones are the best fits," he said. "Sometimes it's body mechanics, sometimes it's length, sometimes it's power. There are so many things that go into it that you can't put your finger on one of two things. It's the big picture that determines what will be the best offensive line."
He said it also helps that Wills and Leatherwood have football smarts. "On the offensive line," he said, "football intelligence is one of the top three qualities you have to have to be able to play and adjust and do the things that win football games."
Although guard and tackle would seem to be similar, there is agreement that such is not the case.
Alabama Coach Nick Saban says, "Things happen a lot quicker at guard."
Leatherwood said, "It is a completely different skill set. Things develop a lot faster at guard than at tackle. That guy (to be blocked) is right there as opposed to that space you have at tackle."
On the other hand, the tackles are the ones judged most important to the health of a passing quarterback as they are charged with holding out the edge rushers.
Leatherwood said that he is fine with playing guard or tackle. "I love the game," he said. "I love playing football." He added that with the position change, "it has been a growing process." He said that he thinks he has done well, but needs to get better.
And almost before the question can be completed, he says he has no idea what the future may hold for him, that he is focused only on the Oklahoma game.
"It's been a good year. I think we've been playing pretty well. Things are going well and just hope it ends up the way we end up finishing the way we planned.
"It's a long season, but we won't mind playing 15 games."
As for playing guard or tackle, Wills said, "Both work for me. They are definitely different positions. I think guard is harder to play, especially when you've been a tackle all your life, Guard is a brand new ball game."
He said the secret to 2018 offensive line play is "Communications has been good, the relationship we have with one another has been good, and the effort has been good. As a group, as a unit, when we are on the same page and execute we have success."
Alabama Defensive Line Coach Criag Kuligowski sees the Leatherwood-Wills tandem each day in practice.
"Those two guys are as talented offensive linemen as your going to find," said Kuligowski. "They have the full package. Big, strong, move side-to-side. Get those on a double team it's really tough to not go for a ride. Those are guys we are blessed to have."
Don't expect offensive line movement to end.
Mike Locksley, who is serving out his last couple of games as Bama's offensive coordinator before moving on to Maryland as head coach, said, "Your goal is to get your best five on the field. Jonah has been the left tackle since following his freshman year, and I think Alex will end up being a better left tackle than he is a right guard. But right now he's one of our five best so we wound up moving him inside. We tried Jedrick inside, but he's a better tackle than he is a guard. Having those two young guys on the same side, they had some growing pains, but you've also seen both of them really develop over the course of the season and they are really playing at a high level now."