Voters in the oldest and most reliable college football poll, the Associated Press rankings from sports reporters and broadcast personalities, face additional pressure this week. Following today's release of the AP Poll in the 10th week of the college football season, on Tuesday evening the College Football Playoff Selection Committee will release its first rankings.
Those who demean the traditional college football polls, notably Coaches and AP, have extra ammunition this week as the CFP selection being the only one that matters. In truth, that one doesn't matter much until it issues its final rankings following conference championship games on Dec. 1.
At that point, the four teams will be set for the College Football Playoff (two teams to Dallas, two teams to South Florida, the final two playings in Santa Clara, Calif., for the national title) and to fill the Rose, Sugar, Fiesta, and Peach bowls.
So why is there pressure on the AP voters this week?
Their votes are public record and many of them will have been sweating how their votes square against the CFP rankings. Others, of course, will take pride in having been different than the selection committee. As in many things, it will matter little or nothing to those who follow college football and the college football polls.
Alabama did not play Saturday, and it affected the Crimson Tide not at all as Bama remained unanimously No. 1. In fact, the top five teams remained the same in order – Alabama, Clemson, Notre Dame, LSU, and Michigan. Georgia is sixth.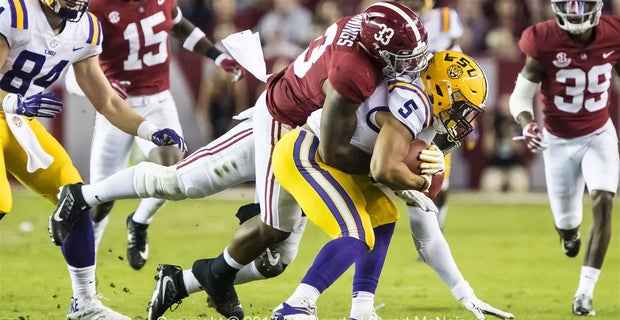 No. 1 Bama plays at No. 4 LSU Saturday.
Texas (loser to Oklahoma State) and Texas A&M (loser to Mississippi State) both lost nine spots in this week's poll. Utah, which blasted UCLA, moved up seven spots.
Wisconsin, which lost to Northwestern, and Washington, which lost to Cal , join Auburn and Miami as preseason top-10 teams that are out of the rankings this week.
Southeastern Conference teams in addition to Alabama, LSU, and Georgia in the top 10 are Kentucky 11th, Florida 13th, Mississippi State 21st, and Texas A&M 25th. Auburn is out of the top 25, but receiving votes.
Alabama has now been ranked No. 1 in more than half of the AP polls since the Crimson Tide was first annointed under Coach Nick Saban in his second season at Bama on Nov. 2, 2008. There have been 163 weekly polls since that one, and this week Alabama is ranked at the top for the 82nd time.
Since the poll was established in 1936, Alabama has 113 appearances at No. 1, most of any college team.
Week 10 Associated Press top 25 with records, points (based on 25 points for first place vote, 24 for second, etc.) and first place votes in parenthesis:
Alabama 8-0 1,500 (60)

Clemson 8-0 1,433

Notre Dame 8-0 1,374

LSU 7-1 1,317

Michigan 7-1 1,240

Georgia 7-1 1,202

Oklahoma 7-1 1,132

Ohio State 1,022

Central Florida 7-0 1,014

Washington State 7-1 938

Kentucky 7-1 905

West Virginia 6-1 891

Florida 6-2 734

Penn State 6-2 733

Texas 6-2 719

Utah 6-2 593

Houston 7-1 403

Utah State 7-1 340

Iowa 6-2 323

Fresno State 7-1 261

Mississippi State 5-3 204

Syracuse 6-2 192

Virginia 6-2 175

24. Boston College 6-2 169

Texas A&M 5-3 132
Others receiving votes: Washington 120, Northwestern 86, Georgia Southern 62, Michigan St. 51, Cincinnati 45, Iowa St. 42, South Florida 29, Stanford 26, Oklahoma St. 24, UAB 17, Oregon 13, Wisconsin 12, Auburn 7, San Diego St. 6, Army 6, NC State 5, California 2, Buffalo 1.