Every voter in the Associated Press poll has seen the light. Alabama not only maintained its spot at the top of the poll, the Crimson Tide received all 61 votes cast for its first unanimous selection in this season's poll.
Alabama ran its record to 8-0 with its 58-21 victory over Tennessee in Knoxville Saturday.
The Tide is trailed by Clemson at No. 2, Notre Dame at No. 3, LSU at No. 4, Michigan at No. 5, Texas at No. 6, Georgia at No. 7, Oklahoma at No. 8, Florida at No. 9, and Central Florida at No. 10. All moved up one spot when previously No. 2 Ohio State was defeated.
In addition to Alabama, LSU, Georgia, and Florida being ranked in the top 10, the Southeastern Conference is represented by Kentucky at No. 12 and Texas A&M at No. 16.
SEC teams in the "also receiving votes" category are Auburn and Mississippi State.
In the "scratch your head" category regarding SEC teams, Texas A&M is ranked behind Kentucky, even though the Aggies defeated the Wildcats, and Auburn is receiving more votes than Mississippi State, despite the Bulldogs win over the Tigers.
Alabama has an open date this week and will resume play a week from Saturday, Nov. 3, in Baton Rouge against No. 4 LSU. That will mark the Crimson Tide's 71st game as the nation's No. 1 ranked team in th AP poll under Coach Nick Saban. The 70th game in that position vs. Tennessee is the most games coaching as the No. 1 team by any in college football history, well ahead of Woody Hayes (Ohio State) and Bobby Bowden (Florida State) with 40 each.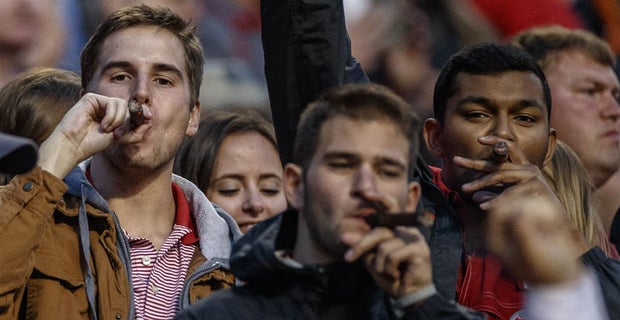 This is the 81st week as the No. 1 team under Saban During the Saban Era. In addition to the 70 game weeks, Saban's Tide teams have been ranked No. 1 during bye weeks in 2008, 2012, 2013, 2016, and now 2018, and topped the poll at the end of the national championship seasons in 2009, 2011, 2012, 2015, and 2017.
Alabama has been ranked No. 1 at some point in each season beginning in 2008. The 11-year streak is the longest in the history of the AP poll.
Bama has been No. 1 atop the poll a total of 112 times since its inception in 1936, which ranks No. 1 in history.
Dropped from the rankings were Cincinnati from No. 20 and Mississippi State from No. 22, and Michigan State from No. 24.
New to the rankings are Utah No. 23, Stanford No. 24, and Appalachian State No. 25.
Ohio State took the biggest hit with its 49-20 loss to Purdue, falling nine spots to 11th. Washington State's win over Oregon pushed the Cougars up 11 places to No. 14.
Here is this week's AP top 25 with record and points awarded on a basis of 25 for first, 24 for second, etc. Alabama received all 61 first place votes.
Alabama 8-0 1,525

Clemson 7-0 1,454

Notre Dame 7-0 1,400

LSU 7-1 1,327

Michigan 7-1 1,250

Texas 6-1 1,186

Georgia 6-1 1,136

Oklahoma 6-1 1,065

Florida 6-1 996

Central Florida 7-0 998

Ohio State 7-1 958

Kentucky 6-1 754

West Virginia 5-1 747

Washington State 6-1 692

Washington 6-2 677

Texas A&M 5-2 622

Penn State 5-2 528

Iowa 6-1 489

Oregon 5-2 450

Wisconsin 5-2 357

Oregon 5-2 450

North Carolina State 5-1 186

Utah 5-2 180

Stanford 5-2 144

Appalachian State 5-1 79
Others receiving votes: Texas Tech 54, Utah State 50, San Diego State 48, Fresno State 35, Miami 34, Virginia 25, Houston 19, Purdue 17, Michigan State 8, Cincinnati 7, Auburn 5, Boston College 2, Mississippi State 2, UAB 1.