In a game of great stuff and puzzling stuff, the Alabama men's basketball team had enough of the former to trake fifth place in the Charleston Classic with a 90-86 win over Wichita State Sunday.
The Crimson Tide lost a big first half lead (12 points at the break, 46-34 and as many as 13 in the first half), but in the second half didn't make a field goal in the final 4:20 of the game, and yet made 13 of 14 free throws down the stretch to secure the victory.
Alabama moved to 4-1 on the season. 
The Tide put four men in double figures, which has been a winning combination thus far this season. Freshman Kira Lewis, Jr., led with his career-high 24 points, including clutch 11-11 free throw shooting. Alex Reese also had a career high with 19 points, with John Petty and Herbert Jones getting 13 each.
Bama went 31-33 on free throws with the starters 18-19.
Wichita State made four more field goals (29-25), but the Tide was 9-19 on three-pointers to 6-23 by the Shockers. Wichita State was also accurate from the free throw line, 22-27, with Alabama charged with 19 fouls, Wichita State with 25.
Alabama hit 51 percent from the field, 47.4 percent on treys, and 93.9 percent on free throws. Wichita State was 46.8 percent from the field, 26.1 percent on three-pointers, and 81.5 percent on foul shots.
Bama had 14 assists, five by Dazon Ingram, to 9 for the Shockers, but the Tide committed 12 turnovers to only 7 for Wichita.
The Shockers outscored Alabama on points in the paint, 42-30, as Bama's Donta Hall, ordinarily the inside scorer for Bama was 0-1 on field goals and finished with only two poiints and one rebound.
Wichita State outscored Alabama 18-9 on second chance points and 11-10 on points off turnovers, but the Tide had a 14-8 advantage on fast break points and a 32-27 edge on bench scoring.
Alabama will be idle this week during The University's fall break and return to action hosting Murray State on Nov. 26.
At the midway point of the second half, the Shockers cut the Tide lead to only three points, tied the game at 69-69 with seven minutes to play, but could never take the lead. The Shockers opened the game with a 2-0 lead, but that was erased by a Lewis three-pointer and Wichita led in the game for only 42 seconds, Alabama leading for 36:57.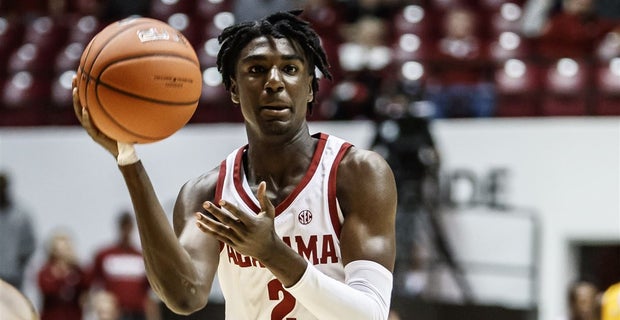 The key to victory was the down-the-stretch free throw shooting with Lewis making 6-6, Reese 3-4, Hall 2-2, and Dazon Ingram 2-2 for Bama's final 13 points.
Alabama built a 46-34 first half lead with a strong start and a strong finish. Herbert Jones made a couple of early three-point shots and finished with 9 first half points, as did Petty with three treys. Tevin Mack had 7 points off the bench and also had a key steal and assist to Lewis for a layup in the final seconds. Seconds prior to that Lewis had a layup and free throw and his five points in the final 30 seconds made it a 12-point halftime advantage.
Alabama had as much as a 13-point lead midway through the first half, but Wichita State had a seven-point run. Later in the half the Shockers would have a 14-4 run to cut the Tide lead to only four points, but the Tide ended the first half with a 10-2 run.
Bama shot 59.3 percent from the field (16-27), including 54.5 (6-11) on three-pointers, and 8-9 (88.9 percent) on free throws.
Reese off the bench had 8 first half points.
Wichita State was led by Marcus McDuffie with 26 points and Dexter Dennis coming off the bench to score 19.
TIDE NOTES: Alabama's starting lineup was as it has been this season, freshman Kira Lewis, Jr., at point guard, Herbert Jones and John Petty on the wings, and Galin Smith and Donta Hall on the inside. 
Wichita State has almost always had a veteran team under Coach Gregg Marchall, but this year is like 2017-18 Alabama, one of the youngest teams in the nation. The Shockers were picked eighth in the American Athletic Conference preseason poll.