Among the narratives regarding Alabama football this season have been that Alabama has beaten every opponent by at least 21 points; that until late in the season Crimson Tide quarterback Tua Tagovailoa was the nation's most famous fourth quarter spectator at Bama games; and then — the last two weeks — what is wrong with Alabama's offense?
That last was mostly halftime speculation.
Two weeks ago against The Citadel, Alabama was tied with the Bulldogs, 10-10, at halftime, and last week against Auburn, the Tide had only a 17-14 lead at intermission. Bama went on to beat The Citadel by 50-17 and Auburn by 52-21.
Still, Alabama Coach Nick Saban has addressed his concerns with slow starts, the admonition being that he wants his team to "start fast and finish strong."
On Monday, Saban said, "You always want to make sure your team is physically fresh. But the more difficult thing to determine is, are the players getting mentally tired? And I think that you want to make sure that both parts of that equation are in order to be fresh and ready to go.
"I can't say 100 percent for sure if that's had anything to do with how we've started games the last two games. If we were physically tired we wouldn't have been able to come out and play so well in the second half. But if we were mentally tired, maybe that affected our preparation going into the game, which affected how we started.
And I would say in this last game, based on the mental errors we made and the fundamental execution not being as sharp as it needed to be, that may have been the case.
"Hopefully we can get everybody sort of turned around this week. This time in the season maybe you have to cut back a little bit with some of the things you do and try to make sure you're getting all the reps you need to prepare for the game but not physically and mentally wearing your team out."
Alabama has raced out to a 12-0 record, including 8-0 in Southeastern Conference games, and is ranked No. 1 in the nation. The Crimson Tide has qualified for this year's SEC Championship Game against Georgia beginning at 4 p.m. EST (3 p.m. central time) Saturday at the Mercedes-Benz Stadium in Atlanta. And Bama has done that in great part because of offense, scoring 46.8 points per game and averaging 521.1 yards of total offense.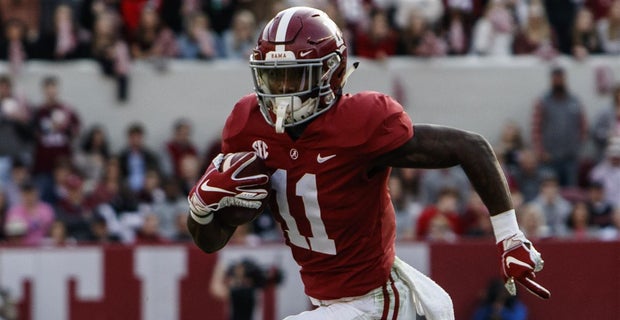 Alabama did that in great part with great starts.
Against Louisville, Alabama had it 14-0 at the end of the first quarter and 28-0 at halftime en route to a 51-14 win.
Against Arkansas State, it was Alabama by 19-0 at the end of the first quarter, 40-0 at halftime, and 57-7 at the end.
Ole Miss, 28-7 after one quarter, 49-7 at halftime, 62-7 final.
Texas A&M (Bama's closest game this year), 14-7 after one quarter, 31-13 at the half, 45-23 finish.
Louisiana, 28-0 first, 49-0 half, 58-14 final.
Arkansas, 21-7 after one, 41-14 at halftime, 65-31 at the end.
Missouri, 13-10 in the first quarter, 40-10 at the half, final 39-10.
Tennessee, 28-0 after the first quarter, 42-14 at intermission, 58-21 final.
LSU, 6-0 after one, 16-0 at the half, final 29-0.
Mississippi State, 14-0 after a quarter, 21-0 at halftime, 24-0 at the end.
Alabama tackle Jonah Williams gives some credit to the opponents. Following the Auburn game, he said, "I think that was a top-10 scoring defense in the country and we were able to score more points than they've allowed in three years. I think that we're playing good teams, we've played high-quality SEC teams every week and our goal is to every game. And we've won every game by 21 or more points. I mean, there's a lot to be excited about."
Quarterback Tua Tagovailoa, who in great part has been responsible for the fast starts and the big offensive numbers, said, "I think we started off fast throughout the first part of the season, kind of those things where we took off the third and fourth quarters. Then when we came into the second half of the season, we started off slower, but we finished a lot better.
"It's one of those things where we've got to be able to find balance. We've got to be able to start fast and finish strong; can't be just one dimensional with starting fast and not finishing strong or vice versa.
"I think  it just starts with our execution from an offensive standpoint."