This is who Slade Bolden is not: A quarterback on the nation's fourth ranked team who has completed 241 of 340 passes (70.9 percent) for 4,053 yards and 40 touchdowns (against only 7 interceptions),and who ran the ball 123 times for 892 yards (7.3 yards per carry) and 11 touchdowns.
Here is who Slade Bolden is: The man who is charged with giving the best possible look as he plays the role of Kyler Murray, the Oklahoma quarterback who won the Heisman Trophy this year with the aforementioned statistics.
Bolden, of course, is more than that, but that is his job as Alabama prepares to take on Murray and his Oklahoma teammates. That task is to give the Crimson Tide defense the best possible look of what it will be like when the Crimson Tide meets the Sooners in the Orange Bowl on Dec. 29, the semifinal game of the College Football Playoff.
It is close to an impossible job, but a very important one.
As long as football has been played, star players have been difficult to prepare for. That's particularly true for quarterbacks, especially dual threat QBs, and certainly the case for those who have achieved the status of nation's best college football player.
The echo of legendary Arkansas Coach Frank Broyles following the Razorbacks' 27-22 loss to Ole Miss in the Jan. 1, 1970, Sugar Bowl: "In practice, we just didn't have anyone who could emulate Archie Manning."
Following Alabama practice Monday, Alabama Coach Nick Saban said, "If we had somebody that can duplicate what [Murray] does, we'd be playing him."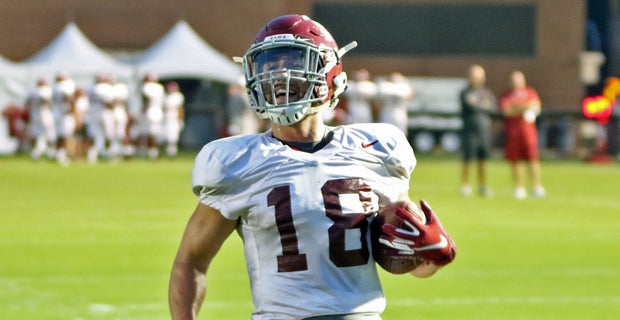 Bolden didn't come to Alabama to play quarterback. The 5-11, 200-pound freshman who has seen Crimson Tide game action only against Louisiana in the second game of the year, was signed as a wide receiver.
He is not a stranger to quarterback. As the 11th-ranked all-purpose athlete at West Monroe, La., High School, he was a quarterback who passed for 1,622 yards and 20 touchdowns and rushed for 1,460 yards and 20 more TDs.
Even at Alabama he has been pressed into scout team duty as a quarterback, helping Bama prepare for the triple option offense of The Citadel.
His teammates give Bolden props.
"He's done a good job of giving us a look," said Alabama All-America safety Deionte Thompson. "He played quarterback in high school. You can tell he has a feel for it, so he does a good job of giving us pictures of what we're going to see in the game."
Bama linebacker Mack Wilson said, "He gives us a good look. He's fast. I feel he can throw the ball as well. He gave us a great look for The Citadel game."
Saban admits that it may not be possible to simulate Murray.
"The guy is so quick, so fast, so talented" Saban said. "He makes good decisions, makes them fast. He does a great job of executing their offense, understands it well. They've got a really good system and a really good scheme and a complimentary play that goes with the last play. They do a really good job.
"I don't know if you can simulate him.
The guy won the Heisman Trophy and is the best player in college football."
Thompson said that he assumes Bolden is excited to be playing the role of the Heisman Trophy winner.