Each week of the Associated Press major college football poll is another week of Alabama at the top and a continuation of the remarkable record the Crimson Tide – particularly under Coach Nick Saban – has forged in this oldest and most respected ranking.
Alabama domination of college football may be a reason that the AP Poll doesn't have the same cache as it did for decades since its inception in the mid-1930s. For many, many years it was the benchmark of national champions and the contenders and pretenders. Additionally, of course, is that now the national title goes to the winner of the College Football Playoff, and the four teams in that playoff are selected by the CFP Selection Committee, whose work begins in the final five weeks of competition – the last four weeks of the regular season and the conference championship games. The AP voters – sports reporters and broadcast personalities — merely rubber stamp that CFP winner.
All 10 teams in the AP Top Ten were winners last week. The only upsets of ranked teams by unranked teams were Kentucky losing to Tennessee and North Carolina State falling to Wake Forest. Iowa lost to Northwestern and Fresno State lost to Boise State in top 25 games.
Just to get to the formality, Alabama is once again the unanimous choice of the 61 AP voters for Week 12 of the college football poll. Also as expected, the six teams behind Bama remained the same as last week – No. 2 Clemson, No. 3 Notre Dame, No. 4 Michigan, No. 5 Georgia, No. 6 Oklahoma, and No. 7 West Virginia. Washington State moved from 10th to eighth with Ohio State falling a spot to ninth, LSU dropping a spot to 10th.
In addition to Alabama, Georgia, and LSU, Southeastern Conference teams in the poll are Florida at 15, Kentucky at 20, and Mississippi State at 25. Texas A&M and Auburn are nopt ranked, but are receiving votes.
For obvious reasons, the Alabama record in the AP is more interesting to us, and not just because Alabama is No. 1 this week…and in every other week since the preseason poll for 2018.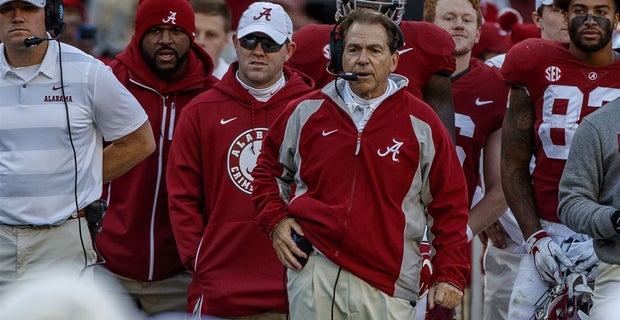 In 2008, the Crimson Tide received its initial first place ranking under Saban. In each of the succeeding 11 seasons (including this one), Alabama has been ranked No. 1 at some point (an AP poll record). In five of those seasons – 2009, 2011, 2012, 2015, and 2017 – Alabama has been at the top in what all coaches will tell you is "the only poll that matters – the last one."
Over the past 10 years, there have been 165 rankings and the Crimson Tide has been No. 1 in 84 of them – 50.9 percent of all polls in that period.
Bama has been No. 1 in 42 of the last 45 polls. Prior to this run, the most appearances at No. 1 in a 50-poll period was Southern Cal with 33 from 2003-05. The Tide has broken that record with five more weeks and the possibility of adding to it.
Bama has had back-to-back shutout victories over LSU (No. 4 in the AP poll at the time of the Tide's 29-0 win in Baton Rouge) and Mississippi State (No. 18 in last week's AP rankings before Saturday's 24-0 Alabama win in Bryant-Denny Stadium). Since the beginning of the 2008 season, the Tide is 56-14 (80 percent) against the AP top 25, including a 30-8 record (78.9 percent) against AP top 10 teams.
Alabama's win over LSU was Saban's 22nd career victory over a team ranked in the top 5 of the AP poll, the most in college football history. Saban's 22-12 record in those games is a 64.7 winning percentage, also best in college football history.
Since 2008, the Tide has a 28-9 (75.6 percent) record against top 10 teams. In Saban's five national championship seasons, Alabama has been 17-2 (89.5 percent) against top 10 opponents.
Saban coached his 72nd game at Alabama as the AP No. 1 team Saturday, the most coached by anyone at one school. At 65-7 (90.3 percent), he has won more games coaching one school at No. 1 than any other coach. The 65 wins are 52 more than any other and the 72 games played are 57 more than any other.
Alabama first achieved the No. 1 ranking with Coach Paul Bryant's first national championship team in 1961 and has an all-time record of 84-12 (87.5 percent) in the 96 games played as No. 1.
Alabama has been in the AP's top 10 for 54 consecutive polls, another AP record.
And, of course, Alabama has won 11 AP national championships.
This week, Fresno State, North Carolina State, and Michigan State were dropped from the top 25 and replaced by Utah, Boise State, and Northwestern.
Here is this week's Associated Press college football poll with record, points based on 25 for a first place vote, 24 for a second, etc., and first place votes in parenthesis:
Alabama 10-0 1,525 (61)

Clemson 10-0 1,459

Notre Dame 10-0 1,406

Michigan 9-1 1,327

Oklahoma 9-1 1,188

Oklahoma 9-1 1,188

West Virginia 8-1 1,111

Washington State 9-1 1,052

Ohio State 9-1 1,050

LSU 8-2 1,019

Central Florida 9-0 983

Syracuse 8-2 787

Texas 7-3 726

Utah State 9-1 689

Florida 7-3 575

Penn State 7-3 542

Washington 7-3 501

Iowa State 6-3 497

Cincinnati 9-1 344

Kentucky 7-3 337

Utah 7-3 307

Boston College 7-3 254

Boise State 8-2 147

Northwestern 6-4 136

Mississippi State 6-4 133
Others receiving votes: Army 128, UAB 78, Fresno State 61, Michigan State 31, NC State 30, Buffalo 29, Pittsburgh 28, Duke 20, Texas A&M 16, Iowa 8, Arizona State 6, Stanford 3, Auburn 3, Troy 1