As some other college basketball programs, Arizona and Coach Sean Miller were caught up in the FBI sting of 2017, but have emerged unscatched…at least so far. And meanwhile Miller has put together another very fine edition of the Wildcats.
Arizona has two losses, one to Gonzaga by 91-74 and one to Auburn (speaking of FBI complications) by 73-57, but its seven wins include road triumphs vs. Iowa State and Coach Bobby Hurley's UConn.
Alabama and Coach Avery Johnson are coming off one of the worst losses imagineable, the Crimson Tide blowing a 22-point second half lead at home to Georgia State in an 83-80 loss. Arizona is not really the type team one would be looking for to bounce back into the winning column, but that's the task at hand.
Alabama (5-3) will host Arizona (7-2) at Noon CST Sunday in Coleman Coliseum. ESPN will televise the game.
This will mark the second consecutive game that Alabama will be facing a former opponent. A week ago it was little-used Devin Mitchell for Georgia State. Arizona gets quite a bit out of ex-Tide player Justin Coleman, who averaging 11.8 points per game for the Wildcats.
Coleman is one of four Arizona players averaging in double figures in scoring. Brandon Randolph, a 6-6 sophomore guard, averages 17.1 points per game; 6-2 freshman guard Brandon Williams averages 12.4 ppg and a team-best 4.3 assists; and 6-10, 230-pound junior Chase Jeter 11.7 points and a team-leading 7.7 rebounds per game.
Those four are expected to be joined in the starting lineup by either 6-9, 225-pound senior forward Ryan Luther (7.0 ppg, 5.1 rpg) or 6-7, 200-pound soph guard Emmanuel Akot (3.6 ppg).
In Bama's last outing there was the first change in the starting lineup, wing man Tevin Mack (6-6 junior who averages 8.4 points and 3.1 rebounds per game) replacing 6-9, 245-pound soph post player Galin Smith (4.5 ppg, 2.8 rpg).
Otherwise, the Tide's starting group remained the same – 6-3 freshman point guard Kira Lewis, Jr. (team-leading 14.9 ppg), 6-7 soph wing Herbert Jones (8.4 ppg, 5.5 rpg), 6-5 soph wing John Petty, Jr. (11.8 ppg, 5.0 rpg), and 6-9, 230-pound senior post Donta Hall (8.8 ppg, 7.4 rpg).
The lineup can be dictated by the lineup of the opposing team.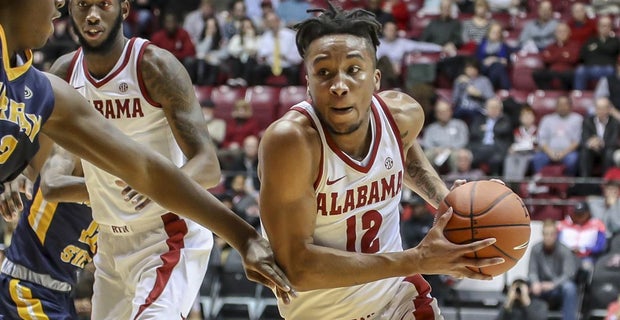 Alex Reese, a 6-9, 238-poung soph forward (8.0 ppg) and Dazon Ingram, 6-5 junior wing (9.6 ppg) have been key off the bench, along with Mack.
Alabama got senior forward Riley Norris back for brief playing time Tuesday after he missed time with a heart issue that arose in preseason.
Javian Davis-Fleming, a 6-9, 268-pound freshman forward who has been out with injury all season, is "getting better," said Alabama Coach Avery Johnson, but Davis-Fleming will not be available for the Arizona game.
Last year Alabama lost an 88-82 decision to the Wildcats in Tucson, but the Tide leads the all-time series, 2-1, both wins coming in NCAA Tournament play.
"Arizona is very, very good," said Johnson. "They are a good three-point shooting team, including a lot of good shooters coming off the bench."
He said that Coleman "has been playing lights out." Coleman transferred from Alabama following the 2015-16 season. He had played in 67 games and started in 16 over his two-year Crimson Tide career.
Johnson described Coleman as a "terrific young man…high character." The Tide coach said that when Coleman transferred it was to Birmingham to be closer to home and that Bama was surprised when he left the Bulldogs for Arizona.
Alabama is 3-1 in Coleman Coliseum, but that loss in the last outing stings. "I don't like losing," Johnson said, "and specifically, I don't like losing at home."
The Tide coach said that his team's communications has not been good this year, and that in the loss to Georgia State "we didn't respond when they turned it up."
Arizona can be expected to bring the heat.