SAN JOSE, Calif. — Before No. 1 Alabama left for the Bay Area for the College Football Playoff National Championship Game, it was reported an assistant coach was leaving to join another staff.
Crimson Tide offensive line coach Brent Key is expected to join Georgia Tech's staff under new head coach Geoff Collins, according to a report from the Atlanta Journal-Constitution. Per the report, Key will continue to coach the offensive line but an additional title is possible for him.
But at Alabama's Media Day at SAP Center on Saturday morning, Key said he has not accepted the position and his sole focus is helping the Tide prepare to face Clemson on Monday, Jan. 7.
"I played there, so that's not a surprise by any means. But I'm here with these guys, I'm working on this game," Key told BamaOnLine. "We've got a game Monday night, and just like I wouldn't talk about the next team before I played another team. I'm just focused on these guys, focused on Alabama and ready to go play this one."
Key has spent the last three seasons at Alabama coaching the offensive line, but he was also a four-year starter at right guard for the Yellow Jackets from 1997-2000, playing for Coach George O'Leary, who Key coached under at UCF. He was there with Collins for two seasons (2008-09).  
Key has coached the UA offensive line to three straight seasons of being named finalists for the Joe Moore Award, which is annually given to the best offensive line unit. Junior left tackle Jonah Williams was named a unanimous All-American for his performance through the first 13 games.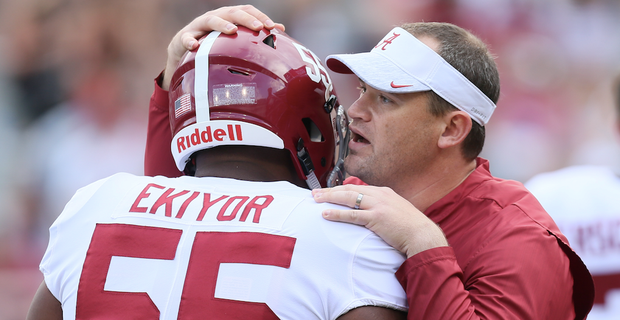 "It's so much fun coaching these guys this year because it's such a mixed group of personalities and experience levels," Key said. "But at the end of the day, they have the same objective, and that's to go out and play physical and work to dominate the opponent.
"It's been so much fun coaching this group. The playing next to each other and the cohesiveness and the things whereas maybe even early in the season when practice was over and these guys went here and these guys went there, now they're all together all the time. And that's when you see that the group's structure is where you want it to be."
If Key leaves, he would be the second Alabama assistant to leave the program, joining Crimson Tide offensive coordinator Mike Locksley, who will be the head coach at Maryland next year. The third-year offensive line coach's contract called for him to be paid $490,000 this year. The only Georgia Tech assistant paid more last year was defensive coordinator Nate Woody ($575,000). 
Alabama will play Clemson in the national title game on Monday at Levi's Stadium in Santa Clara. Key will coach in the title game and is working to prepare the Tide O-line to face the Tigers, which lead the country with 52.0 sacks and have only allowed a nation-leading 2.4 yards per carry.
"They're a big defensive line to start out," Key said of second-ranked Clemson. "They're extremely talented, well-coached, play within a very aggressive scheme. They have power, they have quickness, they can rush the passer, they can stop the run. It's the total package. You want nothing more than to come out for your last game and have that challenge in front of you." 
Contact Charlie Potter by 247Sports' personal messaging or on Twitter (@Charlie_Potter).
*** Don't miss a VIP update with our FREE trial of BamaOnLine. Sign up HERE ***