It would not be accurate to say that the Alabama Sports Hall of Fame would be without fame were it not for the Alabama Crimson Tide. But Alabama, and specifically Bama football, has dominated since its beginning, which included legendary Alabama Coach Paul Bryant and All-America and All-Pro wide receiver Don Hutson (who had been teammates for the Tide in the 1930s).
That inaugural class in 1969 also included Olympic legend Jesse Owens and all-time heavyweight boxing champion Joe Louis.
And through the years stars such as Hank Aaron and Willie Mays have been inducted, along with a number of Auburn football stars, including Heisman Trophy winners Pat Sullivan and Bo Jackson.
Nevertheless, a trip through the Birmingham museum demonstrates not only the extraordinary athletics accomplishments of Alabamians, but also the incredible footprint of Tide football stars. And there will be many more to come.
The ASHOF has announced its latest class of inductees, which brings to 361 honorees, and among them are two more former Alabama football players, Bud Moore and Antonio Langham.
Bud Moore played both football and baseball at Alabama, but enters the ASHOF for his coaching career.
Moore was coaching at North Carolina when former Texas A&M Heisman Trophy winner John David Crow left the Alabama staff to take a head coaching job. Paul Bryant put in a call to Moore to return to Tuscaloosa.
"I would have walked back," Moore said later. "But I never imagined I was going to take a pay cut to coach at Alabama."
Moore, who also had assistant coaching stints at Texas A&M and Kentucky, coached the Tide running backs in the wishbone offense from 1972-74. He then took over a very poor Kansas team as head coach in 1975. He installed the wishbone and coached the Jayhawks to a 7-5 record in his first season, earning Big Eight Coach of the Year and American Football Coaches Association District 6 honors.
In 1996 he was named recipient of the Paul W. Bryant Alumni-Athlete Award.
Robert "Bud" Moore, a native of Jasper, was a member of Alabama's first football teams under Bryant, lettering in 1958-59-60.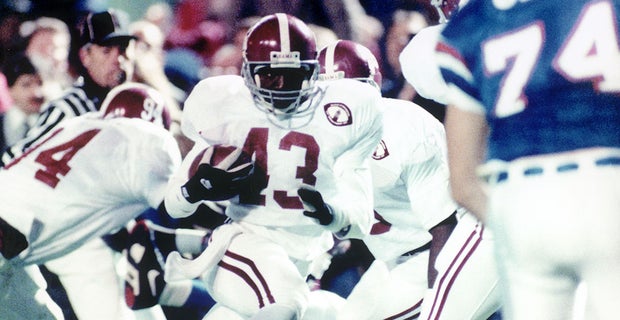 Antonio Langham is best remembered for his interception and game-winning touchdown return against Florida in the inaugural Southeastern Conference Championship Game in 1992. That 28-21 win kept Coach Gene Stallings's Tide undefeated en route to the 1992 national championship with a Sugar Bowl win over Miami.
Langham, part of the pipeline from Town Creek to Tuscaloosa (including the Goode brothers), was a three-year starter (1991-93) and four-year letterman at left cornerback for Alabama.
He holds the Tide record with 19 career interceptions.
As a junior and senior he was a consensus All-America, and in 1993 was awarded the JimThorpe and Jack Tatum awards as the nation's top defensive backs.
He was a first round NFL draft choice (ninth overall pick) by the Cleveland Browns in 1994 and was the 1994 NFL Defensive Rookie of the Year (playing for Cleveland Defensive Coordinator Nick Saban). He played two seasons with the Browns and also played for the Baltimore Ravens, San Francisco 49ers, and New England Patriots in a seven-year NFL career.
Others in the 2019 ASHOF class are former Auburn fullback Tommie Agee, former Jacksonville State and legendary high school football coach Bill Burgess, former Olympics Gold Medal winner Willie Davenport, former Major League all-star Luis Gonzalez, Alabama High School Athletic Association Executive Director and longtime outstanding high school football coach Steve Savarese, and former U.S. National Team soccer star Catherine Reddick Whitehill.
The 51st Induction Banquet and Ceremony will be held in the Birmingham Ballroom, at the Sheraton Birmingham Hotel, on April 27, 2019.