TUSCALOOSA, Ala. — There was little to no question that both Quinnen Williams and Jonah Williams would leave school early and declare for the 2019 NFL Draft. But now the questions turn to which players will replace the unanimous All-Americans' production on the field?
Following a press conference making their draft decisions public, both Williams were asked which Alabama youngsters were primed to take over at their respective positions next season.
For Quinnen Williams, he's a fan of the Crimson Tide's current and future defensive linemen.
"I know a lot of recruits," Williams said. "The early enrollee DJ Dale, I feel like he's a great person to come in and learn the ropes, learn the process. He's a very humble person and he's from where I'm from, so we've got that same trait, that same mindset, myself and him. But he's very bigger coming in, he's way bigger than me coming in. But I'm going to stay on him throughout when I leave.
"(Phidarian) Mathis is a great guy who's going to step up next year. He got a lot of experience, a lot of playing time this year, so he's ready. He's going to step in and fill that spot. LaBryan Ray, you've Stephon Wynn, Christian Barmore, just a lot of guys in general. But the main thing is about staying level-headed and keep working. Don't think about where you're at right then, just think about how the hard work is going to pay off in the future."
Williams had a monster first year as a starter in 2018. He was virtually unblockable and turned out to be one of the best players in college football. The winner of the Outland Trophy as the nation's best interior lineman, the Birmingham native registered 71 total tackles, 19.5 tackles for loss, 12 quarterback hurries and eight sacks. His production will be difficult to duplicate at nose guard.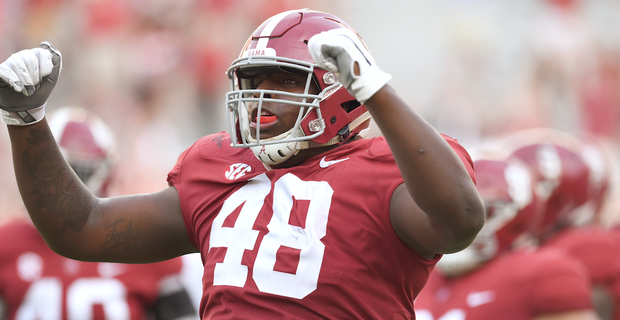 As for Jonah Williams, he is confident in the now-current state of the offensive line without him.
"Going to be good," the other Williams said. "Me, Ross (Pierschbacher) and Lester (Cotton) all leaving from graduating and working on getting to the NFL, but we have a lot of young talent. I think they'll make it work. We've got some experience coming back with Wood (Alex Leatherwood) and Jed (Jedrick Wills), and we've got guys who have kind of been backups who are talented enough to have been playing. But we were talented, too, and had experience, so we got the nod.
"But I don't think there's going to be any issue with that next year. I have full faith in Coach (Nick) Saban and all the coaches he decides to hire that they'll be able to pick the best five to go play, and we have the talent to do it."
The other Williams started 44 games at Alabama, or every game of his career, including the last two seasons at left tackle. He was the recipient of the SEC's Jacobs Blocking Trophy this past year.
Both Williams will be difficult to replace, but so were the players before them — All-American left tackle Cam Robinson and first-round NFL draft pick Daron Payne. So, Alabama has a history of being able to replace star players moving on to the next level with up-and-coming talent.
For Quinnen Williams and most other Crimson Tide players, it's a matter of when not if.
"I know the coaching staff been knowing I can do this. They believed in me from Day 1," he said. "When they put me on the field and made me the starter, I knew that it was my time. I sat back, I played patient, I waited, I worked hard and I just believed in the coaching staff in general and what they wanted to do for me. The process has been amazing.
"It's been stressful sometimes from like just watching your bros have fun on the field and you can't get on the field, but I think it all came good at the end."
Contact Charlie Potter by 247Sports' personal messaging or on Twitter (@Charlie_Potter).
*** Don't miss a VIP update with our FREE trial of BamaOnLine. Sign up HERE ***