Tennessee's search for a head football coach last season was a calamity. We've all said it. I've said it several times. I've written it several times.
But … was it?
If Jeremy Pruitt returns Tennessee football to the space it has occupied for a vast majority of its history, and Phillip Fulmer is the athletic director who guides Pruitt in that endeavor, then everything the Vols went through during that search would have been worth it. Every. Single. Thing.
Nick Saban only became the head coach at Alabama after Rich Rodriguez all-but said "I do" to the Crimson Tide and then left them at the altar. That embarrassing situation forced Alabama to make an even harder run at Saban than it had earlier in that same search, and everyone knows how that turned out. Saban went to T-Town and turned the Tide into a monster, initiating a sea change that led to one of the most impressive dynasties in the sport's history. For 11 consecutive seasons in an era otherwise ripe with parity, Alabama has spent at least one week at No. 1 in the Associated Press poll. That's beyond remarkable. It's historic.
If Tennessee's coaching search after the 2017 season ended with the program being in a better place, only a fool would attempt to argue with a straight face that it was calamitous. It might have seemed that way, but it wasn't.
The point: Tennessee's current search for an offensive coordinator has been nothing at all like the Vols' most recent search for a head coach. Even if it were, though, the end result is all that matters.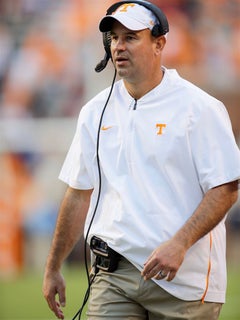 Pruitt's practicality is something I quickly grew to appreciate, and it's something Tennessee football desperately needed, but the Vols' current head coach also has some stubborn-in-a-good-way traits that I like.
There are times to act on impulse, and there are times to be deliberate. A defensive-minded head coach searching for an offensive coordinator falls under the latter category.
Pruitt wasn't caught unaware by Tyson Helton's decision to part ways with the program after one season. Even if Helton hadn't been offered the head-coaching position at Western Kentucky, I don't think he'd have returned to Tennessee for a second season as offensive coordinator and quarterbacks coach. Pruitt and Helton knew and respected each other but hadn't worked with each other before joining forces this season, and I don't think the fit was nearly as seamless as either hoped. I don't think the Vols had enough healthy talent to do anything consistently well last season, but I don't think Pruitt and Helton were always on the same page. I think they had more philosophical differences than either anticipated, and that happens all the time in this business.
I've said and written several times that Pruitt was probably as prepared as anyone could have been to become a first-time head coach, but that changes nothing about the fact that 2018 was his first season as a head coach. Few things ever work out exactly the way you envisioned. Life never stops throwing curveballs, but successful people learn how to hit them. I think Pruitt's first season as a head coach taught him several things, and I think his adjustments to those things will determine his future.
Put simply: I don't think Pruitt knows who his next offensive coordinator will be, but I think Pruitt knows what kind of offensive coordinator he wants to hire. And I think he's going to be deliberate about finding that guy. I don't buy the three-dimensional-chess theory that Pruitt has known all along exactly who he wanted. Perhaps I'll be proved wrong, but I believe — and have genuine reason to believe — that Pruitt is still searching for the answer.
Is this search going as quickly as Tennessee fans hoped? No. Not even close. But no one around Pruitt has offered even the slightest hint that he's panicking about any of this, and that tells me more than anything else.
Pruitt has spent the bulk of his college-coaching career working for Saban — a man who always has been and probably always will be deliberate about his hiring process. Saban has fairly earned a reputation for being at least one step ahead of his peers in so many ways, but he never rushes through the hiring process. He has a process, and he sticks to that process, and it usually works.
One man's deliberation is another man's practicality. This isn't anything like last season, when part of Pruitt's pitch to Fulmer was a guarantee of the impressive list of assistant coaches who would come with him to Knoxville. Most of Pruitt's staff is still with him, and there's a reason for that. He believes in them, and they believe in him. More than one of them has already turned down opportunities elsewhere. The foundation is there. 
Truth be known, Pruitt knew exactly what he was getting with most of his staff, because they were men he'd worked with in the past, or men who had worked with people he knew and trusted. The offensive-coordinator situation was different. I think Pruitt took more of a chance there, and it proved to be a less-than-ideal fit. And I think that's very much on his mind in Round Two.
I don't think anyone is going to rush Pruitt through this hire. He believes he and his staff can recruit in the short term without an offensive coordinator, and I haven't seen a shred of evidence to prove him wrong.
The worst thing Pruitt can do here is hire the wrong guy, and I think he knows that. Imagine a scenario where Pruitt panics and hires someone only to watch helplessly two or three weeks later when a much better alternative unexpectedly hit the market. If even one really attractive candidate would be more open to speaking with you after the completion of his (NFL or college) team's season, don't you wait for that person?
Being deliberate guarantees you nothing. Every decision is a risk, and it's possible that kicking the can for a couple of weeks will take some top candidates off the board. But I don't think that's been the case so far in this search. Many of the most innovative, exciting play-callers currently at the college level are head coaches, and many of the offensive coordinators on that list have jobs that would make Tennessee a lateral-at-best move at the moment.
Pruitt has already talked with a ton of people about this position. Some of them have been candidates for the position, and some of them have been friends and former colleagues willing to offer advice on the matter. I don't think Pruitt has met with anyone who checked every box for him and was willing to take the job.
I don't blame Tennessee fans who have become jaded by the past dozen-or-so years. I don't blame them at all. I've covered this program for all but three years in this century, so I've had at least a second-row seat to most of this ridiculousness. I've covered enough bad decisions to fill half-a-century in just 15 years. The burden of proof lies with Tennessee — not its fans — at this point. Full stop.
But don't mistake activity for achievement. Pruitt needing at least 18 days — and probably several more — to find an offensive coordinator doesn't give me cause for pause. Maybe I'm naive, and maybe I'm just hoping to cover nationally relevant college football again, but I see it the opposite way. I think Pruitt knows what he wants and isn't ready to settle for less.
I'm not assuming Pruitt will get this right. He's the one who has to prove that. But I have a better feeling about this guy at the 12-month mark than I had with any of his three predecessors at the same point, and nothing in the past three weeks has changed that. If he needs a few more days or even a few more weeks to find the right guy, so be it. That's better than making a bad hire.