ATLANTA — Patrick Surtain II was a player that generated a lot of buzz when he stepped on campus this summer. The freshman impressed early in Alabama's preparation for the current season, and many believed he would find a role on defense before season's end.
It only took three weeks.
Surtain, the nation's No. 1 cornerback in the 2018 recruiting cycle, stepped in on the Crimson Tide's second possession of the Ole Miss game after junior college transfer Saivion Smith gave up a 75-yard touchdown on the contest's very first offensive play. Since then, Surtain has started 10 games at right corner and been one of No. 1 Alabama's most consistent players.
"He's come in and been real competitive, that's the thing that I like most about him," sophomore safety Xavier McKinney said. "He's been able to get the calls and relay them back to everyone else. He's done a great job of competing in practice and coming to work every day."
Surtain was a 5-star recruit out of American Heritage (Fla.) and the country's No. 6 prospect, per the 247Sports Composite. Like any newcomer to the Crimson Tide football program, it took time for Surtain to learn Nick Saban's complex defensive system in a few short months.
"Just learning the whole playbook, just mentally getting prepared for games, just studying the playbook," said Surtain after the SEC Championship Game. "That was probably the biggest adjustment from high school to college. Once I learned some of the playbook, I sort of got the hang of it. … It's difficult. Coach Saban puts a lot of adjustments, all that in it. He makes sure that we study it a lot and playing games like this, you've got to know the playbook."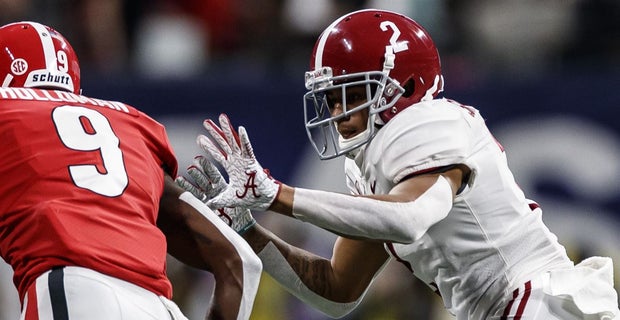 Since then and getting his chance in Week 3, Surtain has flourished as a starter in the Tide's secondary. Appearing in all 13 games, the 6-foot-2, 202-pound freshman has registered 33 tackles, 1.5 tackles for loss, one interception, six pass breakups and one forced fumble.
Surtain said he started to feel comfortable in knowing the playbook inside and out and being able to communicate the defensive calls to the rest of his teammates at about the midway point of the season. The Plantation, Fla., native thanked the veteran defensive backs for that.
"The whole DB room, the older guys, they took me under their wing and taught me how to be an Alabama football player," Surtain said. "They took me under their wing, and I thank them a lot."
Surtain reached double-digit starts this past Saturday when Alabama faced No. 4 Georgia in the SEC title game. He recorded seven tackles and one pass breakup during the Tide's 35-28 win in Atlanta. The freshman and his teammates will next face the nation's fourth-ranked team again, only this time it will be Oklahoma in the Orange Bowl semifinal of the College Football Playoff.
Matchups like these are why Surtain went immediately to work when he arrived on campus in the summer, and with the Crimson Tide set to participate in an unprecedented fifth straight playoff, it's why he ultimately committed to Alabama over teams like LSU and Florida State.
"Most definitely. That's why I chose to come here, to play in big-time games like this," Surtain said. "Kudos to Georgia, they played their butts off. We had to fight hard, that's what we came into this game thinking. Georgia wasn't wasn't going to back down, so we had to play our A-game."
Contact Charlie Potter by 247Sports' personal messaging or on Twitter (@Charlie_Potter).
*** Don't miss a VIP update with our FREE trial of BamaOnLine. Sign up HERE ***