ATLANTA — Ale Kaho couldn't stop smiling.
Alabama's true freshman linebacker was still in full uniform well after the Crimson Tide defeated Georgia in the SEC Championship Game, trying to process what he and his teammates had just accomplished on the field as he was asked to reflect on his first season in Tuscaloosa, Ala.
"It's a lifetime experience," Kaho told BamaOnLine in the locker room at Mercedes-Benz Stadium. "I'm just taking it in right now with all my brothers. I don't know, I'm just blessed."
Kaho is one of three true freshmen to play in all 13 of Alabama's games this fall. The other two, cornerback Patrick Surtain II and wide receiver Jaylen Waddle, were named to the 247Sports All-Freshman Team earlier this week for their performances on UA's defense and offense.
But had there been a spot for a special teams star, it would have likely gone to Kaho.
The 6-foot-1, 218-pound linebacker has played on all four special teams units this season — kickoff, kickoff return, punt and punt return. Of his 10 total tackles, eight of them occurred on special teams. He also recovered a fumble in punt coverage against Mississippi State.
Contributing on special teams is something the young linebacker takes pride in so far.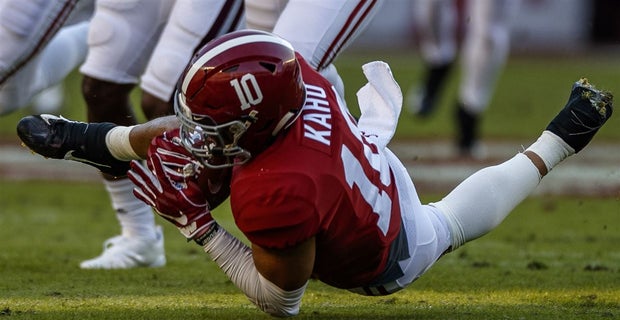 "Anyway I can help the team out, whether it's special teams, anything," Kaho said. "I'm proud to be a part of this team and to be on special teams is a big deal. A lot of people don't look at it that way, but special teams, I take seriously. And that's just the start for me getting on the field."
He knows to star on special teams usually results in an increased role down the road.
"Definitely, I hear that a lot," Kaho said. "Guys like Mack Wilson, Reuben Foster did the same exact thing — start on special teams and now they are where they are. I'm just trying to look up to them." 
On top of special teams, Kaho has seen a handful of reps at inside linebacker late in games. Grasping the playbook is difficult for first-year players, but Kaho is starting to get the hang of it.
"I think just my football IQ. Just knowing like where to be at the right time and how to fill gaps downhill and work through my tackles and stuff like. So, just little things like that have helped me improve."
A 5-star prospect from Reno, Nev., Kaho was the No. 1 inside linebacker and the No. 21 overall recruit in the 2018 cycle, according to 247Sports. After signing with Washington, he was granted his release from the Huskies' program and joined the Crimson Tide for preseason camp.
Kaho briefly explained his decision in his first chance to speak since enrolling at Alabama.  
"I came here last minute just based on family reasons," he said. "But ever since I've been here, they took me in, they helped me with the playbook. I'm still learning the playbook. It's very complex, very hard. I'm learning from the two best linebackers in the country, and I mean, I can't ask for more."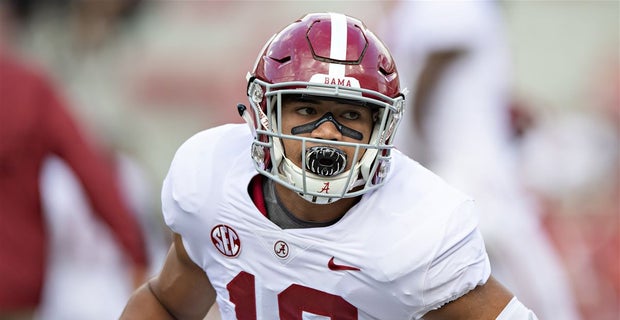 In August, Alabama head coach Nick Saban explained the late addition of Kaho like this:
"There are circumstances — and I don't know all the circumstances — where a guy doesn't get admitted to the school that he signed to go to, that he gets an opportunity to go somewhere else and he gets a release or he can choose to try to get eligible over time but not be able to enroll in school," Saban said. "So, I think, as I understand it, he was unable to get into school for academic reasons because of their institutional policies, not because of NCAA rules. 
"He could get into school at most other institutions. So, he had opportunities to go other places. He didn't want to sit out and continue to take other classes so he could go to the school he signed at and we were one of the people that recruited him. It came down to the wire in terms of whether we got him or not. When he got his release, we let him know that he had an opportunity to come here. We're glad to have him. We'll think he'll be a good player."
Kaho is now an SEC champion and will once again compete on special teams in the Orange Bowl semifinal of the College Football Playoff when the top-ranked Tide faces No. 4 Oklahoma on Saturday, Dec. 29. Like the Dec. 1 game, the freshman is simply happy to participate.
It has been a whirlwind season for Kaho, who went from joining fall camp after the rest of his teammates were in full pads to being named a special teams player of the week by the coaching staff after contests against LSU and Mississippi State. But he has adjusted, not only to a new system, facilities and team but to an entirely new culture in the South compared to Reno, Nev.
"It's definitely different," Kaho said, still smiling. "The culture's different, living is different, but it's definitely something I'm getting used to. And I can't wait for the future." 
Contact Charlie Potter by 247Sports' personal messaging or on Twitter (@Charlie_Potter).