KNOXVILLE, Tenn. — Top-ranked Alabama leads Tennessee, 42-14, after two quarters of play at Neyland Stadium. The Crimson Tide held the ball for 14:57 and ran 12 plays more than the host Volunteers (44-32) during the first half of play in its Week 8 road and rivalry contest. 
Alabama out-gained Tennessee, 351-169, thanks to a 256 passing yards and three touchdowns from quarterback Tua Tagovailoa. Tagovailoa tossed scoring throws to wide receivers Jerry Jeudy and Jaylen Waddle and tight end Irv Smith Jr. Waddle caught three passes for 109 yards in the first half as he was the third receiver in place of injured DeVonta Smith (hamstring).
Junior running back Josh Jacobs led Alabama with 64 rushing yards and two touchdowns on 11 carries. He started the game — the third start of his career — and Najee Harris was the first back off the bench. Senior Damien Harris was third but scored on a three-yard touchdown. 
Defensively, safety Xavier McKinney paced the Crimson Tide defense with five tackles and a forced fumble on a sack, which was recovered by Christian Miller, and led to the second score.
Defensive lineman Raekwon Davis did not play in the first half Saturday. The junior punched a Missouri offensive lineman last week and earned an unsportsmanlike conduct penalty. 
OTHER HALFTIME NOTES:    
— Alabama's captains against Tennessee today are linebacker Anfernee Jennings, offensive lineman Ross Pierschbacher and defensive lineman Quinnen Williams. 
— With 351 total yards in the first two quarters today, Alabama is now averaging 370.3 yards in total offense in the first half this season (2,963 yards in eight games). The Tide has racked up 340 or more total yards in the first half in seven of eight games this season – 340 vs. Louisville, 395 vs. Arkansas State, 418 at Ole Miss, 357 vs. Louisiana, 463 vs. Arkansas and 358 vs. Missouri along with today's output. 
— Through eight games this season, Alabama is outscoring its opponents, 310-58 (38.7-7.2), in the first half. That total includes a 165-31 (20.6-3.9) first quarter advantage and a 145-27 (18.1-3.4) difference in the second quarter. 
— Alabama limited Tennessee to -13 yards rushing in the first half today, the lowest total allowed by the Crimson Tide this season. UA's previous low occurred in the season's first game when the Tide limited Louisville to 11 yards in the opening two quarters on September 1.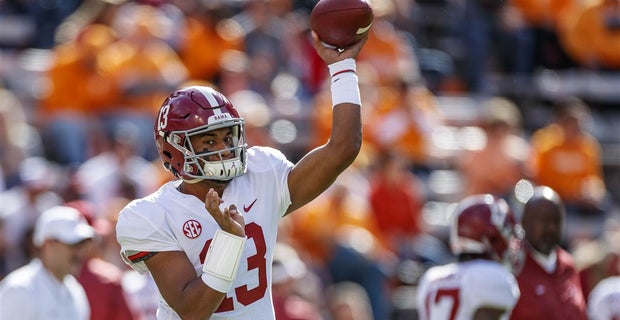 — Alabama scored 28 points in the first quarter for the third time this season. Alabama also tallied 28 in the first against Louisiana and Ole Miss to tie for the most in an opening quarter for the Crimson Tide during the Nick Saban era. The 28 points against the Vols is just the fifth time in the last 15 seasons an SEC team scored 28 or more first-quarter points against a conference opponent. The Alabama record for points in a quarter is 35, which occurred in the second quarter against Texas A&M in 2014. 
— With Tua Tagovailoa's 77-yard pass to Jaylen Waddle in the first quarter today, Alabama has 12 pass plays of 50 yards or more this season – 10 thrown by Tagovailoa, and one each by Jalen Hurts and Mac Jones. Nine of the 12 have gone for touchdowns. 
— Alabama's first quarter scoring drives of eight and 11 seconds today are the Tide's 19th and 20th scoring drives of less than a minute this season. The Crimson Tide led the nation in that category entering today's game with 18. Eleven of the 20 drives have lasted less than 30 seconds. 
— With its post-turnover scoring drive on its second possession today, Alabama has scored 97 points off 17 opponent giveaways this season, scoring on 15 of the turnovers. The Tide defense has directly accounted for 28 points on four interception returns, while the offense has posted 69 points on its 12 post-turnover possessions. 
— Alabama's first quarter fumble recovery against Tennessee this afternoon gives the Crimson Tide at least one forced turnover in 50 of its last 52 games dating to the start of the 2015 season. During the current run, the Crimson Tide has forced 89 turnovers (61 interceptions, 28 fumbles) and returned 21 of those miscues for touchdowns. 
— Tua Tagovailoa's 11-yard touchdown pass to Jerry Jeudy on Alabama's first possession against the Vols today was the Crimson Tide's eighth-straight opening drive touchdown this season. 
NICK SABAN QUOTE:   
"We played good on defense for a while, but then we messed up a couple of drives here. They caught us in man-to-man a couple of times and we didn't get them covered. It's been good pressure on the quarterback, but when it's third-and-long, you've got to get off the field. They got us in man-to-man and we didn't get off either time. Offensively, we're doing a nice job. We had a little bit of a lull for a couple of drives, but we've got to keep playing – it's a 60 minute game." 
*** Stay tuned to BamaOnLine for continued game and postgame coverage all night long.
Contact Charlie Potter by 247Sports' personal messaging or on Twitter (@Charlie_Potter).
*** Don't miss a VIP update with our FREE trial of BamaOnLine. Sign up HERE ***