MIAMI GARDENS, Fla. — Nearly five months ago, Hale Hentges told teammates he planned on being in the Bay Area on Jan. 7. Almost five months later, Alabama's senior tight end and the rest of the team will play for a national championship in Santa Clara, Calif., on Jan. 7. 
Exclaiming his goal during fall camp was to motivate the Crimson Tide's other players, and after an Orange Bowl semifinal win over Oklahoma, Hentges was prophetic in his preseason promise. 
Focused on the mission.#OutworkYesterday#RollTide pic.twitter.com/cWn6Ljh7Py


— Alabama Football (@AlabamaFTBL) August 7, 2018
"It makes me happy that I was right originally about that statement," Hentges told BamaOnLine in the locker room at Hard Rock Stadium. "But that's just something I really wanted to hammer home to those guys right in the beginning and realize that this is what we're working for, this is the ultimate goal.
"Now that it's here, I think you'll see guys have a heightened sense of focus and locking into what we need to do this and it should be our best week of practice. But I think everybody understands what's at stake here, especially for these seniors. We've got to go out the right way."
Hentges was voted a permanent team captain by his teammates, which was announced at the Tide's annual banquet after the SEC Championship Game. A player that is typically reserved on and off the field, he knows when to be vocal in order to affect the other players around him.
"He's one of those guys that doesn't really talk a whole lot, but when he does, everyone listens because everybody respects him and he does the right things time and time again," Alabama placekicker Joseph Bulovas told BamaOnLine after the game. "That's why he's successful.
"I think we have a lot of those guys that are just real professionals on this team, and that's why we're really consistent on an annual basis. Hale and a bunch of other guys have really stepped up, and I think the professionality that we have from our leadership is really what sets the tone."
No. 1 Alabama (14-0, 8-0 SEC) downed No. 4 Oklahoma, 45-34, Saturday night in the second College Football Playoff semifinal of the day. Earlier in the afternoon, No. 2 Clemson (14-0, 8-0 ACC) defeated No. 3 Notre Dame, 30-3, in the Cotton Bowl semifinal in Arlington, Texas, which set up a meeting between the Crimson Tide and Tigers for a fourth consecutive postseason.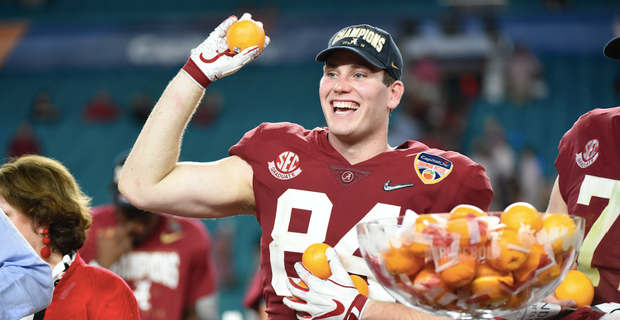 Like Hentges, many predicted Alabama and Clemson were on a collision course to meet in the national title game since the preseason, and that's exactly what the two familiar foes will do in one week in the 2019 College Football Playoff National Championship at Levi's Stadium.
"I feel like we know them very well," Hentges said. "I mean, I know them as well as LSU or whatever since we play every single year. They're obviously really big, really fast. Phenomenal defensive line and they've got playmakers all over on defense and obviously, their offense is electric. So, it's going to be a really tough challenge. We're going to have to have a great week of practice."
Against Oklahoma, Hentges and UA's other team captains — Damien Harris, Christian Miller and Ross Pierschbacher — appeared in their seventh College Football Playoff game, tying former Tide linebacker Rashaan Evans and punter JK Scott for the most games played in CFP history. Harris, Hentges, Miller and Pierschbacher have been members of two championship teams and have appeared in three CFP National Championship Games during their first three seasons.
On Jan. 7, the veteran quartet will break that record by playing in their fourth straight national title game, but they are not content with simply making it to the Bay Area. They plan on winning.
"That's really cool," Hentges said. "We're just so blessed and fortunate to be able to be in that position to just make our mark on every single College Football Playoff, so hopefully we can finish it the right way. But I couldn't think of a better group of guys to do that with."
Contact Charlie Potter by 247Sports' personal messaging or on Twitter (@Charlie_Potter).
*** Don't miss a VIP update with our FREE trial of BamaOnLine. Sign up HERE ***