TUSCALOOSA, Ala. — After Saturday's game, Nick Saban and Alabama's players said they wanted to make a statement against No. 3 LSU. And they certainly did that with a 29-0 win over the Tigers in order to advance to 9-0 (6-0 SEC) and clinch the SEC Western Division title.
Three days later, the top-ranked Crimson Tide is satisfied with its performance in Baton Rouge.
"They said we haven't played anybody and that our offense and defense were very suspect," Alabama junior tight end Irv Smith Jr. said. "We wanted to go out there and show everybody what we were capable of doing. It's pretty stamped.
"Offensively and defensively, I feel like nobody can stop us in the country."
Alabama piled up 576 yards in total offense against LSU, which marked the ninth time the Tide has topped 500 yards this year and the 21st time in the last 53 games dating back to the start of the 2015 season. This is UA's first nine-game run of 500-yard performances in school history.
Sophomore Tua Tagovailoa has directed 72 drives as the Tide's starting quarterback this year with 45 resulting in touchdowns (62.5 percent) and six culminating in field goals for 51 total scoring drives (70.8 percent). In six games against SEC opponents, Tagovailoa has thrown for 1,778 yards and 19 touchdowns with one interception on 99-of-151 passing (.656). 
On Tuesday, Smith was asked if he ever imagined Alabama having an offense that was able to put up these numbers when he was being recruited as a 3-star prospect out of New Orleans.
"I've never seen an offense at Alabama like this," Smith said. "What we're doing is really special, and it's awesome being a part of it."
Crimson Tide head coach Nick Saban touched on his team's offensive evolution.
"We started out the season playing very well on offense," Saban said Monday. "I think that we were able to run the ball a little bit better in the last couple of games, which I think is the balance that we wanted to try to create. I think finishing the game like we did at LSU is something that we probably wouldn't have been able to do early in the season.
"We continue to make a lot of explosive plays, but we've made a lot of explosive plays all year and I think it's going to be important that we continue to do that."
It isn't just the offense, though.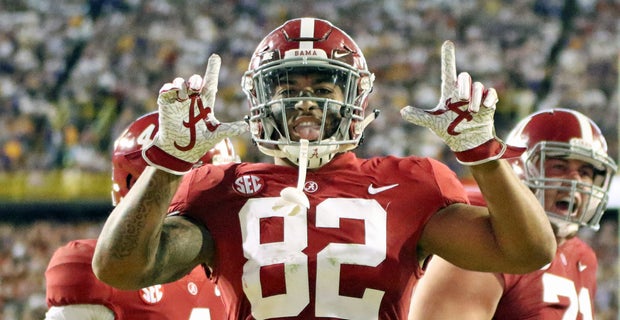 The Alabama defense has not surrendered a touchdown in its last 11 quarters of play (and one overtime possession) while playing at Tiger Stadium. LSU last found the end zone at home against the Crimson Tide with a touchdown pass at the 2:07 mark of the first quarter in UA's 20-13 overtime win over the Tigers in 2014, a span of 165 minutes and seven seconds.
Alabama limited LSU to -1 yard rushing in the first half, marking the second consecutive game the Tide has held an opponent to a negative rushing total in the opening half of a contest. The Crimson Tide limited Tennessee to -13 yards rushing in the first half of Alabama's 58-21 win in the team's previous game, which was the lowest total allowed by the Tide this season. 
Mack Wilson's fourth quarter end zone interception tonight gave the Crimson Tide at least one forced turnover in 51 of its last 53 games dating to the start of the 2015 season. It also sealed the shutout over the Tigers, which was the first shutout for Alabama this season. 
"We only scored 29 points but the defense stopped them," Smith said. "They didn't even score. It's a team sport, and both aspects of the game we need to come to play. The defense did a great job last week." 
Saban has seen the defense grow and development since the season opener in September. 
"I think we've made some improvements," Saban said. "A lot of young players, a lot of guys that didn't have a lot of experience. The knowledge and experience they've gained throughout the year has really helped their confidence and also playing together, communicating better, understanding the importance of those types of things and being a consistent unit where everybody's sort of doing their job, and that's going to give us the best opportunity to be successful. 
"I think we've grown in some of those areas and we need to continue to improve in all parts of our team. We're going to see a different kind of attack this week, so we're going to have to adjust and adapt to that, as well."
Still, a statement was made, and Alabama and everyone else knows it. But it's on to the next one.
The Crimson Tide has now turned its attention to No. 18 Mississippi State, which it will host on Saturday inside Bryant-Denny Stadium for a 2:30 p.m. CT kickoff. The game will air on CBS. 
"I feel like just going out and not being complacent and staying humble and hungry," Smith said. "Every week is a new week, and we want to get better each and every week."
Shyheim Carter added: "A win is a win, as usual. Now we're past this, and on to Mississippi State." 
Contact Charlie Potter by 247Sports' personal messaging or on Twitter (@Charlie_Potter).
*** Don't miss a VIP update with our FREE trial of BamaOnLine. Sign up HERE ***