TUSCALOOSA, Ala. — Josh Jacobs' play on the field has led to attention from NFL scouts off it, and with that comes reaction on social media, which has reached Alabama's junior running back.
Last week, Jacobs tweeted about wanting his family to have a better life, but when that led to fans asking questions about his future, the third-year tailback cleared things up with more tweets.
I'm not tlking abt going pro not even thinking abt it rn y'all big big assuming


— Josh Jacobs (@iAM_JoshJacobs) December 9, 2018
Plus my scholarship pays for my degree if I was to leave I can always come back and get it for free…… just throwing facts out there ??


— Josh Jacobs (@iAM_JoshJacobs) December 9, 2018
On Friday, he was asked if he's given any thought to that future and the 2019 NFL Draft.
"Honestly, I haven't. It's crazy how people like to spin things, for real," Jacobs said after the Crimson Tide's first Orange Bowl practice. "I honestly ain't really thought about it, and the little bit of time that I did think about it, it kind of stressed me out, so I just left it alone."
Jacobs' teammate Damien Harris is the No. 1 running back draft prospect according to most outlets, but the former has climbed the rankings of late. Per WalterFootball, he's the No. 6 back in the 2019 class.
The Tulsa, Okla., native's versatility is a big reason for that.
This fall, Jacobs has contributed in numerous ways, totaling 14 touchdowns (11 rushing, two receiving, one kickoff return) to rank eighth in the SEC, while his 11 rushing scores are good for sixth in the league. The tailback ranks second on the Tide in scoring with 84 points.
He has rushed 94 times for 495 yards and a team-high 11 scores while catching 15 passes for 171 yards and two touchdowns. The 5-foot-10, 216 pounder added 13 kickoff returns for 398 yards with one touchdown of 77 yards. His 30.6 yards per return average leads the SEC and is second in the FBS, a big part of UA's 23.5 average return on kickoffs that ranks 24th nationally.
Because of his stellar season, talk about the NFL has reached his family.
"Most of the people that talk to my pops, they get mad because he always tells them he's not going to have nothing to do with the decision," Jacobs said. "It's my decision. So, they're not going to get nothing out of me."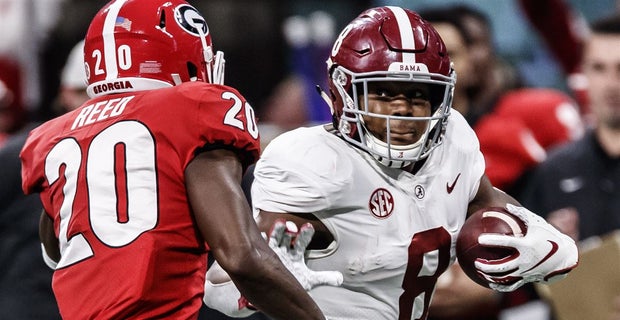 In the last game Alabama played, Jacobs was selected as the Most Valuable Player of the SEC Championship Game against then-No. 4 Georgia after he rushed for a game-high 83 yards and two touchdowns and averaged 10.4 yards per carry on eight rushing attempts in Atlanta.
But like he was after the contest, Jacobs is still critical of his performance.
"I just remember the things I didn't do right," Jacobs said. "We went over some of those things today. We re-watched film again and I saw a lot of the plays I messed up on, just the things I try to focus on the most. … I still don't feel like I did enough. So, that's my goal right now just focus on getting to where I feel like I should be."
This week, Jacobs' attention has been on the Orange Bowl as No. 1 Alabama started its on-field preparation for now-No. 4 Oklahoma. As the only Oklahoma native on the Crimson Tide's roster, the junior isn't approaching the semifinal matchup any differently, despite the storyline.
"It's a game you always dream of," Jacobs said. "If not going there, playing against your hometown. I'm going to treat it like every other game. Hopefully, we come out here with a victory."
The Tide and Sooners will face off Saturday, Dec. 29, at Hard Rock Stadium in Miami Gardens, Fla.
Contact Charlie Potter by 247Sports' personal messaging or on Twitter (@Charlie_Potter).
*** Don't miss a VIP update with our FREE trial of BamaOnLine. Sign up HERE ***