Alabama has scored 84 touchdowns in 13 games, giving fans plenty to cheer about this season. But some of the loudest applause at Bryant-Denny Stadium has occurred when a certain player has simply entered the game, whether as a slot receiver or as a backup quarterback.
That applause should carry over to Coleman Coliseum this weekend as Jalen Hurts is set to graduate from Alabama after three years on campus — especially after what the junior did in the second half of the SEC Championship Game two weeks ago, leading the top-ranked Crimson Tide to a come-from-behind victory over the then-No. 4 Georgia Bulldogs to remain undefeated.
Hurts replaced injured starter Tua Tagovailoa in the fourth quarter in a 28-21 game and scored two unanswered touchdowns (one passing, one rushing) to give Alabama the lead and the win.
"It's a moment that I had been waiting for," Hurts said the day after the conference title game in an interview with ESPN. "I'm not happy that it happened the way it did, but it was an opportunity for me to get out there and play for my teammates and go win the game for those guys. We worked so hard this offseason. You wouldn't understand, man. I'm so happy for this team."
This weekend, Hurts will walk across the stage a graduate of the University of Alabama, which is a big deal for the backup quarterback for several reasons. The one that will make headlines, though, will be his ability to now transfer anywhere that he likes as a graduate transfer.
The fact that's even being discussed comes as a bit of a surprise, however, as Hurts was the Tide's second-string signal caller this season and not a starter. But unlike others, he stayed when he could have easily looked elsewhere. He played when he could have saved a year of eligibility.
After being benched in January's national championship game for Tagovailoa and serving as his backup all year long, Hurts entered the SEC title game and threw for 82 yards and a touchdown on 7-of-9 passing and rushed for 28 yards and the game-winning score on five carries.

"I told Coach Saban, I said, 'Everything happens for a reason,'" Hurts said. "And that's been a thing I tell him all the time. Every time we meet up to chat and talk, I tell him everything happens for a reason and I'm bought into the process. … As a backup quarterback this whole year, my whole thing has been to prepare like I'm a starter so I can be ready when my moment comes."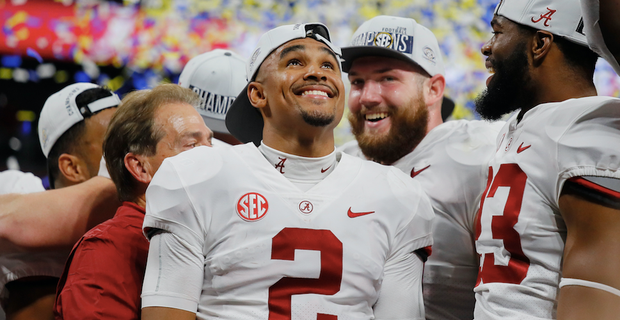 His next moment will come Saturday afternoon as a college graduate. And whatever his future holds, the 28-game starter will always be remembered for sticking around and winning an SEC title.
Following the SEC Championship Game, countless people have shared their thoughts on Hurts' performance in the fourth quarter. Ahead of his graduation, here are what his teammates, head coach, Oklahoma head coach Lincoln Riley and Tagovailoa's father said about Jalen.
"It's like a movie, you know. We beat them last year and then we're down in the fourth quarter this year, and Jalen comes in, steps in and leads us back for a comeback. I mean, it's amazing. It's a movie. I don't think anything else like this is going to happen for a long time. It's something very special. I'm happy for him and happy for his family. It's just a testament to who he is and how he was raised by his family. I'm really happy for him."
"We all knew Jalen was capable of doing that. And as soon as he had to go in, we had all the confidence in the world in him to go out and execute and to lead our team. He did that for two years, and whenever he's put in a situation again, he's able to do it. And I think that's a testament to his character and the way that he's handled the entire process because it would easy for anybody in his position to just kind of give up and quit. But every single day, we saw him come into work and try to become an even better version of himself. He worked harder, longer, he became a smarter player. He's done all the things he can possibly do to put himself in a situation to have the success that he had on Saturday. So, as a teammate and somebody that's watched his journey, I'm incredibly thankful to have the opportunity to see what he does day in and day out and being able to play alongside a guy like that is really rare. So, I'm definitely thankful for it."
"Well, I think Jalen's shown great character and resiliency as a person. He's shown a lot of class in the way he's handled the situation that's kind of unprecedented in college football that someone wins, like, 26 games, goes 26-2 as a starter and then all the sudden he's not the quarterback. Where his teammates supported him, he's now supporting them and was very positive in the way he did that. But the one thing that he did was he focused on getting better as a player. I think he's made a lot of improvement as a player, and I think he's made a lot of improvement as a player. And I think it showed last night in the game when he had the chance to go in and play. It was his time, and he certainly took advantage of it. 
"We played him a lot this year so that if this ever did happen that he would be ready to be able to handle it in a positive way. I can't say enough about it. I think if you wrote a movie about same building, same team, same opponent, same place — Tua took his place last year and led a comeback, and he takes Tua's place this year to a comeback in the same building, the same place against the same team — I think they would say this is too far-fetched. This wouldn't be a very good movie. But it was certainly emotional for me, and I was happy for him that he was able to do. And Tua was very supportive of him, and we don't lose sight of and have appreciation for all that Tua has done all year long for this team, as well, being one of the best players in college football."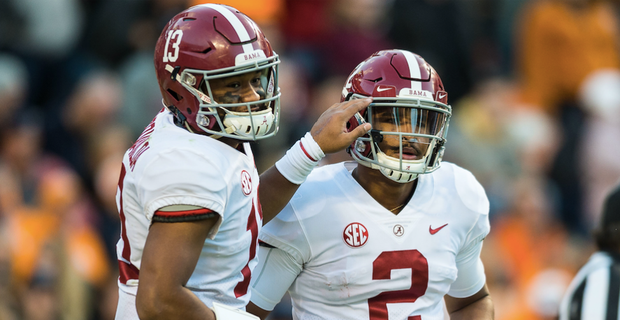 "The thing I've seen from afar, and I don't want to act like I'm an expert on the program. I'm not in those walls day to day. But you see the unselfishness in that program. I mean, the most obvious notable example is Jalen Hurts and how he handled that entire situation. I don't know if there's a coach in the country that doesn't look back at that and say, 'Every kid, every college football player, every young football player out other, every six-year-old that's getting ready to play the game ought to see that story because we need more guys like him.'
"So, really impressed with how their whole program managed great players at different positions. And then as a team, the obvious thing would be to say that Alabama's certainly been more explosive offensively than they've been in a while. And they've been good offensively, no question. But this group's been different, and they're certainly fantastic defensively like they've been forever. So, a great challenge. But I could not be more impressed with Jalen Hurts and how he handled that just from afar. I'm a big fan of that kid and how that entire situation was managed."
Galu Tagovailoa
"Just the relationship between Tua and Jalen, it's so good to see, and I'm so, so happy for Jalen and what had happened with him, especially for the family. Just so grateful for those good things. And to me, it only happens at Alabama. These success stories only happen at Alabama, and we're just so grateful for everything that has happened, not only for us but for Jalen's family, for the whole organization, for what Coach Saban has done. It's been unbelievable. I mean, even this year, they've changed how they've done things, and that just shows you the type of coach that Coach Saban is. How open he is with his offense, how open he is with having such a young defense but not worrying about how things are going to happen throughout the season. All he preaches is teamwork, right? Hard work. Transitioning what you have here into the game. So it's been amazing, it's been an amazing ride. But we're not finished. We're not done.
"With what Jalen has done this past year has really been big for Tua, and even Tua's first year coming into Alabama. Jalen has been a big part of his football career. Just learning off of Jalen and just understanding what was going on. Just the leadership that he brings and just being positive around the team and just looking at it as a team sport, not an individual sport. And I think a lot of kids that get to that status tend not to see that at times. With Jalen and with Tua and even with Mac Jones, when they're given the opportunity to go in and play, they play for the team. Nobody's playing for themselves as individuals, it's all for the team. And I love it how they just pulled it through this past weekend."
Contact Charlie Potter by 247Sports' personal messaging or on Twitter (@Charlie_Potter).
*** Don't miss a VIP update with our FREE trial of BamaOnLine. Sign up HERE ***