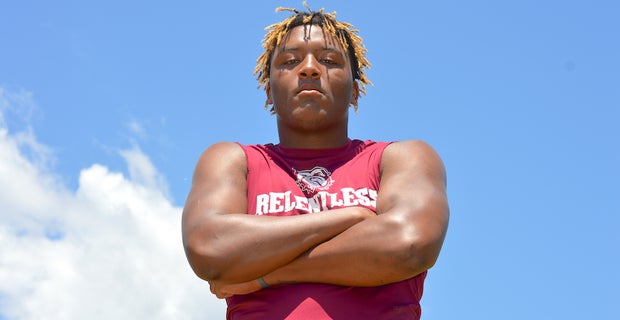 Friday night during the annual Christmas parade in Montgomery, Ala., a pair of Auburn commits in town for the Alabama-Mississippi All-Star Game put in a good word about their future team to a young Crimson Tide fan.
And the funny little scene was captured on video by Maria Martin, the award-winning sports reporter fro @WSFA12news.
In the light-hearted moment, Auburn defensive end commits Jaren Handy of Hattiesburg (Miss.) and Jamond Gordon of Meridian (Miss.) are seen with Alabama defensive end commit Byron Young of Laurel (Miss.) West Jones and 5-star Auburn/Alabama linebacker target Nakobe Dean of Horn Lake (Miss.).
While interacting with a young child and his family during the parade, Handy and Gordon went to work to convert the young Alabama fan.
"You're gonna be at Auburn," Gordon told the youngster.
Dean, meantime, chimed in by saying, "you tell him the Tide's gonna roll regardless."
As Dean, Young and Gordon walked away, Handy pressed on.
"I'm going to tell you right now, I'm going to put in work for you at Alabama — I mean Auburn," Handy said. "You know what, I'm going to be there. … I'm going to holler at you later, player."
You can watch the scene below …
Mississippi All-Stars at the Christmas parade! #Auburn commit @JarenHandy talking with a young Alabama fan when 5-star LB Nakobe Dean chimes in and says "you tell him the Tide's gonna roll regardless." @KobeDean2 @AHSAAUpdates @wsfa12news pic.twitter.com/H1OkRpjsOz


— Maria Martin (@Ria_Martin) December 15, 2018
The four recruits are good friends and teammates this week. The Alabama-Mississippi All-Star Game is Monday night.