TUSCALOOSA, Ala. — Jerry Jeudy is a player of few words.
Alabama's sophomore wide receiver would much rather let his play do the talking. And it's been speaking for the former 5-star recruit since before he joined the Crimson Tide football program.
"Probably before he got here," said Alabama senior running back Damien Harris when asked when he first realized Jeudy's potential. "You saw all those camps, like The Opening and all that stuff. You just saw him making all these plays.
"We knew he was committed here, so seeing him on those videos, you're like 'Hey, this kid is pretty good.' He came in here and continued to work hard, and he's turned into the player he is now."
This season, his second in Tuscaloosa, Jeudy has been the top receiver in a high-powered offense.
Jeudy leads Alabama with 1,103 receiving yards and 12 touchdowns on 59 receptions. His 84.8 receiving yards per game ranks second in the SEC, while his 18.69 yards per reception ranks third.
His 10-yard, game-tying touchdown reception in the SEC title game was Jeudy's 12th scoring catch of the season, which was good for second on the Alabama single-season touchdown receptions list behind school record holder Amari Cooper, who caught 16 in 2014.
Because of his season-long production, Jeudy was named the recipient of the Biletnikoff Award, which is annually given to the nation's top receiver. The last Tide player to win it was Cooper in 2014.
"It means a lot," Jeudy said. "Being known as one of the top receivers in the country is really an honor."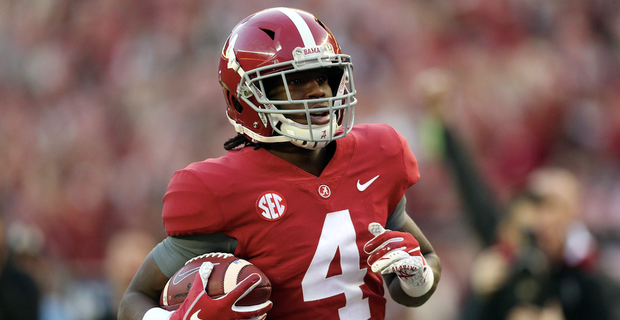 Jeudy was also one of five UA players to earn either consensus or unanimous All-America honors.
"It means a lot, knowing how hard we worked," Jeudy said. "It's an amazing feeling."
Before he was a Biletnikoff Award winner and a consensus All-American, however, Jeudy was a star at Deerfield Beach (Fla.) High School. There, the 2017 prospect caught 76 passes for 1,054 yards and 15 touchdowns as a senior in 2016 as a 247Sports Composite 5-star recruit.
Along with Cooper and 2018 first-round draft pick Calvin Ridley, who Jeudy said he speaks to whenever they're both not busy, Jeudy is the third standout receiver from South Florida to take his talents to Tuscaloosa and emerge as a top target in the Crimson Tide's passing game.
No. 1 Alabama will play No. 4 Oklahoma in the Orange Bowl semifinal in eight days in Miami Gardens, Fla., which is roughly 30 minutes from Jeudy's hometown. And the star sophomore is excited to play in his second game in Florida — with this one being in his backyard.
"It's a great feeling," Jeudy said. "I can bring my family and a lot more of my people to come see this game. It means a lot."
Because Jeudy will be playing so close to where he is from, he has already received quite a few requests for tickets than most games. He said he has been checking with teammates for any extras.
"I may not have enough for everybody," Jeudy said, "but I'm going to try my best to get some more."
Time will tell if he is successful, as the Tide faces the Sooners on Saturday, Dec. 29, at 7 p.m. CT.
Contact Charlie Potter by 247Sports' personal messaging or on Twitter (@Charlie_Potter).
*** Don't miss a VIP update with our FREE trial of BamaOnLine. Sign up HERE ***