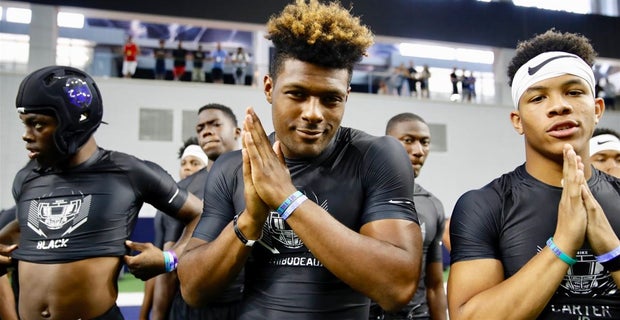 Kayvon Thibodeaux, the nation's No. 2 player overall and top prospect from California, is set to announce his college commitment in a matter of hours during halftime of Saturday's New Mexico Bowl (approximately 3:30 p.m. ET, ESPN).
"I have finally decided where I wanna go. I wanna thank everyone apart of my journey. You may not like my decision but you gotta respect it. Time to level up," Thibodeaux tweeted on Friday evening. The five-star weakside defensive end and edge rusher is rated as the No. 2 prospect in the 2019 class, according to the 247Sports Composite, and is expected to choose between Alabama, Florida, Florida State and Oregon. Thibodeaux has made unofficial and official visits to those four programs and coaches from each staff have gone in-home with the prospect over the past three weeks. 247Sports national recruiting analyst, Greg Biggins, will be live at the announcement providing updates right here.
3:15 p.m. ET: Biggins has arrived for Thibodeaux's announcement. Currently there are mostly just family and friends at the place and they are showing highlights of Kavyon on the big screen.
3:25 p.m. ET: Thibodeaux was leaning a few different ways leaning up to his decision, but made up his mind Friday. In the video, Kayvon is talking about the pressure he faced this year as a highly touted prospect. "If I had two sacks, people wanted me to get three. Every game I had fans booing me, players trying to earn a reputation off me. It was tough at times but it made me hungry."
3:33 p.m. ET: Oregon and Florida State were the two schools who came in for home visits this week. He had finals and didn't want to host anyone after Tuesday. Alabama and Florida did visit the previous week and all four schools came in multiple times during the live period.
3:37 p.m. ET: The announcement will come at halftime of the New Mexico Bowl. There's about three minutes left in the first half.
3:46 p.m. ET: We're only a few minutes away from Thibodeaux's announcement. The camera is all set up and Kayvon's surrounded by family and friends. Everyone is just waiting for halftime of the bowl game.
3:51 p.m. ET: It's halftime of the New Mexico Bowl so Thibodeaux's decision should be coming any minute now. He's down to Alabama, Florida, Florida State and Oregon. The 247Sports Crystal Ball has Oregon as the favorite at 68 percent.
3:55 p.m. ET: Thibodeaux has just picked Oregon over Alabama, Florida and Florida State. Stay logged in to 247Sports for more on Thibodeaux's decision.
The Thousand Oaks (Calif.) Oaks Christian star will sign with the school of his choosing during the Dec. 19-21 Early Signing Period.
Biggins, the lead expert on Thibodeaux, believes it's coming down to Alabama and Oregon.
"I do think it's (between) those two schools," Biggins said on a recent 247Sports podcast. "I don't think Florida State is out. I don't think Florida is necessarily out, but I do think it's Alabama making that late run. We've talked about how Bama is so good at closing. Nick Saban was in the house last week. They do such a great job at this point in time. It used to be January, but now it's December with the early signing period making those home visits."
Biggins details the 6-foot-5, 240-pounders strengths in his expansive scouting report summarizing the elite prospect's skill set:
"Has a lean, athletic frame that will be able to pack on good weight at the next level. One of California's top pass rushers since his sophomore season," Biggins writes. "Has advanced pass rush instincts and can beat linemen in a variety of ways. Edge speed is elite, but he does have a bulrush in his arsenal as well. Has good closing speed.
"Is better against the run when he is chasing from the backside. Needs to improve at the point of attack on runs at him. Must continue to get stronger and more physical. Can take over a game when motivated but he does have a tendency to coast at times. At his best, will be a dominant college football player and first-round NFL Draft pick."
If Thibodeaux picks Oregon, he would be the highest ranked commitment in program history edging out Haloti Ngata who had a composite score of 0.9962. Should he choose Alabama, Thibodeaux adds to the nation's top-ranked class for 2019 according to the 247Sports Composite, a robust 24-player haul exploding with talent headlined by five-star safety Daxton Hill and five-star pass rusher Antonio Alfano.
"I'm of the belief that Alabama has the edge right now talking to sources with knowledge of the recruitment, but I don't think it's a done deal," said 247Sports director of recruiting Steve Wiltfong. "I put my crystal ball on the Crimson Tide in the summer after spending time with Kayvon at the Pro Football Hall of Fame Academy and then talking to people around him. With Alabama's track record of development of five-stars and the success that their five-stars have had on the field in relation to the NFL Draft, I think that's a factor that's really excited Kayvon."