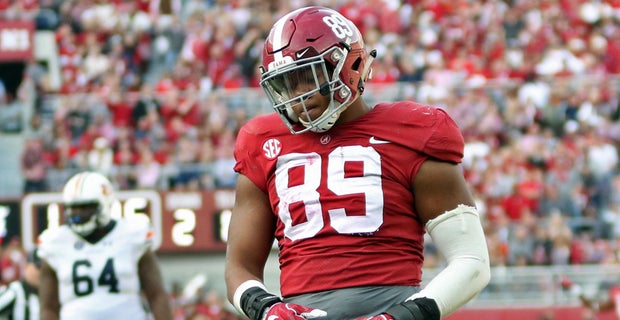 Two days after an arrest for public intoxication in Tuscaloosa, Ala., Alabama rising junior defensive end LaBryan Ray took to Twitter to apologize for his off-field actions and thank fans for their support.
Thank you everyone that reached out to me in this time, im so thankful to have y'all in my life. Im beyond sorry for doing something like this. It unlike me to do something like this. To everyone that support me I know I let u down with this, and will do whatever is necessary


— R.I.P. Bat (@LabryanRay) January 14, 2019
To try to gain your trust back. Can't get this one back but I'm going to learn from it and continue to grow from it. Again I'm so sorry for letting y'all down.


— R.I.P. Bat (@LabryanRay) January 14, 2019
Ray was arrested at Midtown Village on McFarland Boulevard, according to The Tuscaloosa News. Security encountered Ray, who refused to leave an establishment. He was then detained until police arrived and determined to be intoxicated. He was transported to Tuscaloosa County Jail.
"We are disappointed any time a player makes a choice that leads to a bad decision," Alabama head coach Nick Saban said in a statement. "We will evaluate what we need to do in terms of appropriate discipline and rehabilitation as we move forward."
The Madison, Ala., native appeared in all 15 of the Crimson Tide's games this past season as a reserve D-lineman, recording 39 tackles, including 6.0 for loss (-15 yards) and 2.5 sacks (-9 yards). He also added two pass breakups plus a pair of quarterback hurries during his sophomore campaign. 
With redshirt sophomore Quinnen Williams and senior Isaiah Buggs turning pro, Ray is in line to claim a starting spot along Alabama's defensive line in 2019 along with returning starter Raekwon Davis.
Ray was a 5-star recruit in the 2017 cycle, according to the 247Sports Composite. He was the No. 1 player in Alabama, the No. 2 strong-side defensive end and the No. 28 overall prospect. 
Contact Charlie Potter by 247Sports' personal messaging or on Twitter (@Charlie_Potter).
*** Don't miss a VIP update with our FREE trial of BamaOnLine. Sign up HERE ***