Alabama will play Georgia in the SEC Championship Game on Saturday. And shortly after the conference title game, the Crimson Tide's offensive coordinator will interview for a head coach position.
According to reports from InsideMDSports.com and The Washington Post, Mike Locksley will interview for the head coaching vacancy at Maryland after Alabama's 13th game of the 2018 season. The Terrapins' interviews are being conducted by the Atlanta-based Parker Executive Search, and the title game is in Atlanta. Maryland has already interviewed Matt Canada, per reports.
Locksley has had two separate stints with the Terrapins. His most recent stop was from 2012-15 where he was the offensive coordinator and quarterbacks coach. Locksley also served as Maryland's interim coach in 2015 and was among those in the mix for the permanent gig. The school, however, chose D.J. Durkin, and Locksley ended up as an offensive analyst at UA in 2016.
Since then, Locksley has continued to climb the ranks of Nick Saban's coaching staff. After starting out as an analyst, the Washington, D.C., native was promoted to wide receivers coach and co-offensive coordinator in 2017 before being named offensive coordinator this offseason.
This fall, he has guided Alabama to one of its best offensive seasons under Saban. UA is ranked No. 2 nationally in scoring at 49.0 points per game and fourth in total offense (538.0 yards per game). The Crimson Tide is sixth in the country in passing offense at 332.1. Alabama is outscoring its opponents by 423 points (588-165) through 12 games this season (35.2 points per game), which is the highest scoring difference in SEC history for an entire season.
Sophomore quarterback Tua Tagovailoa is also authoring one of the top starting debut seasons by a quarterback under the Broyles Award finalist's play-calling. Tagovailoa is the No. 1-rated passer nationally and has completed 70.3 percent of his passes for 3,189 yards and 36 touchdowns despite not playing into the fourth quarter until the ninth game of the season.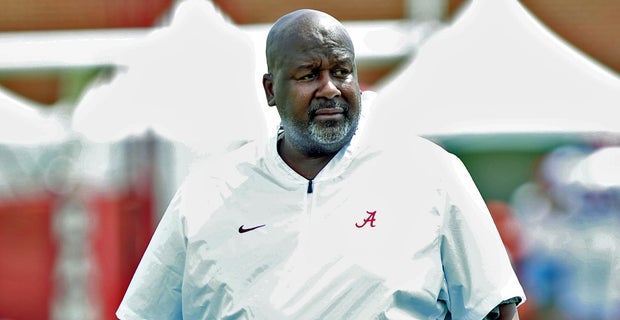 With 377 yards passing versus Auburn on Nov. 24, Alabama has now thrown for 3,985 yards this season to set a new school record. The previous season high was 3,890, set by the 2014 team in 14 games. And with 52 points in the win against Auburn, the Crimson Tide has now scored 588 points this season, breaking the previous school record of 582 set by the 2016 team in 15 games.
"Mike's doing a good job," Saban said earlier this season. "I think he's a good play-caller. He does a good job of organizing things for the offensive staff. I think we really have a good offensive staff, and I think all those guys work well together and they do a good job. His leadership has probably contributed to that in a very positive way. We've been productive."
If Locksley does indeed get the job — one many consider him the favorite for — it will mark the fourth straight season that Saban will have to replace a coordinator that accepted a head coaching job. Kirby Smart, who Alabama will face Saturday in the SEC title game, left for Georgia in 2015, Lane Kiffin left for Florida Atlantic in 2016 and Jeremy Pruitt left for Tennessee in 2017.
Maryland will want to hire a new coach soon, as the Early Signing Period is set to begin Dec. 19. Locksley is currently the No. 19 recruiter with five commitments in the 247Sports Composite recruiter rankings for 2018. Alabama currently has three players from Maryland and one from D.C. committed to the program, and his experience in that region of the country has helped with that.
When exactly Locksley will interview is not yet known, but win or lose, it will be shortly after the SEC Championship Game. If that is a hit, the question then becomes will Locksley remain with the team through the postseason like Smart and Pruitt before him? We shall see in time.
Contact Charlie Potter by 247Sports' personal messaging or on Twitter (@Charlie_Potter).
*** Don't miss a VIP update with our FREE trial of BamaOnLine. Sign up HERE ***