After Maryland hired Mike Locksley to be its next head football coach, the conversation turned quickly to recruiting — and whether he would bring any recruits from Alabama to College Park. Locksley, after all, had earned commitments from several highly rated players from the Washington area, and it's common for a recruit to follower his recruiter to a new school when the recruiter gets a head coaching job.
Add in Locksley's reputation as a pied piper capable of attracting highly rated players wherever he goes, and it seemed safe to guess one or two of those DMV-area players who committed to him as Alabama's offensive coordinator might re-commit to him as Maryland's head coach. But as the weeks leading into National Signing Day passed, it became clear he wasn't working to flip any of them from Crimson to Maryland red. Thanks to the intrepid John Talty of Al.com we now know why: it was a decision based, in part, in his loyalty to Alabama coach Nick Saban.
What We're Hearing: Got Gattis | Terp for Life | Transfer Talk
"I had a commitment obviously when I recruited for Alabama to recruit for Alabama," he said, Talty reported. "Once we are done playing here, I'm going to do what's best for Maryland."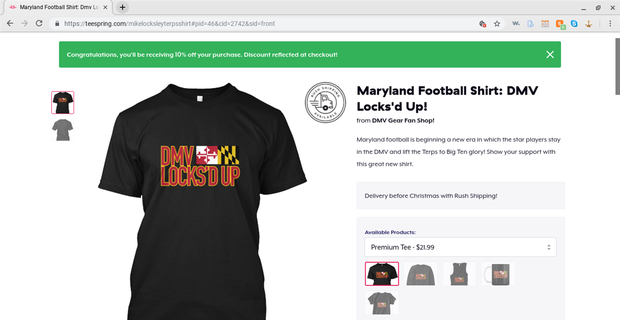 One of Saban's ace recruiters, Locksley landed two of the three highest rated recruits in Maryland in the Class of 2019, St. Frances linebacker Shane Lee and DeMatha safety DeMarco Hellams. After Maryland hired him, the initial speculation had him trying to woo those two to Maryland. But despite the no-holds-barred environment of college football recruiting, Locksley felt it would look phony if he switched his sales pitch to a new school at the last minute.
"To me from an ethical standpoint, I've recruited some of these guys and if I didn't have a chance to recruit them for Maryland…it's kind of hard to go from telling a kid Alabama is the best thing to hey, now Maryland is the best thing," Locksley said, per Talty. "I thought it was the right thing to do."
Not only did Locksley not poach any of Saban's recruits, he also reportedly as actively working to seal the deal on several of them for Alabama in the weeks leading up to signing day. It was an act of loyalty to the legendary head coach, who played a key role in Locksley's career resurgence after he left Maryland in 2015.
"Some of the guys that were signed at Alabama I was the lead recruiter on and I think maybe the credibility of me saying I don't have a dog in the fight now, I'm going to Maryland but I'm telling you Alabama is still the best situation for you," Locksley said, Talty reported. "Look what Alabama did for me as a coach so imagine what it could do for you as a player."
Locksley will finish his time at Bama on Monday, when the Crimson Tide meets Clemson in the national championship. From there, he'll quickly head to Maryland to finish staffing and resume a recruiting effort that stalled under a cloud of controversy during the season, stopped almost completely because of the the uncertainty of Maryland's coaching situation after DJ Durkin was fired and has been paused by Locksley's delayed arrival. The Terps signed just six players on signing day, a class rated last in the Big Ten and No. 81 nationally, but they're expected to add numerous high school recruits in the late signing period and will be active on the transfer market.