By all accounts, there is very little fondness for Alabama football in Louisiana with just over a week until the Crimson Tide takes on LSU in Baton Rouge Nov. 3. On the other hand, Alabama Coach Nick Saban has demonstrated quite a liking for the Bayou State, particularly when it comes to recruiting good football players from Louisiana. 
And that, by the way, probably adds to the animosity. Alabama and LSU are longtime Southeastern Conference rivals, but it has been more one-sided than one might suspect, the Crimson Tide holding a 52-25-5 advantage in the series. That record has been padded since Saban arrived in Tuscaloosa, Bama taking 9 of the last 12 games, including seven in a row starting with the 21-0 win over the Tigers in the Sugar Bowl to win the 2011 BCS National Championship.
And no one has forgotten that Saban was once the coach of the Tigers, where he restored glory to that program, including winning the 2003 national championship. (Well, okay, it seems the LSU faithful have forgotten what he did for them.)
Somehow, Alabama even gets the blame in Louisiana because the Tigers' best player, linebacker Devin White, will miss the first half against the Tide after being disqualified for a second half targeting call in LSU's win over Mississippi State last Saturday.
Under Saban, Bama has become the most dominant team in college football (a case can be made for college football history) with five national championships in the past nine years. Those teams have included such All-America players as Cam Robinson of Monroe and Landon Collins of Geismer in Louisiana.
When No. 1-ranked Alabama (8-0 overall, 5-0 in SEC games) takes on No. 4 LSU (7-1, 4-1) a week from Saturday, the Tigers will see a number of Louisiana natives playing prominent roles for the Crimson Tide.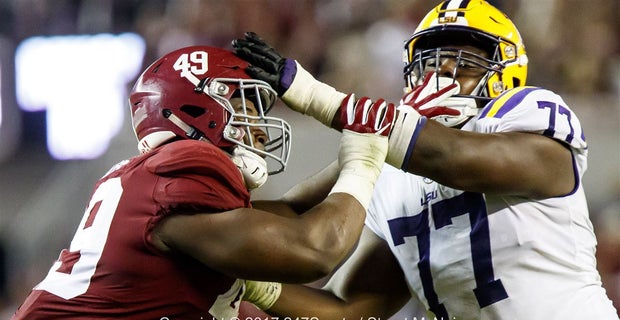 Alabama's starting defense includes inside linebacker Dylan Moses from Baton Rouge (though he came to Bama from IMG Academy in Florida), two-year starting defensive end Isaiah Buggs of Ruston, and nickel back Shyheim Carter of Kentwood. Additionally, starting cornerback Saivion Smith, a Florida native, started his college career at LSU before transferring to junior college and then to Bama. Phidarian Mathis is the backup to starting nose tackle Quinnen Williams. Mathis is from Monroe.
The Alabama offense has two starters from Louisiana, tight end Irv Smith, Jr., from New Orleans, and wide receiver DeVonta Smith of Amite.
Alabama placekicker Joseph Bulovas is from Mandeville, La.
Bama's roster also includes backup linebacker Chris Allen from Baton Rouge; true freshmen, wide receiver Slade Bolden of West Monroe and defensive back Eddie Smith of Slidell; and walk-on wide receiver Bryce Musso of New Orleans.
Ronnie Clark, a running back and tight end, came to the Tide from Calera, but before finishing his high school career in Alabama was at Monroe, La.
Meanwhile, LSU has attracted three players from Alabama to Baton Rouge to this year's Tigers roster.
Neil Farrell, Jr., a 6-5, 295-pound sophomore from Mobile who has played in six games with 14 tackles, and Justin Thomas, a 6-5, 268-pound sophomore from Spanish Fort who has played in three games with 4 tackles, are both second-team defensive ends for the Tigers. Tae Provens, a 6-2, 198-pound freshman from Gurley, is a running back who has no statistics this season.
Next Saturday's game will be televised by CBS with kickoff at 7 p.m. CDT.