TUSCALOOSA, Ala. — Mack Wilson has hinted at returning to Alabama next season on Twitter.
After he teased his return when congratulating LSU's Devin White on winning the Butkus Award, the junior linebacker was asked if he will indeed be back for his senior year in 2019 on Monday.
"I'm just focused on this next game and, hopefully, we go to the championship and that game," Wilson said. "Then after that, I'll sit down with my family and make the best decision, do what's best for me."
Wilson is currently the No. 2 inside linebacker and 30th-best overall prospect for the 2019 NFL Draft, according to CBS Sports. He is hit or miss on various mock drafts of the first round. But the former 5-star recruit said he hasn't made a decision and is focused on the Orange Bowl.
"As far as I know, I'm here," Wilson said.
Wilson earned second-team All-America accolades from the AFCA and was an All-SEC second team selection by the conference coaches. He totaled 63 tackles, including 4.5 for a loss (-8 yards) and one sack (-1 yard). Wilson also contributed six quarterback pressures and five pass breakups this season and added two interceptions to tie for second on the Crimson Tide defense.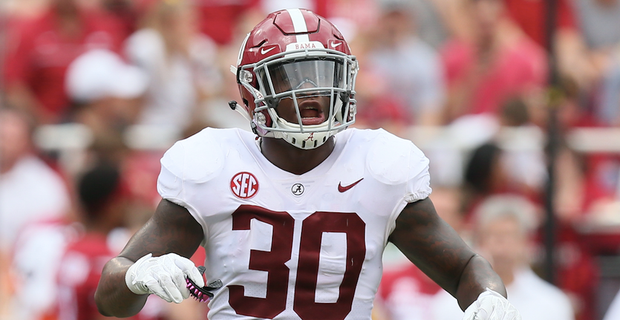 Alabama and its defensive signal caller are now preparing to face No. 4 Oklahoma. Installation for the game against the Sooners starts later today with the last two practices being similar to fall camp. Focusing solely on football and fundamentals was a welcome sight for the players.
"It's fun," Wilson said. "It just feels like we're going back to Day 1. Everybody's just working on themselves and we're working to be a stronger unit, be a brotherhood. It's just basically fundamental football all over again. I feel like it's an advantage to us because I don't feel like every team in the country is doing that. So, that's something that we enjoy, and I feel like everybody came out focused, having fun these last couple of practices. It's just been fun."
But now the focus has turned to Oklahoma's nation-leading scoring offense (49.5 points per game) and Heisman Trophy-winning quarterback, which have Wilson's undivided attention right now.
"I feel like it's a big challenge," Wilson said. "They have a very explosive offense, and I feel like it's run by a great quarterback who can hurt you in a lot of ways. So, we've got to make sure that we go out focused and make sure we know our main focus throughout the process and the preparation."
Alabama and Oklahoma will face off in Miami Gardens, Fla., on Saturday, Dec. 29, at 7 p.m. CT on ESPN. Draft-eligible underclassmen have until Jan. 14 to declare to enter the 2019 NFL Draft.
Contact Charlie Potter by 247Sports' personal messaging or on Twitter (@Charlie_Potter).
*** Don't miss a VIP update with our FREE trial of BamaOnLine. Sign up HERE ***