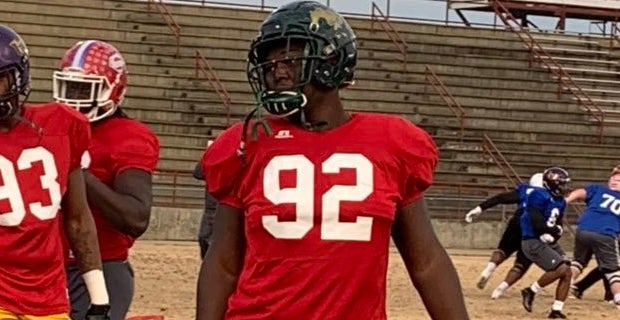 MONTGOMERY, Ala. – The 32nd-annual Alabama-Mississippi All-Star Game week is underway with top prospects from each state gathering Wednesday to begin preparation for next Monday's showdown.
The first practice for Team Mississippi was a heavy install day but we were still able to see players flash in each position group.
247Sports takes you inside.
Alpha Dog
Standing in as the most physically impressive prospect among an SEC-loaded defensive line group was Alabama commit Byron Young who was consistent the entire practice. Crisp in position drills, stout in run stop reps and a factor as a pass rusher, the 6-foot-4, 285-pound Young brings all the traits coveted at the point of attack. Twitchy when the ball is snapped, good feet, powerful and plays with good pad level, Young was a handful for his fellow Mississippi offensive linemen. He was also completely engaged, very coachable. Ranked by the industry-generated 247Sports Composite as the nation's No. 6 strong-side defensive end, No. 4 recruit in Mississippi and No. 88 prospect overall, Young is one of the jewels of a Crimson Tide class that ranks No. 1 nationally. He checks in at No. 88 nationally regardless of position. He will not sign early and is also still considering opportunities from Ole Miss, LSU and Florida among others.
Next Five Defense
Top Five Offense
Additional Notes
Arkansas quarterback commit KJ Jefferson has all the tools to develop into one of the SEC's top signal-callers. Still filling out his 6-foot-3 frame, the arm talent is there, he's a fluid athlete that can make things happen with his legs and he showed the ability to throw the football to all portions of the field. Once he becomes more consistent, look out.
Four-star cornerback recruit Raydarious Jones brings incredible length and top-notch speed to the position, eats up a lot of green quickly. He's an intriguing prospect who will arrive at his destination thin but with a ton of upside. LSU, Auburn, Ole Miss and Mississippi State are the finalists.
Pelahatchie (Miss.) High's Javeious Purvis looks like an instant impact type player at Mississippi State. Smooth in the secondary, he's a dominant player on both sides of the ball on Friday nights that could do both in Starkville.
Ole Miss offensive line commits in Bryce Ramsey and Caleb Warren both had some impressive reps against a talented defensive line.