Last week, Mississippi State held Alabama's high-powered offense to 24 points and 305 yards, which were both season lows and the first time the Crimson Tide has not accumulated 500-plus yards of offense this year. On Thursday, Nick Saban said that served as a wake-up call.
During his weekly call-in radio show, Saban recapped the 24-0 win over the Bulldogs, discussed the week of practice for Saturday's game against The Citadel and its triple-option offense and what his message has been to the team this week for the rest of UA's 2018-19 season.
"I think the players have been pretty good this week, actually," Saban said.
"We didn't really do what we set out to do in the last game. I think there's a lot of lessons to be learned in that. We got emotionally and physically challenged in the game, especially on offense. We scored early two times in a row. Sometimes when that happens, you think things are going to be easy, and then things got really hard. So, I don't know if we responded in the game like I would like for us to, so those are the lessons that we'd like to learn.
"… If you ever go to the championship fight and you see two guys fighting for the championship, they didn't get there if they couldn't take a punch. Somewhere along the line, those guys that are fighting for the championship got clocked, and it doesn't mean they lost a fight, it just means they had to respond to a challenge. They had to respond and overcome adversity in the game.
"I think that that's something that kind of woke our offense up a little bit. Things have gone really easily for us most of the year this year in terms of scoring points, getting ahead in games, and sometimes you get a little lax. You don't pay attention to detail, you don't play with the same discipline, you don't finish things the right way, you take things for granted. And I think that our guys responded really well this week because we have practiced a little better, and hopefully, we'll play a little better in this game because of it."
Top-ranked Alabama (10-0, 7-0 SEC) will host The Citadel (4-5, 4-4 SoCon) this Saturday at Bryant-Denny Stadium, and Saban and company have repeatedly stated that the defense will be challenged by the Bulldogs' triple-option attack. "It's been a challenging week for us, but I think a good week because it's required the players' attention," Saban said Thursday night.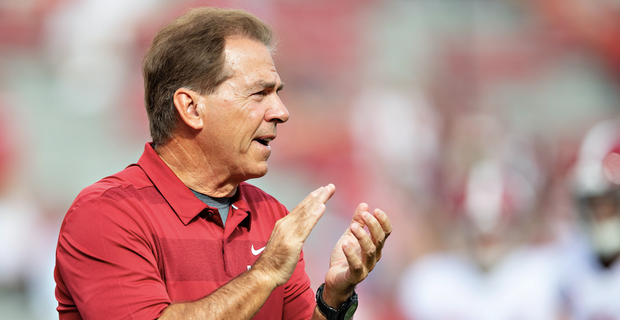 With two games left on the Tide's regular-season schedule, including a home finale against its in-state rival, as well as a rematch with Georgia in the SEC Championship Game, Alabama still has challenging games in front of it before it punches its College Football Playoff ticket.
But the wake-up call the players received last weekend should serve as motivation for them.
"One of the things that I said to the team on Monday was greatness is always drawn out of you by some kind of a challenge," Saban said. "A lot of successful people … probably were successful because of some challenge that you had. I mean, I know one of the things that motivated me when I was a kid was when I got a D in music class, and my dad made me turn my basketball uniform in and go down in the coal mines. He said, 'This is where you're going to end up if you don't get an education.'
"And that's where everything (snaps) clicked for me in terms of how important it was to go to school and if I was going to be able to do anything special with my life, I was going to have to graduate from school and I was going to have to be a good student. But if you don't challenge yourself and you don't challenge each other when you're on a team, aight, you're only just going to be mediocre because everybody's got to challenges themselves to be the best version of themselves.
"… It's too easy to be average. It's too easy to be comfortable with doing certain things and not being the best you can be, and I think at this time of the year for our team, our team needs to challenge each other to be the best version of who we are individually and collectively as a team. And it doesn't really matter who we play. So, it's not just about winning and losing, and I think in this day and age in football, you get judged on how you win.
"I never thought as a coach or a player, aight, that you would never get judged on how you won, but that's true right now in college football. We have judges that evaluate how you won. That's how you get votes. It's terrible, aight. So, everything out there in the world, aight, is some kind of external challenge. But really, if you want to be good, and we want to be good and we have a chance to do something significant here in the next three games that we have, and we need to be the best versions of ourselves, we need to improve every week and we could certainly use the support of our fans to help us to do that, since we're going to play these next two games at home." 
Contact Charlie Potter by 247Sports' personal messaging or on Twitter (@Charlie_Potter).
*** Don't miss a VIP update with our FREE trial of BamaOnLine. Sign up HERE ***