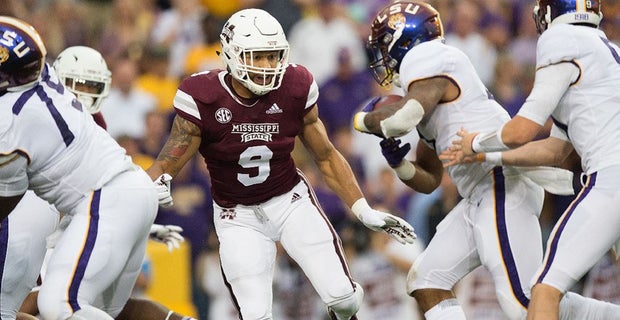 A rousing finish to the regular season had Mississippi State holding its standing in the College Football Playoff rankings to #18 . The Bulldogs (8-4, 4-4 SEC) did not budge from last week's #18 after routing rival Ole Miss 35-3 on Thanksgiving Night.
Mississippi State is also #19 in the Coaches poll and #20 by Associated Press.
But their own ranking is not all that all Bulldogs are hashing-through tonight, and to continue so until the final conference championship game is played this Saturday. Mississippi State is very, nay obsessively concerned now with what is happening up ahead of them as far as where the Southeastern Conference's representatives stand.
The top spot isn't any serious concern with Alabama standing pat at #1. The Crimson Tide is on their way to the College Football Playoff semifinals even should they be upset by Georgia this weekend. The other Bulldogs took advantage of Michigan's lopsided loss to take over this weeks' #4 spot. While a loss to the Crimson Tide will almost surely keep Georgia out of the Playoffs, a win would earn them a semifinal spot.
Either way Georgia is going to be in the New Years Six bowl system this year. So, most figure, will be now-#9 Florida. That isn't of a lot of Bulldog interest beyond the still-frustrating home loss to the Gators back in September.
The real focus falls on Western Division rival LSU. The Tigers' amazing and controversial seven-overtime loss at Texas A&M dropped them from #7 as expected. But, to only #10, which was somewhat unexpected and reflects the respect being accorded the SEC in committee calculations.
Also ahead of the Bulldogs is #15 Kentucky. Right behind are the Aggies at #19. And in a minor surprise Missouri breaks in at #24 this week.
It is correct that these rankings are for entertainment only in the sense that just Sunday's final CFP release counts for anything. All preceding releases merely offer clues how the committee thinks week to week to week.
But Bulldogs are scrambling for clues about their upcoming bowl game assignment. Hence the fascination with how many SEC teams are not just in the CFP but the larger New Years Six bowls. There are eleven slots available to Power 5 teams and major independents. The 12thslot goes to the highest ranked team from the group of five conferences even if below all the others. This will be either Central Florida, now playing for the AAC title without their quarterback; or Boise State.
Mississippi State is not in the NY6 picture. What is hoped is Coach Joe Moorhead's team is among the 'first teams out' in terms of bowl priority with the SEC's affiliated games.
If LSU can hang in at #10 or maybe a slot lower in the final calculations, the Tigers are assumed to be joining Alabama, Georgia, and Florida in the CFP/NY6. This would be historic and very unpopular around the rest of the country since in the four-year CPF system history no league has put four teams in the elite bowls. The SEC had three in 2014 and '17 and even this didn't set well with their peer conferences.
But 2018 has skewed strongly in SEC favor in each CFP release. If the committee, which proclaims not to look at conference when deciding what teams get those eleven elite slots, stays true to word then 2018 will set a new standard for the SEC.
This in turn leaves Kentucky, Mississippi State, and Texas A&M in a tight pack of teams to be placed. Or in the case of the Citrus Bowl, picked. Most believe the highest-ranked team deserves this slot and Kentucky would be a popular pick to take on a Big Ten opponent. There has to be lingering anxiety in Orlando though if LSU is not taken for the NY6, because the Tigers have played in the last two Citrus Bowls and would still be ranked higher than Kentucky.
Assuming best-case for the SEC is also best for the Bulldogs. Or hopefully so, as the Outback Bowl in Tampa may be technically one of a pool-of-six bowls equal but in reality is more equal than the rest. Those six bowls all submit 1-2-3 preferred teams, and eligible SEC teams provide their own 1-2-3 preferred bowls. If there are matches, the deal is sealed.
Mississippi State will certainly submit the Outback in their choices and, most believe, first. So probably will Texas A&M now, on their eighth win and a 5-3 SEC record. That is their edge on State.
The Bulldogs can counter with the head-to-head win, on Scott Field; and of course the higher ranking if only by one spot. Because it is believed the SEC will not send State back to the Gator Bowl after last year's visit, it would ease all decisions to have the Aggies settle in Jacksonville.
But when Sunday's final rankings are released will this penultimate order hold? While neither contender plays teams they have faced are playing and those outcomes can cause a ripple effect through the rest of the rankings.
Another possible factor is how the Big Ten stacks up at the end. If not a published priority, those Florida bowls would likely leap on a chance to match Moorhead's first State team against his former employer Penn State. Or so some say.
If spurned by the Outback yet again, Mississippi State is expected to land in the Music City Bowl. If not of the same prestige it is bowl equal otherwise with a more convenient trip for three of State's largest alumni bases.
Mississippi State is already taking pre-orders for all bowl games on HailState.com.
Moorhead got good news Monday from the SEC that all Dogs disqualified or ejected in the Egg Bowl are cleared upon review to play in the bowl game.