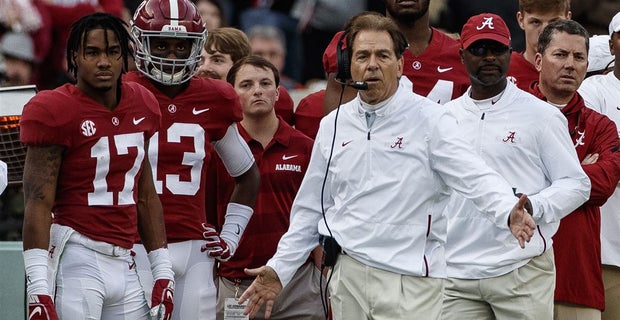 Alabama coach Nick Saban seems to face rumors that he could head to the NFL on a regular basis.
But Sports Illustrated's Jonathan Jones wrote that Saban should consider heading to the Green Bay Packers, and how that could be an ideal career conclusion for the Crimson Tide's legendary coach.
It starts like this: Nick Saban leads Alabama to another national championship, his seventh and the most in college football's modern era, surpassing another Alabama legend in Bear Bryant.
"Two days later, a handshake agreement that took place weeks earlier will become official," Jones wrote. "Saban is announced as the next head coach of the Green Bay Packers, promising at least one more Super Bowl with QB Aaron Rodgers to a starving fan base while also looking to clean up the one blemish on his pristine coaching resume…"
That blemish, of course, being Saban's NFL career. It's not that Saban was awful in the NFL. But he went 9-7 with the Miami Dolphins, then followed that up with a 6-10 mark before electing to head back to the college game at Alabama.
And if Alabama does win another national title, what does Saban have left to prove at the collegiate level? There aren't any current coaches even close to his would-be seven titles, and the only area of his career that wasn't up to par was the NFL segment.
"But almost every year since then—especially since Alabama began on its path of historic success—Saban's name gets thrown in the NFL mix," Jones wrote. "If it's ever taken seriously, it's usually viewed as a ploy by superagent Jimmy Sexton to squeeze a few more million out of the university. Last year Bruce Arians, a potential candidate for the Green Bay job this year, perked ears when he said Saban coveted the Giants gig. That went nowhere.
"This time, the Packers job feels different," Jones wrote. "This is another legacy job like the Giants, which Arians pointed to as the pull for Saban. But most importantly, Saban gets to work with a generational talent at quarterback for the first time in his illustrious career."
Well, a generational *NFL* talent. This season, Saban has seen all too closely what a difference coaching Tua Tagovailoa, one of the most efficient quarterbacks in college football history, makes. And with Saban's age (67) and Rodgers' age (35), the two could team up for 5-to-7 years (theoretically winning a lot of games in the process) before riding off into the sunset together.
What would be the downside? Jones wrote that unlike New England's Bill Belichick, Saban wouldn't enjoy a fiefdom in Green Bay. And Jones pointed out that Saban's "tough love approach" could struggle if the wins don't come, and quickly.
But if Saban can navigate the Green Bay power structure — Jones saw a relationship with general manager Brian Gutekunst where the power would be split, and Saban could control the 53-man roster — the sky could be the limit. Simply put, Saban is a winner, who would start off with the respect of his players and a Hall of Fame quarterback at the helm. In the NFL, that ain't peanuts.
"Saban to Green Bay would be almost a Faustian bargain for someone like him," Jones wrote. "Cede some control of the program to his GM and quarterback and, in exchange, win a Super Bowl or two while finally proving your NFL bona fides.
"It's all that's left to do for the legendary coach," Jones wrote, "and there's no better fit than this one."