On one hand, there is the observation of how well Nick Saban might do if it was easy. On further reflection, it's likely he is so good at it because it is hard. That conversation likely would work for any subject, but today it is recruiting.
A year ago, the new early signing period for college football recruiting was unveiled. Alabama did not do well, at least by Saban standards, finishing fifth in the nation overall. Move ahead a year, and Saban has learned. The early signing period is really the new Signing Day, the majority of prospects electing to not wait until that old traditional first Wednesday in February national holiday for many college football fans.
Saban and his staff may fill out the class with more prospects later, but for now, the Crimson Tide is back at No. 1. He made his remarks with Bama having 22 first day – oh, heck, Signing Day successes Wednesday, and said, "We're really pleased with the signing today."
"We still have a few more that may come in," he said, and that seems certain with Trey Sanders, the nation's number one running back prospect, committing to Bama earlier in the day. But Saban's comment was directed at possible additions as late as the February period, and it came with a warning. "Don't do your calculations and scare off everybody else that we're going to recruit for February, because we do have spots left and there are good players out there that we're very much interested in and are interested in us," he cautioned reporters…most of whom figured out long ago not to attempt Saban math when it came to recruiting numbers.
Certainly Alabama has advantages in recruiting – championship success, facilities, the odds of going from RTR to NFL, et al. But Saban could also point to the disadvantages of missing a week of recruiting while preparing for the Southeastern Conference Championship Game win over Georgia, and then "having" to get ready for the College Football Playoff…again.
Saban said, "If it's better for the players, I'm good with it," but as many of his coaching cohorts the Tide coach thinks trying to work official visits into the fall season limits The University sharing the complete picture of what it will mean to players at Alabama. "But it is what it is," he said, "and we're trying to make it work the best we can."
Pretty good, it has been judged.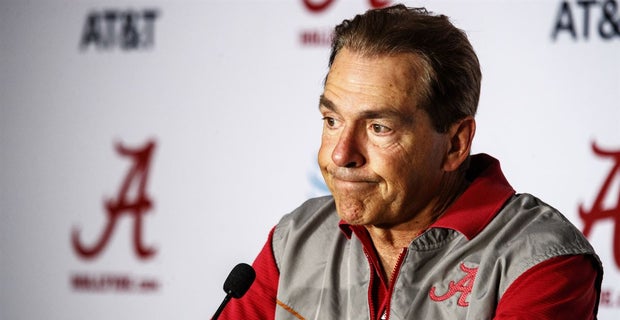 "I think our staff, the coaches did a really good job," he said. "I think we did a good job early on of developing relationships with a lot of good players. I think we satisfied a lot of needs."
Saban also said he learned from last year when Alabama saved a lot of spots for what they expected to be a large pool of candidates in February. This year, he said, the staff made the move to get more players signed in the early period.
"You've got to start the process earlier," he said. "You've got to get more players in here earlier, you've got to develop relationships with them. This year we were probably a little more aggressive."
He also pointed out that Alabama had much assistant coach turnover last year with resulting lost relationships with prospects. Those coaches were replaced with men who are good recruiters. "If you don't have good players you're probably not going to have a lot of success," Saban said. "I've been very pleased with this staff. I was never disappointed in any other staff we had in what we did. Everybody has got to realize the importance of recruiting. I do think our staff this year did a really, really good job to this point."
Saban also was asked about casting a wide net in recruiting, attracting prospects from distant spots. He said once Alabama gets those players from outside what might be considered a logical footprint, "we never seem to look at their mailing address to figure out whether we're going to play them, or how they're going to develop. That doesn't have anything to do with it."
As he has explained in the past, "We have a system of evaluation that we use on players. It doesn't matter where they are. If they meet the criteria we're looking for at a position — and we have defined criteria that we're looking for at each position, critical factors that we look for — when guys have them, we start recruiting them."
And signing quite a few of them.