The security guard beckoned Christian Miller to follow him through the crowd wanting pictures and autographs after Alabama's 39-10 win over Missouri. But instead of leaving Bryant-Denny Stadium as quickly as possible, the fifth-year senior wanted to savor the moment.
"He looked at the security guy and said, 'Thank you, but it's my last year. This is what I want to do, and I'm OK,'" Corey Miller, Miller's father, told BamaOnLine. "He stayed out there 45 minutes to an hour while me and his mom waited on him, almost trying to take a picture with every kid and signing autographs. And that showed me something. One, he loves the game, but he loves and understands the blessing that it is to be a part of what he's doing."
Miller knows his days in Tuscaloosa, Ala., are numbered. The redshirt senior has played in eight games so far for the top-ranked Crimson Tide, making three starts as Alabama's first-team Sam linebacker. And he's only guaranteed five more games before his college career ends.
Last week was the Columbia, S.C., native's last time playing Tennessee. Next week, he will take the field for the final time against LSU. These are the thoughts entering Miller's mind now.
"For me, every game's like that," Miller told BamaOnLine in an exclusive interview. "It's one less time I'll be able to put on an Alabama uniform. I wouldn't say it's sad because it's been an awesome journey, but every time I put it on, I'm kind of like, 'Damn…'
"I'm one of those guys that takes pride in putting it on. I've never been one to try to rush things. I've always kind of embraced it, and my time's slowly trickling down. It's tough, but it makes you appreciate it more. That's why I go into every game wanting to do as much as I can."
The path to this 2018 season has been a long and winding one for Miller.
He arrived at Alabama needing to add weight, played behind two NFL draft picks in 2016 and suffered a biceps injury in the season opener of the Crimson Tide's 2017 campaign. Along the way, he also earned a degree in sports business management in December, held a marketing internship in Birmingham this summer and is currently interning with Denzel Devall in player development.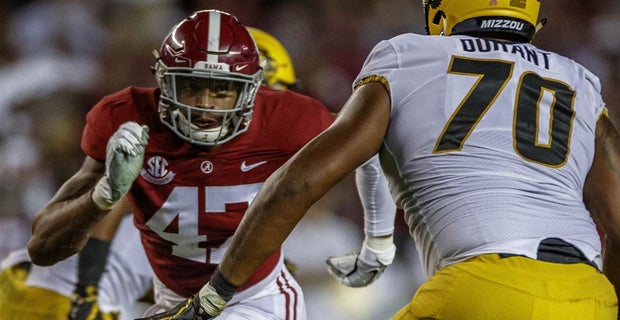 But just like he was with fans at the stadium, Miller has been patient. And now, it's paying off for him.
"He's done a really, really good job for us," Alabama head coach Nick Saban said. "He's battled through a lot of adversity here, mostly injuries. He's worked really hard to gain weight, get stronger, become a little more physical player. I can't say enough about the kind of person he is.
"He's graduated, doing internships, developing a career off the field, working hard to develop a career on the field. Always done everything we've ever asked him to do. I always think he's a positive influence on his teammates. So, he's an outstanding young man, all the way around."
* * *
Miller was the nation's 40th-best high school prospect during the 2014 recruiting cycle, per the 247Sports Composite. He was also the No. 1 player in the state of South Carolina and the No. 3 outside linebacker nationally after recording an eye-popping 188 tackles and 24 sacks as a senior at Spring Valley (S.C.) High School. But even Miller admits he did that with a lanky frame.
"I mean, I was smaller than some of our wide receivers when I first got here," he said.
Corey Miller likened his son to a model more than a football player during his recruiting days, but he knew going to a place like Alabama would help shape him into a potential pro player.
"When I first dropped him off, I felt pretty confident that dad still could put these things on him, as we say back here at home," Corey Miller joked. "But I don't think that can happen right now.
"He was that Rottweiler puppy that you see with a pretty coat and big feet but he had to grow into his body. And that's the thing I've talked with Coach Saban about, we talked about it — his best days are in front of him. He's going to grow into this big ferocious dog. That's kind of how I saw his career, and that's what it's shaping into." 
His recruiting profile for 247Sports listed Miller at a generous 222 pounds, while he is listed at 244 pounds on Alabama's current roster. Miller said he has put on nearly 40 pounds since joining the Crimson Tide program and could add 20 more and "probably wouldn't even notice."
"This is kind of how I envisioned it playing out, me developing, getting bigger, stronger, kind of catching up with the guys," Miller said. "I feel like I was a little bit of a late bloomer, and unfortunately, I got hurt last year. But that's kind of how I saw it playing out. I look back, and it just humbles you, knowing how much hard work you put in and all the extra workouts and time, just everything you've done to get to where you're at. It makes it feel that much better.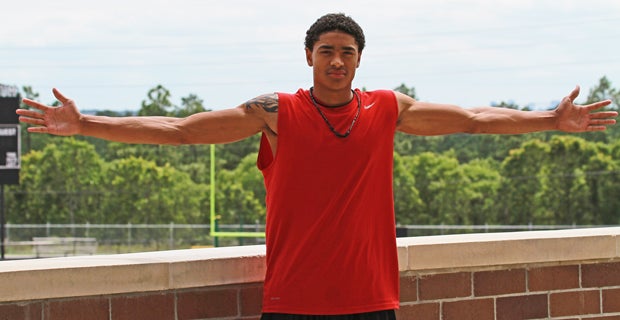 "It's not instant gratification. It's something that was a process that took time, and it ultimately paid off."
While it's no longer a problem, Miller has never allowed a size disadvantage to slow him down.
When he was five years old, his father put him through a tackling drill against a seven-year-old. The first attempt did not end well for the youngster, but he quickly learned how to adapt.
"Man, he lowered his shoulder and he ran over Christian, and Christian started crying," Corey Miller said. "I thought, 'Oh Lord, I probably shouldn't have had him in this.' And so, I was like, 'OK, you're not going to do anymore, son. You're not going to do anymore.' And he looked at me and he said, 'No, daddy. I'm going to do it again.' And I put him back in there against the same kid, and he went for those legs and almost turned him a flip.
"I knew then that the dude loved the game and he had what it took, and as he grew up, he dominated in that league and then middle school and, of course, his high school career was phenomenal. I knew he had a passion. And I think when he got to Alabama — we talked about the challenges. You're at the best program in America, you're with the best coach, it's going to be a process. And he knew that and we talked about it, and he was willing to have patience to go through it because we knew that his best days were down the road."
* * *
Miller spends most of his time in opposing backfields when he's on the field. But when he's off it, you're most likely going to find him on some sort of body of water with a fishing rod in his hand.
"I started fishing when I was like 10 or 11 just at a pond around our apartments when I was young. And then I got into hunting a few years later early in high school," Miller said. "I just always loved the outdoors and had a big interest in it, and I just enjoyed it. I started off with a little pellet gun when I was in middle school, just shooting things in my backyard every now and then."
Unlike his love for the game of football, though, fishing wasn't inherited from Corey Miller.
"I don't even know how to fish," Miller's dad said. "You know that little country song, 'He can't even bait a hook?' So, that didn't come from his father, I can tell you that. But he had his buddies at Spring Valley High School in Columbia, S.C., and they loved to fish and hunt, and Christian took that up and, man, he just fell in love with it. I mean, that's all he loves to do.
"When he comes home, he's on a pond or a lake somewhere fishing. That's just who he is."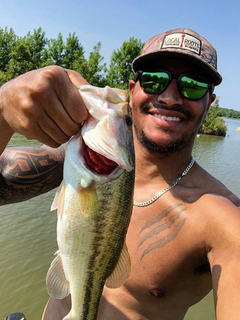 His teammates are also always asking Miller to take them fishing, too.
Miller likes to spend so much time outdoors that he came up with the idea to start an Instagram account for himself and other student-athletes to share their best catches and kills. It's called The Players Outdoor Club, and Miller created the page about a year and a half ago.
"It's like an outdoor club for athletes in all sports," Miller said. "There's guys from baseball, golf. It's like a page/club for athletes that enjoy the outdoors, hunting and fishing, stuff like that. They'll send me pics that I'll post on there. I started it really because I wanted to make some cool hats or something to wear when I was fishing, hunting and stuff.
"I was just doing just for fun. But then I had a bunch of other guys from the SEC and stuff that heard about it or saw it and messaged me and were like, 'That's awesome. I love that idea.' A lot of people just like being able to see other athletes like them that enjoy doing that kind of stuff in their downtime, see stuff that they've caught or they've shot."
Having interned in marketing, Miller was sure to sport hats and T-shirts for The Players Outdoor Club during ESPN's filming of Training Days: Rolling with the Tide during preseason camp.
Sure, it's a hobby and one Miller tries to enjoy as much as possible, but like so many things, it has also served as a lesson for the 22-year old and has since he stepped foot on campus at 17.
"I think it has helped him in a way of just discipline, patience," Corey Miller said. "Fishing is about patience and hunting is about patience, and I think all of that reflects his mindset and attitude that carries over to the football field. Sometimes you've got to wait, but that's OK. Waiting doesn't mean denied. But that's the thing that he's seen through fishing and hunting."
* * *
That patience has led to Miller being a key member of Alabama's defense this season. 
Through eight games, the outside linebacker has registered 22 tackles, eight tackles for loss, eight quarterback hurries and 5.5 sacks. That sack total is good for second place on the team, trailing only defensive end Isaiah Buggs (8.5) and sixth place in the Southeastern Conference.
Miller was selected as the SEC Defensive Player of the Week for his performance at Ole Miss where the redshirt senior totaled a career-high five tackles and 2.5 sacks. Last week in the Third Saturday in October rivalry, Miller tallied one sack and recorded a fumble on the road.
"I think he has played extremely well," Corey Miller said. "I think just watching him and watching every game and every play, obviously, there are areas where he has really improved that maybe go unnoticed, which is his ability to play the run and setting the edge to taking on offensive tackles, holding at the point of attack and really just doing a lot of great things in the run game.
"I think that's been really good. And of course, we've always known that he was a really good pass rusher, and we've seen that. He has 5.5 sacks, but that could easily have been doubled. His pressures have been amazing. He's putting consistent pressure on the quarterback, even though he's not getting the sack. And now they're dropping him back in coverage a lot, so you see him covering tight ends or backs in the flat or zone coverage as that spy guy.
"What they ask him to do is a lot of different things, and he's just become that complete football player, which you want. You want to be a guy that teams can feel like they can leave you on the field for every down, and he's shown the ability to do that."
That's been a goal for Miller.
"I really just wanted to be a complete player," he said.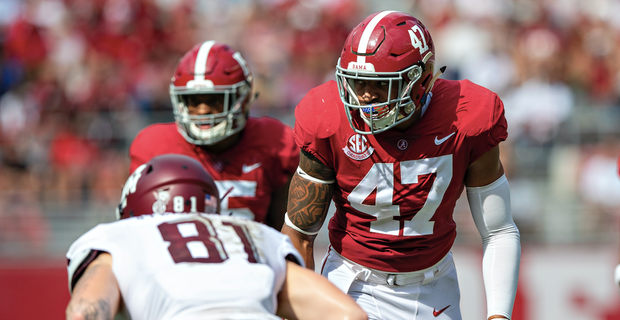 "When I first got here, I was pretty much there, but I wanted to take that to another level. Play stronger, play faster, be more explosive, set the edge, be even better in pass rushing. I just wanted to be better at every little thing I could, and that was my focus.
"I think I've somewhat done a good job of that, but I still feel like I can improve even more. I'm a perfectionist, like, I expect myself to go out and have three sacks a game and not have mental errors. 
"I still have higher expectations, I still want to do even more. But I think I've been playing well. I think I've definitely been doing my job and I think I've been doing a little bit more, but I still feel like I have a lot more to give. I'm striving to get even better and really just leave my mark in my last year."
In eight games in 2018, Alabama leads the SEC in sacks per game (3.25) with 26 total for a loss of 153 yards. The 26 team sacks rank No. 3 nationally, and Miller has been a big part of that.
His veteran leadership on and off the field has also benefited the Tide this fall.
"He's a funny guy," junior linebacker Mack Wilson said. "He's always up. He's a great leader, a great person to be around. I love him to death like a brother, and I feel like his relationship to the team is pretty big. He's one of those guys that's vocal and all about the team and not just about himself. So, to have him as a teammate is a blessing. He's a great player to be around."
With the bye week coming to a close and Alabama's sole focus now on the LSU Tigers, Miller said he and the defense want to cut down on mental errors. That's what fans can expect to see from the 6-foot-4, 244-pound fifth-year senior as the Crimson Tide approaches its final stretch in 2018 as he attempts to savor every moment of his last quickly-passing season in Tuscaloosa.
"I think what they'll see is an even hungrier team," Miller said. "We've had eight games to kind of mesh because everybody was questioning the defense before. I think they've gotten a decent sample size. Now, I think it's really time to take it up a notch and take it to the next level. We know what we can do, we know what we're capable of when we're all on the same page and we execute. So, now the goal is to eliminate all mental errors and just go play fast and physical and just even more dominant. That's the goal.
"As an older guy, I take pride in the defense, that Alabama defense, and I know there's been a couple times where we might've had some lapses. But we're going to keep that standard here. That's what we want to do, we want to finish the season playing together and to the Alabama standard."
Contact Charlie Potter by 247Sports' personal messaging or on Twitter (@Charlie_Potter).
*** Don't miss a VIP update with our FREE trial of BamaOnLine. Sign up HERE ***