MIAMI GARDENS, Fla. — The team No. 1 Alabama will play in the Capital One Orange Bowl on Saturday, fourth-ranked Oklahoma, will be looking for a defensive coordinator after the season.
Crimson Tide inside linebackers coach Pete Golding has been mentioned as a top candidate for the position, but Golding said he has not been in contact with coach Lincoln Riley or the Sooners.
"I've had no communication, especially with Oklahoma," Golding said at Alabama's Media Day. "You hire people, agents and things like that that take care of your business that allow you to do your job. Right now, I work for the University of Alabama, and I'm trying to do the best job I can to get our kids prepared for Saturday. So, my focus is at Alabama and nothing else."
Golding is in his first full season as the Crimson Tide's inside 'backers coach and co-defensive coordinator. He came to Tuscaloosa, Ala., after coaching the defensive backs and handling the defensive coordinator duties at the University of Texas-San Antonio the past two seasons.
Nick Saban announced the hire before last year's College Football Playoff and Golding helped fill the positional void left behind by Jeremy Pruitt, who took the head coaching job at Tennessee.
The relatively unknown assistant has seen a meteoric rise in the coaching profession.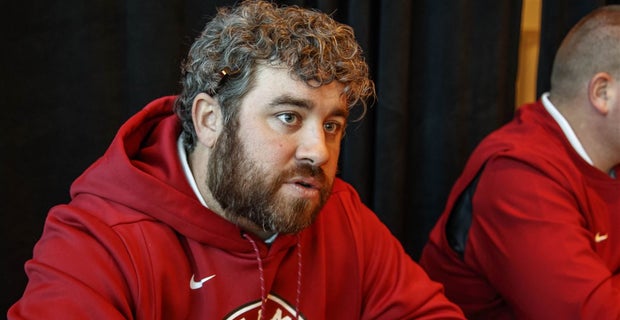 "Obviously, I think having Bo Davis on the staff at UTSA was a big part of it, somebody that he trusts, that has worked under him and knew his expectations," Golding said when asked how Saban found him. "Somebody that he could ask how I was around the players, controlling those guys and how I coached and things like that. So, I think that was a big part of it.
"But I've just always been one to focus where I'm at and do the best job I can where I'm at and be where my feet are."
Golding said recruiting was the biggest adjustment coming from UTSA to Alabama, which is a common comment made by first-year assistant coaches. Whatever happens in the offseason, he is appreciative for what this season working under Saban has done for his career.
"It starts with Coach Saban, the success he's had," Golding said. "I think the biggest thing is day in and day out how he runs the organization, the expectations he has, not only for his players but for his staff. I'm working for the best guy to ever do it, so it's something that I'm very excited about. I'm fortunate enough to be there learning stuff every day, and so, I'm happy for that.
"… I think obviously you get under Coach Saban and he develops guys, not only players but coaches. And then everyone wants a piece of the puzzle. I've only been here a year. I'm very fortunate to be here. I learn something new every day, and I'm just happy right now."
Alabama and Oklahoma will face off in the Orange Bowl on Saturday, Dec. 29, at Hard Rock Stadium in Miami Gardens. The semifinal game will kick off at 7 p.m. CT and will air on ESPN.
Contact Charlie Potter by 247Sports' personal messaging or on Twitter (@Charlie_Potter).
*** Don't miss a VIP update with our FREE trial of BamaOnLine. Sign up HERE ***